George Washington Seeks Justice For Veterans of the French and Indian War Who Had Served Under His Command
Seeing great promise in the western lands and the future of the American West, he also pursues an interest in them for himself
Washington's involvement in the French and Indian War, in which he served as lieutenant colonel of the newly formed Virginia Regiment, was due in part to the backcountry knowledge and map-making skills he had gained from surveying. But by the time that war ended, he had made a name for himself. In...
Washington's involvement in the French and Indian War, in which he served as lieutenant colonel of the newly formed Virginia Regiment, was due in part to the backcountry knowledge and map-making skills he had gained from surveying. But by the time that war ended, he had made a name for himself. In 1753, before the war, he was chosen to deliver an ultimatum to the French at Fort Le Boeuf, insisting that they withdraw from the valley. When his report of this venture, "The Journal of Major George Washington", was printed in Williamsburg and then reprinted in London, it catapulted him onto the world stage.
The war broke out in 1754, and Virginia Governor Dinwiddie issued a proclamation designed to encourage enlistment in the local militia for the war against the French. In addition to their pay, those who enlisted in Lieutenant Colonel George Washington's fledgling Virginia Regiment were offered a share in 200,000 acres west of the Ohio River. Unfortunately for these men, who would fight under Washington in the Braddock expedition in 1755 and the Forbes foray in 1758, both against the enemy at Fort Duquesne,, they were not to see these bounty lands until more than twenty years had passed, during which time Washington tirelessly led the struggle to secure their title and gain them possession of the land owed them for their service.
In 1769, in response to Washington's petition, the Virginia governor and council gave him permission to seek out a qualified surveyor and to notify all claimants that surveying would proceed. Once the surveying was completed the land could be divided among the Virginia Regiment veterans or their heirs. Washington arranged to have William Crawford appointed the "Surveyor of the Soldiers Land." In the fall of 1770 Washington, Crawford, and a fellow veteran named Dr. James Craik, set out from Fort Pitt by canoe to explore possible sites for the bounty lands, making notes and observations as they journeyed to the junction of the Ohio and Great Kanawha Rivers and several miles up the Great Kanawha. The surveying commenced soon after.
The first distribution of the surveyed land came in November 1772. As a part of the acreage to which he was entitled, Washington initially secured three tracts on the Ohio, of 2,314 acres, 2,448 acres, and 4,395 acres. In addition to Washington's acreage, lands were granted to other Virginia Regiment members, including such men as Col. Joshua Fry, Col. Adam Stephen, Dr. James Craik, George Mercer, George Muse, Col. Andrew Lewis, Capt. Peter Hog, Jacob Van Braam, and surveyor John West. Of these men, Hog was with him in the 1753 action and had led an attack against French troops; Stephen participated in Washington's expedition that climaxed with the battles of Jumonville Glen and Fort Necessity, and later commanded a regiment in the Continental Army; West was Fairfax County surveyor and had laid out the town of Alexandria, training his young assistant George Washington as the project proceeded; and as for George Muse, well while serving under Washington at Fort Necessity he was guilty of cowardice and was discharged in disgrace. Yet Washington seems to have cherished no personal ill-will for Muse's conduct, and when the division of the bounty lands was being settled, he used his influence that the broken officer should receive a share.
At a meeting at Winchester, the government of Virginia decided that a second distribution of land should be scheduled for November 1773. Washington was a great believer in the potential of the American West, and he sought to maximize his personal holdings. So he made arrangements with other grantees to purchase their holdings or acquire them by trade. In this 1773 distribution he received jointly with George Muse a patent for 7,276 acres on the river; he immediately made a trade with Muse whereby Washington established his claim to the entire tract.
In this letter to West, Washington relates that he has heard about the new distribution from Hog and Stephen, and he seeks to make sure that veterans at a distance will receive sufficient opportunity to attend the meeting and benefit from the distribution. He specifically mentions Muse in that regard, perhaps so Muse will be in a position to transfer his share of land to Washington. Autograph Letter Signed, Mount Vernon, September 12, 1773, to surveyor John West. "Sir: By two letters just come to hand from Col. Stephen and Capt. Hog, I conclude you are returned. These letters appear to have come by you, and refer to a copy of the Resolves entered into at Winchester, which I should be obliged to you for the perusal of; and to know what method you have adopted to give the absentees notice of your meeting on the Kanawha the 20th of October as the time, to those who live at a distance & are to get notice of it yet…to prepare, if they had any other business upon hand to engage them. The reason of my desire to be informed in this matter is on Muse's account, who I would wish to be early advised of the meeting since he rely upon [it] for the conduct of his part. I should be glad also to know whether you propose to attend the division of the land yourself, and as near as you can guess, the time you will set off."
We obtained this letter from a family in whose possession it had been for over a century. It is unpublished and previously unknown. The letter has been professionally conserved and restored.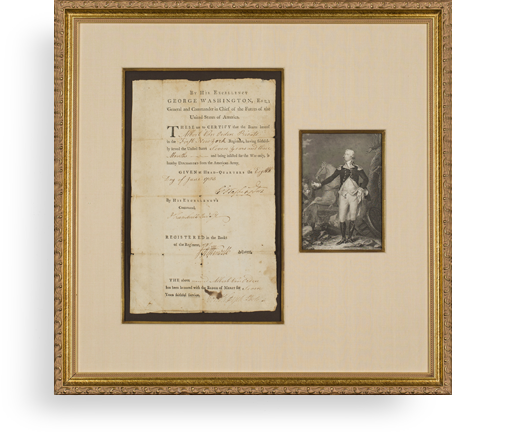 Frame, Display, Preserve
Each frame is custom constructed, using only proper museum archival materials. This includes:The finest frames, tailored to match the document you have chosen. These can period style, antiqued, gilded, wood, etc. Fabric mats, including silk and satin, as well as museum mat board with hand painted bevels. Attachment of the document to the matting to ensure its protection. This "hinging" is done according to archival standards. Protective "glass," or Tru Vue Optium Acrylic glazing, which is shatter resistant, 99% UV protective, and anti-reflective. You benefit from our decades of experience in designing and creating beautiful, compelling, and protective framed historical documents.
Learn more about our Framing Services