Sold – The Official Authorization to Ratify the Treaty of Alliance Between Great Britain and Spain That Led to the Defeat of Napoleon in the Peninsular War
Signed in 1809 when Napoleon's power was at its zenith, it showed that the British would never accept his triumph.
The Treaty of Tilsit, signed in July 1807, established Napoleon's supremacy in western and central Europe and broadened the French attempt to exclude Great Britain from all Continental trade so as to destroy its economy. Only Denmark and Portugal remained as seacoast nations open to British ships. Both of these nations quickly...
The Treaty of Tilsit, signed in July 1807, established Napoleon's supremacy in western and central Europe and broadened the French attempt to exclude Great Britain from all Continental trade so as to destroy its economy. Only Denmark and Portugal remained as seacoast nations open to British ships. Both of these nations quickly came under heavy French pressure, but especially strategically placed Portugal, which was a traditional ally of Britain. Although Portugal took certain actions to comply with French demands, it appeared to Napoleon that it was merely playing for time, trying to balance their nod toward compliance with the needs of the British. Napoleon was then at the peak of his power and influence, and he determined not to wait, but to force Portugal to close its ports by conquest. To get at Portugal, he had to move through Spain, which was theoretically his ally; the result was the bitter and protracted Peninsular War.
The Peninsular War was probably one of the two worst mistakes Napoleon made during his lengthy reign over France, as the conflict in Iberia continued from 1807-1814, caused a popular uprising in Spain, and proved to be a continual drain of manpower and resources. The invasion of Iberia was launched late in 1807, and on December 1 the French captured Lisbon, the Portuguese capital. Thinking Portugal in his grasp and with an existing military presence in Spain, Napoleon then began a series of maneuvers to make Spain a dependency of France. On the pretext that they were reinforcements for the Portuguese campaign, large numbers of French troops entered Spain and seized Pamplona and Barcelona in January and February 1808; soon there were over 100,000 Frenchmen in Spain. On March 23, French Marshal Joachim Murat entered Madrid, ostensively to maintain order but actually to secure the French position in the nation's capital. Meanwhile, a palace revolution had deposed King Charles IV and placed Ferdinand VII on the Spanish throne. However, Charles and Ferdinand were called to Bayonne by Napoleon and coerced to abdicate on May 5–6 in favor of Napoleon's brother Joseph Bonaparte. A bloody uprising against foreign hegemony began in Madrid on May 2 – immortalized in Francisco de Goya's paintings – but was put down by Murat; on June 15 Joseph was proclaimed king of Spain. These events provoked open rebellion in Spain. Within two months, the British landed a force in Lisbon under the Duke of Wellington to support the Spanish and Portuguese resistance. While this was taking place another British force advanced into Spain and found itself facing the French alone. The scale of the war in the Peninsula escalated as a Spanish victory in July 1808 was answered by Napoleon's arrival in Spain at the head of 200,000 veteran troops. He quickly took Madrid and forced the British into a terrible retreat through the Spanish mountains that ended in the evacuation by sea of a British army at La Coruña in January 1809. Napoleon thought the war was won and transferred command of French forces to Gen. Soult, while he returned to Paris to prepare for war against Austria; Napoleon would never again lead an army in the Peninsula.
But Napoleon failed to take into account the ages-old British determination not to allow the entire continent of Europe to be dominated by the any one nation under any circumstances, its fear of an invasion if this happened, and its specific loathing of Napoleon. Even as the British army was making its way to the coast for evacuation, the British government was planning to hold its position in Portugal, expand out from there, and to pursue and win the war on the Peninsula. The first step it took in that direction was to negotiate a Treaty of Peace, Friendship and Alliance with the Spanish forces fighting Napoleon, under the auspices of King Ferdinand VII. Official Treaty, original ratification copy of which is still attached, with chief provisions providing:
* There would be a "stable and inviolable peace; and a perpetual and sincere amity, and a strict alliance during the war against France; together with an entire and lasting oblivion of all acts of hostility done on either side, in the course of the late wars, in which they have been engaged against each other";
* The British King would "continue to assist, to the utmost of his power, the Spanish nation in their struggle against the tyranny and usurpation of France: and the Spanish government…engages never, in any case, to cede to France, any part of the territories or possessions of the Spanish monarchy, in any part of the world." Signing the Treaty for Britain was Foreign Minister George Canning, and for Spain its Minister Juan Luis be Apodaca.
The Treaty next had to be ratified.  An official copy of the entire Treaty text was prepared and that is included. Second, at the end of that was appended a Ratification Statement. In this case, the combined total for both was eight manuscript pages, with the Ratification Statement in Latin reading: "We having seen and considered the Treaty with its separate articles attached….We have approved, ratified, accepted and confirmed these presents…and have caused to be affixed thereto the Great Seal of the United Kingdom…" These two sections together constituted the official ratification copy, to be submitted to and approved by the King. Third, to enable and empower the government to ratify, it was necessary for the Great Seal of the Realm to be affixed to it, and under the British Constitution, the Seal could only be legally affixed with the written authorization and order of the Sovereign. This would be the operative signature for the ratification.
Document Signed, London, March 10, 1809, being the official authorization and instruction to ratify the Treaty, signed by the King as "George R", and by Canning, which document is attached to the official ratification copy. "Our Will and Pleasure is that you forthwith cause the Great Seal of the United Kingdom…to an Instrument bearing date with these presents (a copy whereof is hereunto annexed) containing our ratification…of a Treaty of Peace, Friendship and Alliance…concluded between us and our Good Brother the Catholic King, and signed at London the 14th of January last…And for so doing this shall be your Warrant…"
The alliance of these two countries, traditional enemies since the 16th century, was a telling one as to Napoleon, and it was highly successful at achieving its goals. The allies, commanded by Wellington, made the most imaginative strategic move of the Peninsular War, turning the region north of Lisbon into a gigantic fortress by building the lines of Torres Vedras – a continuous fortification stretching twenty-five miles from the Atlantic coast through Torres Vedras to the broad Tagus river. Campaigns in subsequent years involved prolonged fighting over the fortified towns between Portugal and Madrid; both Ciudad Rodrigo and Badajoz were eventually taken by Wellington in 1812. Later in that year he wins a significant victory at Salamanca and briefly occupied Madrid. In the decisive campaign of 1813, Wellington met the army of Napoleon's brother Joseph Bonaparte (technically at that stage King of Spain) at Vitoria on June 21. Wellington captured the entire French artillery train, of some 150 guns, and all the baggage – including Joseph's impressive collection of art, which now graces Apsley House (Wellington's residence in London). The war petered out into 1814 until Napoleon abdicated. So after waging a seven year war and being bled white over that time, French hopes on the Peninsula were over.
Interestingly, after his brother was overthrown, Joseph Bonaparte, late King of Spain, fled to America. He lived in New York and then Philadelphia, finally settling on an estate in Bordentown, New Jersey. There he entertained French expatriates and the leading intellectuals and politicians of his day. Joseph's (and Napoleon's) younger brother Jerome's family also left Europe for America. Theodore Roosevelt's Attorney General, Charles Joseph Bonaparte, was the Emperor's great nephew.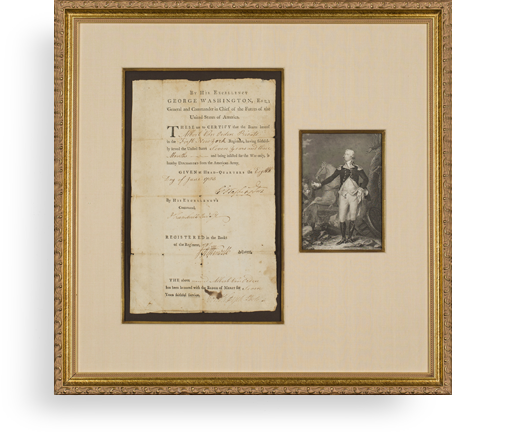 Frame, Display, Preserve
Each frame is custom constructed, using only proper museum archival materials. This includes:The finest frames, tailored to match the document you have chosen. These can period style, antiqued, gilded, wood, etc. Fabric mats, including silk and satin, as well as museum mat board with hand painted bevels. Attachment of the document to the matting to ensure its protection. This "hinging" is done according to archival standards. Protective "glass," or Tru Vue Optium Acrylic glazing, which is shatter resistant, 99% UV protective, and anti-reflective. You benefit from our decades of experience in designing and creating beautiful, compelling, and protective framed historical documents.
Learn more about our Framing Services