The Family of European Royalty, at the Height of the Victorian Age, Before the Wars of the 20th Century Tore the Continent and Royal Families Apart
Included are such luminaries as Queen Victoria, King Edward VII, Czar Alexander II, Kaiser Wilhelm II, monarchs of Denmark, the Netherlands, Prince Napoleon, and many others
This incredible and very rare assemblage of autographs, showing the giants of the Victorian age, along with the main litigants in WWI, many collected at the marriage of the Queen's son to the Tsar's daughter, belonged to the close confidant of the Queen
In the last decades of the 19th century, European...
This incredible and very rare assemblage of autographs, showing the giants of the Victorian age, along with the main litigants in WWI, many collected at the marriage of the Queen's son to the Tsar's daughter, belonged to the close confidant of the Queen
In the last decades of the 19th century, European royalty found itself interconnected familially in ways hard to imagine today. Intermarriages of children created a pre-World War I environment that led to the German Kaiser, Wilhelm II, at the outset of WWI, being the nephew of the late King of England, Edward VII, and cousin of sitting King George V. The royal residences were extravagant gatherings where the children played and the parents discussed geopolitics as the last great monarchical age drew to a close. This was still the case in the 1870s, when Prince Alfred, Queen Victoria's second son, became engaged to Grand Duchess Maria Alexandrovna, daughter of Russian Czar Alexander II. His mother, Queen Victoria, had misgivings about the match, which she wrote about in her diary: "Felt quite bewildered. Not knowing Marie & realizing that there may still be many difficulties, my thoughts & feelings are rather mixed, but I said from my heart "God bless them", & I hope and pray it may turn out for Affie's happiness." Yet the marriage proceeded.
During this time, the Queen's close friend Magdalen Wellesley, wife of the Dean of Windsor, collected autographs.
Slim bound volume titled "ROYAL AUTOGRAPHS" containing seven pages, the first with its ownership signature of "Magdalen Wellesley 1873". Signers of the album constitute an important portion of the European royalty of the age. They include in part:
– Victoria, Queen and Empress, for whom the age was named
– King Edward VII and Queen Alexandra, at the time Prince and Princess of Wales
– William Prince of Prussia, later Kaiser Wilhelm II, who has signed twice.
– Alexander II, Czar and Emperor of Russia, who has dated it Windsor Castle 3/15 May 1874
– Sophia Mathilda, Queen of the Netherlands, wife of King William III and daughter of Grand Duchess Catherine Pavolovna of Russia and granddaughter of Czar Paul I.
– Louise, Queen of Denmark, wife of King Christian IX; her children would marry Russian royalty
– Augusta, Empress of Germany, the last German Empress and Queen of Prussia by marriage to Wilhelm II, German Emperor.
– Eugenie (Empress of France) and Louis Napoleon (Prince Imperial); at this time he had been dubbed by supporters as Napoleon IV, though he would not rule.
– Grand Duke Alexis of Russia, son of Alexander II
– Victoria, Crown Princess of Germany, daughter of Queen Victoria and mother of Kaiser Wilhelm II.
– Frederick William Crown Prince of Germany & Prussia, later German Emperor and King of Prussia for the 99 days between March and June 1888, during the Year of the Three Emperors
– Alfred, Arthur, Leopold, Helena, Beatrice (children of Queen Victoria)
– Louise and Frederick, later King and Queen of Denmark
– Augusta Victoria, Princess of Schleswig Holstein
Some 22 years ago, we had for a short while a similar album. It attracted much attention and sold in a few days. It's taken over two decades for us to find another.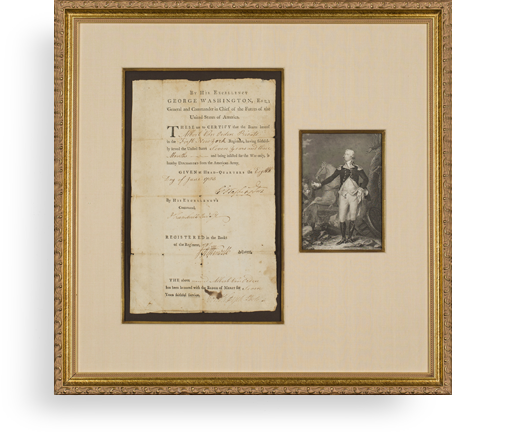 Frame, Display, Preserve
Each frame is custom constructed, using only proper museum archival materials. This includes:The finest frames, tailored to match the document you have chosen. These can period style, antiqued, gilded, wood, etc. Fabric mats, including silk and satin, as well as museum mat board with hand painted bevels. Attachment of the document to the matting to ensure its protection. This "hinging" is done according to archival standards. Protective "glass," or Tru Vue Optium Acrylic glazing, which is shatter resistant, 99% UV protective, and anti-reflective. You benefit from our decades of experience in designing and creating beautiful, compelling, and protective framed historical documents.
Learn more about our Framing Services