General William T. Sherman Writes Secretary of the Navy Gideon Welles That He Will Be Ready for His Mission to Help Reestablish Republican Government in Mexico
With French troops leaving, their puppet Emperor Maximilian soon to be executed, and republican President Benito Juarez poised to reassume power, Sherman's task was to give the mission prestige, and to advise Juarez in regard to the many military problems that would be plaguing him
French Emperor Napoleon III sent an army...
With French troops leaving, their puppet Emperor Maximilian soon to be executed, and republican President Benito Juarez poised to reassume power, Sherman's task was to give the mission prestige, and to advise Juarez in regard to the many military problems that would be plaguing him
French Emperor Napoleon III sent an army into Mexico late in 1861, assertedly to compel the payment of huge debts owed by the government of Mexico. His object, however, was not simply a financial one: a new commander whom he sent to Mexico in 1863 received instructions (which leaked into the press) to the effect that the Emperor's purpose was to establish a Mexican government strong enough to limit "the growth and prestige of the United States." Such a statement meant to American readers that Napoleon had no intention of stopping at the Rio Grande. This situation was antithetical to the interests of the United States and actually constituted a violation of the Monroe Doctrine. But France had taken the chance of imposing this on Mexico because, with the U.S. embroiled in the Civil War, it was in no position to stop it.
In June 1863 French arms swept the Liberal government of President Benito Juarez from Mexico City, and in the summer of 1864 Napoleon installed the Archduke Ferdinand Maximilian, thirty-two-year-old brother of Emperor Franz Joseph of Austria, on the new throne of Mexico. During this period many in the North clamored for action against France, but aggressive behavior by the United States might give Napoleon the popular support he needed to join hands with the Confederacy in a declaration of war, a development that could provide the Confederates with enough extra strength to prevail.
While the Civil War lasted, Congress and the public were held in check largely through the prestige and political skill of Secretary of State William H. Seward. But when the war was over Seward was ready to turn his attention to Mexico, and he warned Napoleon to leave. Before this statement reached Paris, however, the United States Minister there, John Bigelow, who had been mirroring Seward's new firmness for some months, had in September 1865 obtained a tentative statement from the French that they intended to withdraw from Mexico. Thus French Marshal François Achille Bazaine, now Napoleon's commander in Mexico, was informed by the Minister of War that he must bring the army home, but at about the same time he received word to the opposite effect from the Emperor himself. Napoleon's treaty with Maximilian by which the latter accepted the throne of Mexico contained a secret clause providing that French military forces to the number of 20,000 were to remain in Mexico until November 1867. As events were to prove, however, this compact was less likely to determine Napoleon's course of action than were the pressures on him represented by the United States' vigorous diplomacy and the rising and threatening military power of Prussia.
In April 1866 Minister Bigelow succeeded in pinning Napoleon down to a definite understanding, to the effect that the 28,000 French soldiers in Mexico would be brought home in three detachments, leaving in November 1866 and March and November 1867. Soon Napoleon realized he had made a bad bargain with the United States; to attempt to bring the army home in three parts would risk the annihilation of the last third. Early in the autumn of 1866 the Emperor sent his military aide, General Castelnau, to Mexico with instructions to have the army ready to leave in one shipment in March. Thus the evacuation was to begin four months later than Napoleon had promised, but to end eight months earlier.
No word of this important about-face was, however, passed to the United States government. Not long after, Napoleon's new Foreign Minister, the Marquis de Moustier, wrote his Minister in Washington, de Montholon, that the evacuation timetable was raising serious difficulties but that in no case would the November 1867 deadline for its completion be exceeded. The French revealed to Bigelow the abandonment of the three-stage plan. So alarmed was Bigelow by the prospect of a major outbreak of anti-French feeling in America that he refrained from sending the news to Seward until he had heard it from the Emperor himself, whom he saw on November 7. Receiving Bigelow's report of this interview by transatlantic telegraph, Seward struck off a peremptory cablegram to Paris: the United States "cannot acquiesce," he declared.
So strongly had this government relied on Napoleon's original promise that President Andrew Johnson had dispatched an important diplomatic mission to Mexico (which he assumed to be republican Mexico) – a mission that was already at sea, expecting, on arrival at Vera Cruz, to find the French leaving and Juarez resuming the reins of government. The mission consisted of ex-Senator Lewis D. Campbell, newly appointed Minister to Mexico, and General William T. Sherman, sent with Campbell to give the mission prestige, to advise Juarez in regard to the many military problems that would be plaguing him, and possibly to arrange for the use of small numbers of United States troops to assist the Liberal regime by temporarily occupying certain island forts.
Autograph letter signed, at General Grant's Headquarters, Washington, October 31, 1866, to Gideon Welles, Secretary of the Navy, directly relating to preparation for his mission to Mexico, saying he will be ready to go when Cambell is, and seeking a letter of introduction to the captain of the ship carrying him there. "I must start tonight for St. Louis but will be soon to be ready for departure as early as Mr. Campbell will, or as soon as the vessel is ready. Will you be kind enough to supply me now a simple note to the commander of the vessel to justify me in addressing him. So as to be sure as to time of sailing & what mess arrangements are proper."
The Campbell and Sherman mission arrived off Vera Cruz on November 29 and left December 3. General Grant received a report from Sherman at Vera Cruz containing two items of intelligence, highly significant and completely contradictory: two ships, waiting at Vera Cruz to take Maximilian home, had been loaded with tremendous quantities of royal baggage; and the Emperor had just issued a proclamation to the Mexican people announcing His intention to remain. Sherman and Campbell were facing a dilemma, in that they could not reach Juarez without crossing territory held by the Imperialists, with whom they were supposed to have nothing to do. Sherman invited Grant to instruct him to go to Mexico City to see the French directly, who, he was sure, would tell him the truth about French intentions, but nothing came of this suggestion. Wrote Sherman with his colorful language showing his fervid dislike of politics: "I am as anxious to find Juarez as Japhet was to find his father, that I may dispose of this mission."
The French troop withdrawal was complete by March 1867. Republican forces in Mexico scored one triumph after another, and President Juárez reestablished Republican government in Mexico, and had Maximilian executed.
This is our first ever letter concerning the French incursion into Mexico.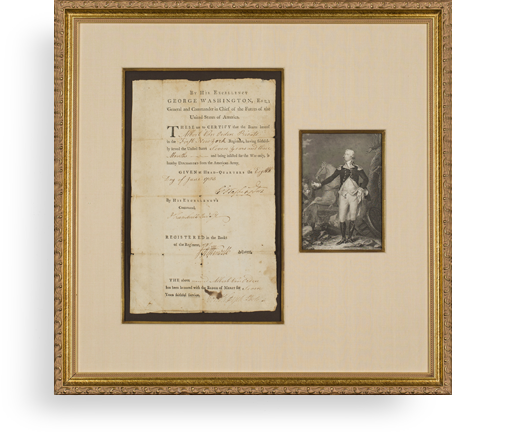 Frame, Display, Preserve
Each frame is custom constructed, using only proper museum archival materials. This includes:The finest frames, tailored to match the document you have chosen. These can period style, antiqued, gilded, wood, etc. Fabric mats, including silk and satin, as well as museum mat board with hand painted bevels. Attachment of the document to the matting to ensure its protection. This "hinging" is done according to archival standards. Protective "glass," or Tru Vue Optium Acrylic glazing, which is shatter resistant, 99% UV protective, and anti-reflective. You benefit from our decades of experience in designing and creating beautiful, compelling, and protective framed historical documents.
Learn more about our Framing Services