President Harry Truman Stakes out the Importance of the Post War Ideal of American Democracy Amidst the Cold War: "What Americans think, what Americans say, what Americans do is causing people in other lands to decide whether they want our way of living or another."
"Success in this cause not only will bring the satisfaction of proving to ourselves that an American ideal can be made to work, but will serve as a demonstration in practical democracy for eyes trained on us from all the galleries of the earth. We will do this job by giving, giving our time, our effort, our money. We will give enough for all of our Red Feather services, enough to make us proud to be Americans."
In a letter to Henry Ford II, supporting the United Way, asks notable businessmen and community leaders to participate, and thereby set an example of Americans "working, living, giving together so all may benefit"
The Community Chest was created in 1913 for the purpose of providing charity and philanthropy in communities, and...
In a letter to Henry Ford II, supporting the United Way, asks notable businessmen and community leaders to participate, and thereby set an example of Americans "working, living, giving together so all may benefit"
The Community Chest was created in 1913 for the purpose of providing charity and philanthropy in communities, and had over 1000 local branches nationwide. It gave donors a red feather pin to proudly wear as a symbol of their commitment to their community, so the fund-raising campaigns were often called Red Feather campaigns. Ultimately the Community Chest changed its name to The United Way, which is now the largest charity in the U.S. by donations. In its broad donor group, 57% of its donations come through payroll withholding, another 20% from corporate donations, and the balance through fund-raising. The local chapters take funds raised and pooled from a community for the purpose of charitable uses within that community. The small percentage remitted to the national umbrella organization is used for one of three focus areas: education, income and health.
Just as some presidents had lent their names to the Red Cross for fundraising purposes, the same occurred with Community Chest. Franklin and Eleanor Roosevelt took an active interest in the Community Chest campaigns, with FDR initiating get-the-ball-rolling speeches and Eleanor working on the ground. President Truman was also in sympathy with the Community Chest, and in 1948 sent prominent businessmen and community leaders letters urging their participation and contributions. In the letter, he asked them to set an example for the world, and help meet the nation's health and welfare needs, acting regardless of race, creed, economic status or political belief. This, he felt, would demonstrate democracy for eyes trained on us from all the corners of the earth.
Henry Ford II was one of the nation's key business leaders, and thus a logical person for Truman to contact. In World War II, just a few years before this letter, Ford had turned from manufacturing cars and instead made airplanes for the nation's military. In fact, Ford produced 8,685 bombers for the Army Air Force by 1945. In time, Ford would be a close confidant of President Eisenhower's.
Typed letter signed, on White House letterhead, Washington, May 5, 1948, to Henry Ford II. "America today is a stage upon which a drama of human destiny is being appraised by the critical eyes of all the world. What Americans think, what Americans say, what Americans do is causing people in other lands to decide whether they want our way of living or another.
"At the core of our democratic tradition is the American ideal of working, living, giving together so all may benefit. It is significant that America gave birth to the plan and practice of voluntary welfare groups teaming together for joint planning and federated financing for everybody's benefit.
"In more than 1,000 American communities, Red Feather campaigns will be held this year to enable more than 12,000 Red Feather services to continue their work, meeting many of the health and welfare needs of all our people regardless of race, creed, economic status or political belief. The Red Feather campaigns are as American as "E Pluribus Unum" for the Red Feather, too, has brought one out of many. The Red Feather campaign is many campaigns in one.
"Success in this cause not only will bring the satisfaction of proving to ourselves that an American ideal can be made to work, but will serve as a demonstration in practical democracy for eyes trained on us from all the galleries of the earth. We will do this job by giving, giving our time, our effort, our money. We will give enough for all of our Red Feather services, enough to make us proud to be Americans."
Ford, it turned out, was already active in this cause. In 1947, he had started a United Way Fund in his manufacturing plants, and remained involved. On May 13, he responded to Truman by saying, "I am very happy to receive your letter of May 5, and concur entirely with the sentiments expressed therein. We have a large job this year in raising the funds for the operation of the Community Chest throughout the United States, but I am sure that we will succeed. We certainly appreciate your backing in this effort." Ford's retained copy of this letter is included.
In September 1948, four months later, as if to join the two men directly in this philanthropic effort, the Community Chest drive opened with a special program that was carried on the four national networks at that time. The main addresses were by President Truman and Henry Ford II; then there was a variety show starring Bob Hope, Red Skelton, Danny Kaye, Jack Benny, Ronald Coleman, Jo Stafford and the Andrews Sisters.
This letter remained in the Ford family until 2020. It has never before been offered for sale.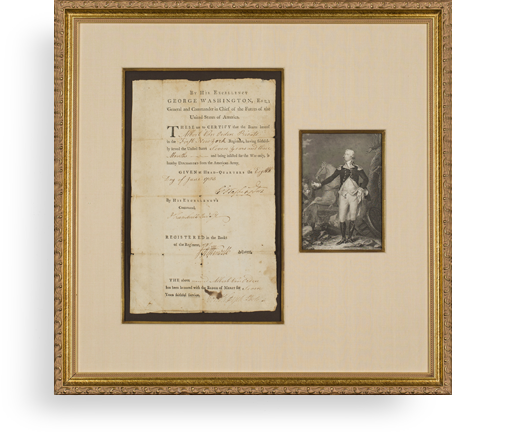 Frame, Display, Preserve
Each frame is custom constructed, using only proper museum archival materials. This includes:The finest frames, tailored to match the document you have chosen. These can period style, antiqued, gilded, wood, etc. Fabric mats, including silk and satin, as well as museum mat board with hand painted bevels. Attachment of the document to the matting to ensure its protection. This "hinging" is done according to archival standards. Protective "glass," or Tru Vue Optium Acrylic glazing, which is shatter resistant, 99% UV protective, and anti-reflective. You benefit from our decades of experience in designing and creating beautiful, compelling, and protective framed historical documents.
Learn more about our Framing Services