General George Washington Issues Orders to the Famed Culper Spy Ring Through His Spy Master
As the British marshal troops to head South, Washington orders spy chief Benjamin Tallmadge to direct Samuel Culper to gather intelligence from inside occupied New York
Find "In what manner the British Army is at present disposed…I am anxious to receive intelligence". He arranges to pay his Culper Ring spies in gold; One of only a handful of Culper Ring orders to ever reach the market
British forces occupied New York in August 1776, and the city would...
Explore & Discover
G: Washington

- The striking signature on this letter demonstrates Washington's bold pen as well as any other you will find.

Gold for his spies

- Washington here arranges to pay the Culpers with gold sent through Tallmadge. This is an incredibly rare instance of seeing such a financial arrangement that helped fund the most successful spy operation of the Revolution

Gathering intelligence

- Washington's military mind is at work, and the questions he asks and the anxiety he feels for the answers demonstrates his knowledge of the factors weighing on the situation in the colonies and his ability to serve as his own spymaster

Awaiting British reinforcements

- Among the more pressing factors was the fear that the British were sending over reinforcements to wage the war, and Washington desires urgent confirmation of this

The spymaster

- Tallmadge's role in the Revolution war paramount. It was the men he assembled who gathered the secrets from behind enemy lines, secrets that proved valuable to the American war efforrt
Find "In what manner the British Army is at present disposed…I am anxious to receive intelligence". He arranges to pay his Culper Ring spies in gold; One of only a handful of Culper Ring orders to ever reach the market
British forces occupied New York in August 1776, and the city would remain a British stronghold and a major naval base for the duration of the Revolutionary War. Though getting information from New York on British troop movements and other plans was critical to General George Washington, commander of the Continental Army, there was simply no reliable intelligence network that existed on the Patriot side at that time. That changed in 1778, when a young cavalry officer named Benjamin Tallmadge established a small group of trustworthy men and women from his hometown of Setauket, Long Island. Known as the Culper Spy Ring, Tallmadge's homegrown network would become the most effective of any intelligence-gathering operation on either side during the Revolution. The information collected and passed on by the ring from 1778 to war's end in 1783 concerned key British troop movements, fortifications and plans in New York and the surrounding region.
In mid-September 1776, the American officer Nathan Hale was hanged without trial in New York City. British authorities had caught Hale when he was on his way back to his regiment after having penetrated the British lines to gather information. Hale's death illustrated the grave dangers inherent in spying for the rebels during the Revolutionary War, especially in the British stronghold of New York. To join his ring, Tallmadge recruited only those whom he could absolutely trust, beginning with his childhood friend, the farmer Abraham Woodhull, and Caleb Brewster. Tallmadge went by the code name John Bolton, while Woodhull went by the name of Samuel Culper.
Woodhull, who began running the group's day-to-day operations on Long Island, also personally traveled back and forth to New York collecting information and observing naval maneuvers there. He evaluated reports and determined what information would be taken to Washington. Dispatches would then be given to Brewster, who would carry them across Long Island Sound to Fairfield, Connecticut, and Tallmadge would then pass them on to Washington. Woodhull lived in constant anxiety of being discovered, and by the summer of 1779 he had recruited another man, the well-connected New York merchant Robert Townsend, to serve as the ring's primary source in the city. Townsend wrote his reports as "Samuel Culper, Jr." and Woodhull went by "Samuel Culper, Sr."
The Culper Spy Ring has also been credited with uncovering information involving the treasonous correspondence between Benedict Arnold and John Andre, chief intelligence officer under General Henry Clinton, commander of the British forces in New York, who were conspiring to give the British control over the army fort at West Point. In September of 1780, Gen. Arnold, planning his treason, secured the command of West Point. He then met with Andre, and it was agreed that when British troops ascended the river, Arnold was to apply to Washington for reinforcements, and after making a show of resistance, was to surrender the post. The British would follow by falling upon the approaching American reinforcements, probably led by Washington himself. So, at one blow, Washington's army was to be ruined and he was to be seized. The plot was discovered when on September 23, Andre was stopped near Tarrytown, N.Y. by some American militiamen, and suspicious papers were found upon his person. Fortunately, at this point Tallmadge returned from a scouting foray and saw the papers. Tallmadge was very suspicious of Andre and sent a letter with the found papers to Washington, who appreciated their significance.
Thus Arnold's plot was foiled in part through Tallmadge's quick thinking. Arnold escaped but Andre was hanged as a spy on October 2. With Arnold now a British general, and suspecting that the British had planned additional military moves in conjunction with his treason, Washington watched and waited for British action. This was expected in or around the Hudson River Valley, on Long Island or in New Jersey. There was also concern that the identities of Tallmadge's men might be known to Arnold. Arnold's capture threw the city into tumult and meetings scheduled with Culper Jr. and Tallmadge had to be cancelled.
On October 17, Washington received from Tallmadge a letter from Culper Jr., acknowledging letters to him of the "30th of Sept: & 6th of October… I am happy to think that Arnold does not know my name. However, no person has been taken up on his information. I was not much surprised at his conduct, for it was no more than I expected of him. Genl Clinton has introduced him to the General officers on parade as General Arnold in the British service; and he is much caressed by General Robinson… The army which embarked last week, are generally supposed intended to make a diversion in Virginia or Cape Fear in No. Carolina, to favour Lord Cornwallis—they take but few Horses, but a number of Saddle &c., with an intention to mount a number of dismounted dragoons who are going with them. The Cork & English Fleets are, I expect, arrived by this." Culper Sr. also noted, "I have inclosed you a receipt for fifteen gines. The other five pieces were two light and could not be of any Service to me two of which were Qurter Joes and have Sent them back again."
The British, however, were mainly looking South. By order of the British commander in America, Gen. George Clinton, on October 16, 1780, Gen. Alexander Leslie, with several English regiments, left New York for the Southern states. This was a considerable force, and word had now reached Washington that British troops were on the move. He urgently needed to determine the significance of the movement, and immediately wrote Tallmadge, instructing him to gather information.
In his letter, Washington first dealt with a problem of Tallmadge's, that the gold coins that he had been given to funnel to Culper had been shaved, and were thus worth less than the amount he required. He then turned his attention to instructing Tallmadge about the British.
Letter Signed, Head Quarters near Passaic Falls (New Jersey), October 20, 1780, to Tallmadge. "I have recd your favor of the 17th. If you will return the five pieces of Gold which are too light, I will replace them. I have not the means of weighing them, and therefore may be again mistaken. Be pleased to find an opportunity as soon as possible of obtaining the following information, with accuracy. Of what number of Men and of what Corps the late embarkation consisted? Whether Sir Henry Clinton went with them? Whether a reinforcement arrived lately from Europe – the number, and whether of which Corps or Recruits? In what manner the British Army is at present disposed – designating as nearly as possible the Corps which lay at the different places? I am anxious to receive intelligence of the foregoing particulars, and you will oblige me by obtaining it Speedily." The letter is in the hand of Col. Tench Tilghman, Washington's aide-de-camp, and has Washington's bold signature.
Washington had every reason to be anxious for information on the British embarkation. Were the troops few in number or a significant force, did Gen. Clinton go with them, and had they been recently reinforced? What was the British Army's present disposition? This information was crucial for both attack and defense and would disclose which positions of Washington were in danger and the destination of the embarkees.
Tallmadge responded on the 23rd, assigning the task to Culper. "Cu. shall be immediately notified of the Questions which Your Excellency wishes to have resolved."
The answers Washington received came in a coded letter through Tallmadge from "Culper" himself. It indicated the course of the war, as it moved from North to South. A group of British had gone into Virginia, and another southward. The British were receiving reinforcements and actively waiting for the arrival of a supporting fleet. These southward-heading troops participated in Cornwallis's entire campaign through North Carolina and Virginia and surrendered with him at Yorktown.
An extraordinary letter from Washington to his spymaster, relating both to Arnold's treason, funding his spy operation, and the movement of the war to the Southern theater, where it culminated in victory.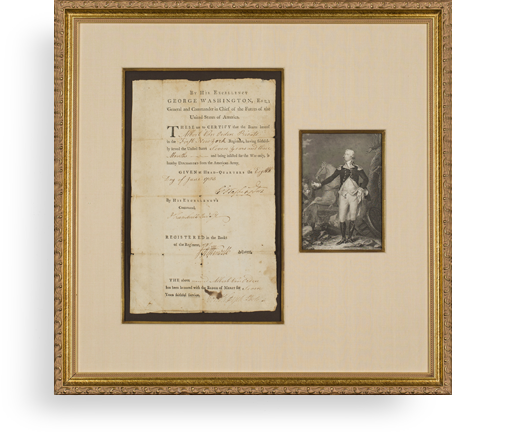 Frame, Display, Preserve
Each frame is custom constructed, using only proper museum archival materials. This includes:The finest frames, tailored to match the document you have chosen. These can period style, antiqued, gilded, wood, etc. Fabric mats, including silk and satin, as well as museum mat board with hand painted bevels. Attachment of the document to the matting to ensure its protection. This "hinging" is done according to archival standards. Protective "glass," or Tru Vue Optium Acrylic glazing, which is shatter resistant, 99% UV protective, and anti-reflective. You benefit from our decades of experience in designing and creating beautiful, compelling, and protective framed historical documents.
Learn more about our Framing Services