Theodore Roosevelt: "I should no more have a man entered on a passport as a Hebrew, than as an Episcopalian, or a Baptist, or a Roman Catholic."
He opposes separating out Jews as a separate race, stating this to two of the most prominent American Jews of the era
"It is ill-advised to treat what is really a religious matter as a race matter."
As the number of immigrants fleeing Europe for a life in the United States assumed flood proportions in the 1880s and 1890s, there was a reaction against them. Some questioned whether they could ever really be American...
"It is ill-advised to treat what is really a religious matter as a race matter."
As the number of immigrants fleeing Europe for a life in the United States assumed flood proportions in the 1880s and 1890s, there was a reaction against them. Some questioned whether they could ever really be American in customs, actions, and loyalties. The term "hyphenated American" was coined about 1889, and became common as a derogatory term implying these immigrants were not true Americans. Theodore Roosevelt hated the implication of disloyalty behind the phrase, and espoused the idea that these immigrants were Americans indeed, saying, "There is no room in this country for hyphenated Americanism. When I refer to hyphenated Americans, I do not refer to naturalized Americans. Some of the very best Americans I have ever known were naturalized Americans, Americans born abroad." He felt the central direction of Americanism was forward looking; it was "a question of spirit, conviction, and purpose, not of creed or birthplace."
Roosevelt developed a special relationship with Jews from his time as police commissioner of New York City, encouraging them to serve and praising them for their dedicated efforts to keep the city safe. There is the famous story of a Jewish policeman racing into a burning house, and how this man's heroism brought TR to the realization that the quality of a person bears no relationship to his religion or national background. In his autobiography, TR recounts that a German preacher had decided to go on an anti-Semitic crusade in New York to antagonize Jews there. Roosevelt assigned Jewish police officers to protect him, writing that the "proper thing to do was to make him ridiculous."
In 1899, Roosevelt's support was so high amongst Jewish Republicans that they printed Yiddish flyers for his gubernatorial campaign alluding to his and the Rough Riders' (which included many Jewish soldiers) victory over Spain in the Spanish-American War as revenge for the 1492 expulsion of Jews from Spain. As 26th president of the United States, Roosevelt made it clear that he wasn't going to let anyone be bullied around. He would not tolerate racism and discrimination, and indeed, Roosevelt was the first president to appoint a Jewish cabinet member – Secretary of Commerce and Labor Oscar Solomon Straus. He also intervened with the governments of Romania and Russia on behalf of their Jewish populations and protected the Jews of North Africa from oppression and from unfair restrictions and fees.
Roosevelt did not believe "that the differences" in people "are due to permanent race characteristics." But to him, were Jews a separate race from everyone else, or simply people practicing a different religion? He wrote as President that to single Jews out as a group was wrong, and to use religion as a criteria inappropriate, saying that "In no case does a man's religious belief in any way influence his discharge of his duties". He added: "To discriminate against a thoroughly upright citizen because he belongs to some particular Church, or because, like Abraham Lincoln, he has not avowed his allegiance to any Church, is an outrage against the liberty of conscience…In my Cabinet at the present moment there sit side by side Catholic and Protestant, Christian and Jew, each man chosen because in my belief he is peculiarly fit to exercise on behalf of all our people the duties of the office."
Israel Fischer was an attorney and member of the executive committee of the New York Republican State Committee. He then served as U.S. Congressman, and in 1899 was appointed by President McKinley to the Board of General Appraisers, which decided controversies related to appraisals of imported goods and classification of tariffs. McKinley had ignored strong advice not to appoint Fischer from those who said "A Jew could not be trusted". Fischer was chairman of that board while Roosevelt was President, and TR named him American representative to the International Customs Congress. Fischer was later associate justice of the United States Customs Court. In 1911, Felix Frankfurter was an attorney with the office of the U.S. Attorney for the Southern District of New York. He went on to serve on the United States Supreme Court. Fischer and Frankfurter were two of the most prominent Jews in the country. TR knew Frankfurter as well as Fischer, and had just the previous month exchanged pleasantries with him.
In 1910, and historically, the United States passport had no category for race or religion. There was a place for physical description, including complexion, so in effect race could be determined by looking at a passport. There was a category for a father's nationality, so it could be generally determined whether the person was a native born or naturalized citizen. But not so religion. There was a controversy in 1911 about American Jews being refused admission into Russia, and likely some non-Jews were swept up in this fracas. Perhaps, it was suggested within the Taft administration, if the nationality of Jews was listed as Hebrew rather than as that of the country in which their father was born, it would be apparent at a glance whether a traveler was a Jew. The Jewish community was naturally opposed to such a classification, as the entire framework of discrimination and against Jews in the 20th century was predicated on Jews being a separate race.
In this letter Roosevelt answers the race/religion question. Considering that it is addressed to such prominent Jewish leaders, it content must be seen as a policy statement rather than just an opinion. Typed letter signed, on his personal letterhead, New York, June 30, 1911, to a Israel Fischer, and marked "Private". "This is strictly private and for your own consideration only, because I must not be quoted in any way that would seem to criticize anyone connected with the administration of my successor in office. Personally I would not put in the word Hebrew. I believe that from the standpoint of the Christian, just as much as from the standpoint of the Jew, it is ill-advised to treat what is really a religious matter as a race matter. I know plenty of men, some of them very prominent man, who are of mixed race; and personally I should no more have a man entered on a passport as a Hebrew, than as an Episcopalian, or a Baptist, or a Roman Catholic." It then occurred to him that there was one instance when entry of religion would be appropriate: enumeration purposes. So he added, "Such an entry in the census is doubtless entirely proper." Some light fading to the typed portion, but not the signature. The Theodore Roosevelt Papers shows that a copy of this letter was sent to Frankfurter at the U.S. Attorney's Office.
This classification of Jews as a religious group should be seen as a statement for Jewish equality as Americans, as Fischer and Frankfurter doubtless understood it.
TR had found yet another divergence of opinion between him and the Taft administration. And though he indicates he is wary of being seen publicly to criticize it, he is writing to the very men most likely to disseminate his position to the Jewish community. Thus his oblique criticism of Taft picked up in 1911 and led to his Progressive Party campaign against Taft in 1912.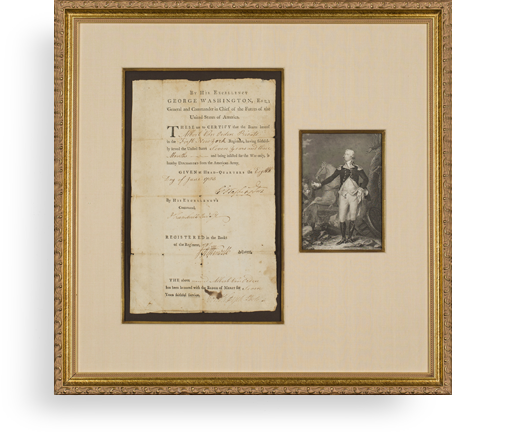 Frame, Display, Preserve
Each frame is custom constructed, using only proper museum archival materials. This includes:The finest frames, tailored to match the document you have chosen. These can period style, antiqued, gilded, wood, etc. Fabric mats, including silk and satin, as well as museum mat board with hand painted bevels. Attachment of the document to the matting to ensure its protection. This "hinging" is done according to archival standards. Protective "glass," or Tru Vue Optium Acrylic glazing, which is shatter resistant, 99% UV protective, and anti-reflective. You benefit from our decades of experience in designing and creating beautiful, compelling, and protective framed historical documents.
Learn more about our Framing Services