Thomas Jefferson's Note, Hand Delivered By His Slave, to Fetch Coffee for the Tables of Monticello
The slave was almost certainly Burwell Colbert, nephew to Sally Hemings
Research disclosed only one other such document having reached the market and that more than a decade ago
When Thomas Jefferson retired from the Presidency, he returned to Monticello to manage his farm and lands. He is perhaps America's most well known gentleman farmer, rivaled perhaps only by George Washington.
Not only...
Research disclosed only one other such document having reached the market and that more than a decade ago
When Thomas Jefferson retired from the Presidency, he returned to Monticello to manage his farm and lands. He is perhaps America's most well known gentleman farmer, rivaled perhaps only by George Washington.
Not only did Jefferson manage the lands, he tended the house, and employed slaves to both ends. Particularly favored by Jefferson were members of the Hemings family. Controversy about the exact nature of that relationship first emerged in 1802 when James T. Callender, a Jeffersonian pamphleteer turned embittered enemy, published the story of Jefferson's sexual relationship with Sally Hemings. The Federalist press eagerly reprinted the story of the President's ongoing affair with "Dusky Sally" but Jefferson refused to dignify the charges with any response. For decades the prevailing view was the one laid down by Professor Malone, who tried to brush "the miscegenation legend" away as mere gutter politics. The charges, he wrote, were "virtually unthinkable in a man of Jefferson's moral standards and habitual conduct". Malone speculated that the special status of the Hemings slaves owed to their being the descendants of Jefferson's father-in-law John Wayles. Recent studies have emerged using genetic analysis to attempt to prove the connection; others have done the same to cast doubt.
Jefferson's habit when sending slaves to fetch items for him in town was to use a small note card, and write the product and any further instruction on the card to be delivered. Less than 100 of these appear in the Papers of Thomas Jefferson between 1809 and 1822. He signed each "ThJ."
Burwell Colbert was an enslaved domestic worker at Monticello. He was the son of Betty Brown and the grandson of Elizabeth (Betty) Hemings. Colbert began his working life, at the age of ten, in the Mulberry Row nail-making shop, and later acquired skills in painting and window glazing. His work included painting the balusters and Chinese railing on the roof and the landau carriage built by his uncle John Hemings, and his cousin Joseph Fossett. Jefferson's high regard for Colbert was evident. He was the only worker in the nailery "absolutely exempted from the whip" and only one of two slaves to receive an annual "gratuity" of twenty dollars.
During Jefferson's retirement, Burwell Colbert was "the main, principal servant" at Monticello, responsible for the running of the household. As butler, he directed the work of enslaved housemaids, waiters, and porters. He was also Jefferson's personal servant, whose duties included laying out Jefferson's clothes and attending to his personal needs.
Any documents connecting Jefferson to his famous slaves is extremely uncommon. Only a handful have reached the market. The notes to be delivered by slaves are even more uncommon. We have found only one other, and that one more than a decade ago.
In March and April 1822, Burwell Colbert appears as having been used as the runner to the store of Charlottesville merchant James Leitch, who received most of these requests, which is consistent with his role at this time.
Coffee was a staple at Jefferson's Monticello. Jefferson called it "the favorite drink of the civilised world." Jefferson enjoyed the coffee houses of Williamsburg and Paris, and served coffee at the President's House, Poplar Forest, and Monticello. He preferred beans imported from the East and West Indies, and abhorred the "green" or unripe beans that were popular in America at the time.
Autograph document signed, to merchant James Leitch, to be delivered by a slave, likely Burwell, April 4, 1822, ordering nails and "coffee (not green)".
This document was formerly on display at the Center for Western Studies. It has been in private hands until now.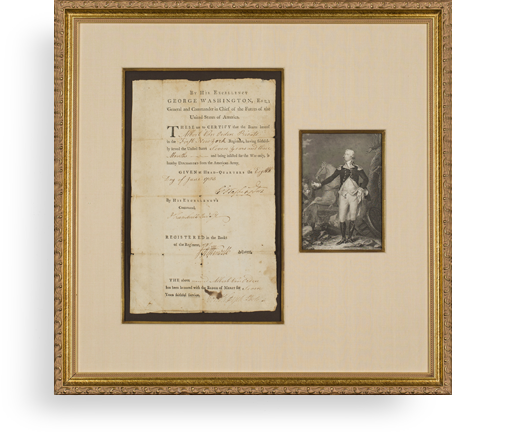 Frame, Display, Preserve
Each frame is custom constructed, using only proper museum archival materials. This includes:The finest frames, tailored to match the document you have chosen. These can period style, antiqued, gilded, wood, etc. Fabric mats, including silk and satin, as well as museum mat board with hand painted bevels. Attachment of the document to the matting to ensure its protection. This "hinging" is done according to archival standards. Protective "glass," or Tru Vue Optium Acrylic glazing, which is shatter resistant, 99% UV protective, and anti-reflective. You benefit from our decades of experience in designing and creating beautiful, compelling, and protective framed historical documents.
Learn more about our Framing Services