Theodore Roosevelt's Extraordinary Sense of Responsibility For Personally Supporting The Families of Fallen Former Colleagues
"the children of poor devils who were with me in the Legislature and acted honestly and were knocked out in consequence, to the widows of the no less unlucky men who started ranching in the West when I did, to fail in winning a fortune and finally succumbed to hardship and exposure."
Even though he writes, "I am one of those who are reputed to be rich and am not"; This is an unpublished letter, its content published here for the first time
Theodore Roosevelt was born and grew up in New York City. His father, Theodore, Sr., was a well-to-do businessman,...
Even though he writes, "I am one of those who are reputed to be rich and am not"; This is an unpublished letter, its content published here for the first time
Theodore Roosevelt was born and grew up in New York City. His father, Theodore, Sr., was a well-to-do businessman, and his father was a well known philanthropist. They helped found the New York City Children's Aid Society, the Metropolitan Museum of Art, the American Museum of Natural History, and the New York Children's Orthopedic Hospital. As a boy, TR was tutored at home by private teachers. He traveled widely through Europe and the Middle East with his family during the late 1860s and early 1870s, once living with a host family in Germany for five months. In 1876, he entered Harvard College, leaving New York with the advice of his father: "Take care of your morals first, your health next, and finally your studies". He studied a variety of subjects, including German, natural history, zoology, forensics, and composition. His father died in 1878, and he was one of the heirs. To the public eye, TR had a wealthy background and was wealthy himself.
During college, Roosevelt fell in love with Alice Hathaway Lee, and they were married in October 1880. At age 24 he was elected to the New York Assembly, and served from 1882 to 1884. He immediately began making his mark as a crusader against corruption. His high profile in these efforts made him a leader of the reformers, and he felt a sense of responsibility to those who stood by his side and whose political careers were ruined for doing so.
A double tragedy struck his family in 1884. On February 12, Alice gave birth to a daughter, Alice Lee. Two days later, Roosevelt's mother died of typhoid fever and his wife died of kidney disease within a few hours of each other – and in the same house. A devastated Roosevelt  left his daughter in the care of his sister and fled to the Dakota Badlands. Once out West, Roosevelt soaked in the frontier lifestyle. He bought two ranches and a thousand head of cattle. He flourished in the hardships of the western frontier, riding for days, hunting grizzly bears, herding cows as a rancher, and chasing outlaws as a frontier sheriff. But not everyone was as lucky; some of those who rode with him on horseback died young. Roosevelt headed back East in 1886 to return to his former life. One of the reasons he did so was because of a rediscovered love with his childhood sweetheart, Edith Kermit Carow. The two were married in England in 1886 and moved to Oyster Bay, New York, into a house known as Sagamore Hill. In addition to raising Roosevelt's first child, Alice, he and Edith had five children. TR resumed his career in politics, but he never forgot his comrades out West.
In 1888, TR campaigned for Republican presidential nominee Benjamin Harrison. When Harrison won the election, he appointed Roosevelt to the U.S. Civil Service Commission. Roosevelt was re-appointed to the Commission by Democratic President Grover Cleveland in 1893. As commissioner, he worked hard to enforce the civil service laws, although he regularly clashed with party regulars and politicians who wanted him to ignore the law in favor of patronage.
Philip H. Welch was a well-loved humorist whose works and sketches were published frequently in Puck, Life, Harper's Bazaar and other major magazines and newspapers of the day. In 1889 he died prematurely at age 40, leaving a wife and small children. Edward P. Clark was a newspaperman who knew Welch well, and he instituted a project to raise funds for the support of the widow and children. He wrote many notables asking for contributions, and one of those was Theodore Roosevelt.
TR was his father's son, and retained an interest in philanthropy. He wrote, "Do what you can, with what you have, where you are", and his writings contain an essay on "Civic Helpfulness". When he won the Nobel Prize, he gave the prize money to charity. And he believed that true charity was that charity for which a person did not take public credit. Yet no article, essay, quotation, or even public action reveals more than this letter about the deep and extraordinary sense of responsibility TR carried with him for former colleagues he respected who had sacrificed for what he believed in, or the families of those whose ventures out West had cost them their lives.
Autograph letter signed, on his United States Civil Service commission letterhead, Washington, July 12, 1889, to Clark, exhibiting this in the most direct manner. "I am glad to send you the enclosed $20 for the Welch fund; but I am genuinely sorry not to make it more. I have hesitated about sending anything because I fear that if I sent only the small sum I could afford, it might discourage other subscriptions for a larger amount. I am one of those who are reputed to be rich and am not; and I have a very exceptionally large number of people who think they have a claim on me, and who indeed have – from the children of poor devils who were with me in the Legislature and acted honestly and were knocked out in consequence, to the widows of the no less unlucky men who started ranching in the West when I did, to fail in winning a fortune and finally succumbed to hardship and exposure."
This letter is unpublished, and its content is revealed here for the first time. We were not previously aware that TR had been privately and quietly helping to support these colleagues and their families, showing a sense of responsibility that can only be considered extraordinary.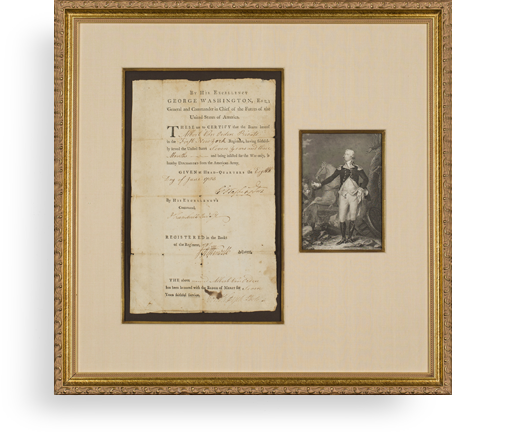 Frame, Display, Preserve
Each frame is custom constructed, using only proper museum archival materials. This includes:The finest frames, tailored to match the document you have chosen. These can period style, antiqued, gilded, wood, etc. Fabric mats, including silk and satin, as well as museum mat board with hand painted bevels. Attachment of the document to the matting to ensure its protection. This "hinging" is done according to archival standards. Protective "glass," or Tru Vue Optium Acrylic glazing, which is shatter resistant, 99% UV protective, and anti-reflective. You benefit from our decades of experience in designing and creating beautiful, compelling, and protective framed historical documents.
Learn more about our Framing Services