Abraham Lincoln to "His Majesty, the Sultan of Zanzibar"; He Sends a Representative to One of the Major Slavery Capitals of Africa
He names the new Consul there; The only Lincoln appointment to Africa we have ever seen, and the only one to a nation in the ongoing slave trade
This document was acquired from the descendants of the appointee and it has not been offered for sale before
Abraham Lincoln is widely known and appreciated as the man who brought slavery to an end in the United States. Staking out his feelings about slavery before the Civil War, he said, "Those...
This document was acquired from the descendants of the appointee and it has not been offered for sale before
Abraham Lincoln is widely known and appreciated as the man who brought slavery to an end in the United States. Staking out his feelings about slavery before the Civil War, he said, "Those who deny freedom to others, deserve it not for themselves; and, under a just God, can not long retain it. I think Slavery is wrong, morally, and politically. I desire that it should be no further spread in these United States, and I should not object if it should gradually terminate in the whole Union." Late in the war he wrote, "I approve the declaration in favor of so amending the Constitution as to prohibit slavery throughout the nation."
Zanzibar's history was greatly shaped by its geography, the prevailing winds of the region placing it just off Africa and directly on the Indian Ocean trade routes, making it accessible to both traders and colonists from Arabia, south Asia, and the African mainland. The first immigrants were the Africans; thousands of years later came the Persians, who began to land in Zanzibar in the 10th century and who, over a brief period, became absorbed into the local African population. Arabs also had a deep influence on Zanzibar, because the island's position made it a perfect location for Arabs conducting ocean-going commerce, and more importantly, mounting slave expeditions into Africa. Arabs from Oman became especially important, for they began establishing colonies of merchants and landowners in Zanzibar.
The rapid expansion of the slave trade in the late 18th and early 19th centuries, caused by the demand for plantation slaves in North and South America, made Zanzibar central to the slave trade routes into the interior of Africa. In fact, Zanzibar became the main slave-trading port of the East African Rift. Trade in slaves, along with exports of ivory and cloves, vastly increased Zanzibar's wealth, and its capital Stone Town became one of the wealthiest and largest cities in East Africa. Traders from Arabia, Persia and India would arrive in Zanzibar on the monsoon winds to sell iron, cloth, sugar and dates. When the winds changed, they would return home with their boats packed full of tortoiseshell, cloves, coconuts, rice, ivory and slaves. In the 19th century as many as 50,000 slaves were passed through the slave markets of Zanzibar each year. Moreover, David Livingstone estimated that 80,000 slaves died each year before ever reaching the island's slave markets.
In 1861 Zanzibar was separated from Oman and became an independent sultanate, which controlled vast African domains, including its ongoing slave empire. The United States nonetheless determined to establish a consulate there to represent American interests. Shortly after, a treaty was signed by Britain and France, whereby both parties agreed to respect the new independence of the Sultan of Zansibar, and followed the American lead by establishing consulates as well. In the 1870s the British began to assert an interest in Zanzibar. Under strong British pressure, the slave trade in Zanzibar was officially abolished in 1876 (although it continued in practice for some years afterwards). Today Zanzibar is part of Tanzania.
In October 1860, a loyal Tennesseean named William S. Speer wrote presidential candidate Abraham Lincoln a letter suggesting that Lincoln not appear to threaten slavery in Illinois. On October 23, Lincoln wrote back, "I appreciate your motive when you suggest the propriety of my writing for the public something disclaiming all intention to interfere with slaves or slavery in the States; but in my judgment, it would do no good. I have already done this many—many, times; and it is in print, and open to all who will read. Those who will not read, or heed, what I have already publicly said, would not read, or heed, a repetition of it. 'If they hear not Moses and the prophets, neither will they be persuaded though one rose from the dead.'" Thus Lincoln quoted the Bible to justify his position. Speer and Lincoln had other correspondence subsequent to this, including a letter urging Lincoln to put John Bell, another Tennesseean, to his Cabinet.
When it came time to appoint a consular to Zanzibar, Lincoln turned to a loyal Union man who had had some sympathy for slavery – William S. Speer.
Document signed, Washington, November 15, 1861, naming William S. Speer consul, and requested "His Majesty, the Sultan of Zanzibar, His governors and officers to permit the said William S. Speer fully and peaceably enjoy and exercise the said office…" The document is countersigned by William H. Seward as Secretary of State, and the Great Seal is still present. We obtained the documents from the Speer descendants and it has never before been offered for sale. Professionally conserved.
Speer took his post, and correspondence from him to Lincoln datelined Zanzibar may be found in institutions.
This is an extraordinary rarity. It is the only Lincoln appointment to Africa we have ever seen, and the only one to a nation in the ongoing slave trade.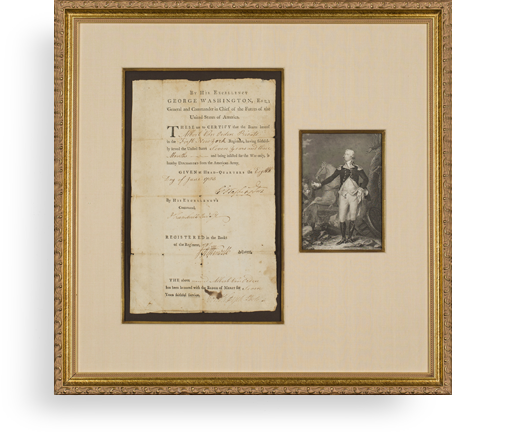 Frame, Display, Preserve
Each frame is custom constructed, using only proper museum archival materials. This includes:The finest frames, tailored to match the document you have chosen. These can period style, antiqued, gilded, wood, etc. Fabric mats, including silk and satin, as well as museum mat board with hand painted bevels. Attachment of the document to the matting to ensure its protection. This "hinging" is done according to archival standards. Protective "glass," or Tru Vue Optium Acrylic glazing, which is shatter resistant, 99% UV protective, and anti-reflective. You benefit from our decades of experience in designing and creating beautiful, compelling, and protective framed historical documents.
Learn more about our Framing Services