President Abraham Lincoln Demonstrates Great Empathy, Allowing a Woman He Thought Had Lost Her Children in Battle to See Her Imprisoned Husband, a Confederate Colonel Whose Brother Was a Confederate General
A shining exemplar of the kindness and humanity of Abraham Lincoln
We obtained this from the descendants of the captain to whom this note was presented in 1864, and it has never before been offered for sale
Hart Gibson was born to a prominent plantation-owning family in Kentucky on May 22, 1835, and in 1855 received his degree from Yale. Following that he...
We obtained this from the descendants of the captain to whom this note was presented in 1864, and it has never before been offered for sale
Hart Gibson was born to a prominent plantation-owning family in Kentucky on May 22, 1835, and in 1855 received his degree from Yale. Following that he studied law at Harvard and philosophy and political science at Heidelberg University. While abroad he had entree to court circles, including in his group of friends Alexander von Humboldt and other intellectuals, artists and musicians. On returning to his native land he took possession of his estate, Hartland, and read law with George Blackburn Kinkead of Lexington. Gibson married Mary Duncan in 1859.
With the Civil War breaking out, he was commissioned colonel on the staff of his kinsman, Governor Beriah Magoffin. Gibson's brother Randall Gibson became a noted Confederate general, while in 1862 Hart himself was commissioned a colonel of cavalry in the Confederate Army by General Kirby Smith. At the Battle of Murfreesboro he was adjutant general to General Burford's Brigade, and accompanied General John Morgan on his famous Ohio raid, again serving as adjutant general. Gibson was captured by Union forces in 1863 and was held prisoner first in Ohio and then at Fort Delaware in the state of that name. He spent sixteen months was a Federal prisoner of war before being exchanged in early 1865. After exchange he was assistant inspector general of the Confederate Department of Southwestern Virginia, and surrendered with Gen. Joseph Johnston in North Carolina on April 26, 1865.
His wife Mary was active during the war as well. A biographical notice of her praises her, saying that "though unchronicled, her services for deeds of kindness and generosity, her fortitude and courage, run parallel to those of Colonel Gibson's, who gave to the South all of which he was possessed in valorous acts and material substance, for his entire holdings in Kentucky were confiscated by the Government under the Act of Congress in 1864." It is said that while Gibson was in the Ohio prison, Mrs. Gibson sent him in the heel of his newly made boots funds for the use of General Morgan in escaping.
Ship captain Walter Chess ran a ferry that passed to and from Fort Delaware. His son picks up the story in a notation attached to the back of the frame of this note and picture. "This engraving belongs to David W. Chess, 261 High St., Milford, Conn. The card signed by Mr. Lincoln was presented to Walter Chess of Pittsburgh, father of David Walter Chess, during the Civil War. He was serving as the captain of a small packet which traveled up a tributary of the Delaware River to a prison camp where Confederate soldiers were kept. Occasionally a prisoner exchange would take place and the prisoners would be transported on my father's packet. One day a small woman dressed in deepest mourning met the river boat as it came in to dock. She told my father she had lost her only two sons in the war for the Confederacy, and that now she wished permission to go see her husband at the prison camp. My father said 'Madam, only one man in the U.S. can do that – that is President Lincoln.' When he arrived at the same wharf some days later, the card inscribed here was the result."
This is the actual pass issued to Mrs. Gibson by President Lincoln. Autograph note signed, Washington, August 6, 1864. "Allow Mrs. Gibson to visit her husband now imprisoned in Fort Delaware. A. Lincoln." We obtained this directly from the Chess descendants and it has never before been offered for sale. It appears to be unpublished."
So assuming that Mrs. Gibson gave President Lincoln the same story as she gave Captain Chess, she posed herself as a woman who had lost two sons in the Confederate service, that she wanted to see her husband who was a Confederate colonel captured on a raid against the North, and Lincoln likely knew that the colonel's brother was a Confederate general. Lincoln was a deeply empathetic man, and gave the pass anyway. We cannot recall a less deserving application for a pass being granted by Lincoln, but that's the kind of man he was. He could not have known that the woman's story was, in part, a subterfuge. Married in 1859, the Gibsons had one son, born in 1862. The claim that two of her sons were killed in the war, which is why she was dressed in mourning, was specious, but probably worked for her on other occasions as well.
After the war, the Gibsons became breeders of Kentucky thoroughbreds, and he was one of the incorporators of the Confederate Veterans Association.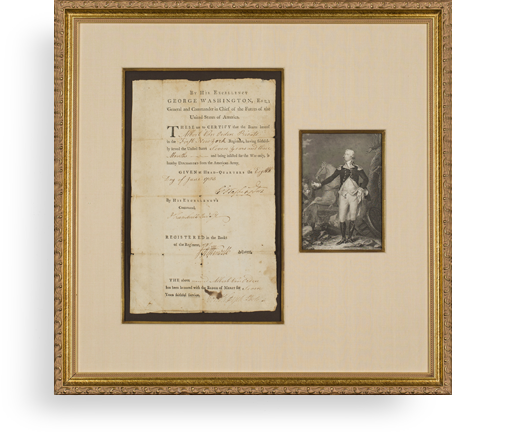 Frame, Display, Preserve
Each frame is custom constructed, using only proper museum archival materials. This includes:The finest frames, tailored to match the document you have chosen. These can period style, antiqued, gilded, wood, etc. Fabric mats, including silk and satin, as well as museum mat board with hand painted bevels. Attachment of the document to the matting to ensure its protection. This "hinging" is done according to archival standards. Protective "glass," or Tru Vue Optium Acrylic glazing, which is shatter resistant, 99% UV protective, and anti-reflective. You benefit from our decades of experience in designing and creating beautiful, compelling, and protective framed historical documents.
Learn more about our Framing Services