President Abraham Lincoln Manifests His Leadership Principle That Patriotism Must Triumph Over All Personal Considerations
Famous for building his Team of Rivals on this premise, he here invokes it to strengthen pro-Union Sentiment in a Border State by supporting a political opponent who nonetheless supported the war
Currency:
USD
GBP
JPY
EUR
CNY
This currency selector is for viewing only.
The Raab Collection only accepts USD payments at checkout.
Exchange rates are updated hourly. Rates may be inaccurate.
In a remarkable statement articulating this, Lincoln writes: "I esteem Gov. Francis Thomas, as an able, and very true man. I do not know that he agrees with me in everything—perhaps he does not; but he has given me evidence of sincere friendship, & as I think, of patriotism."
Reference for...
In a remarkable statement articulating this, Lincoln writes: "I esteem Gov. Francis Thomas, as an able, and very true man. I do not know that he agrees with me in everything—perhaps he does not; but he has given me evidence of sincere friendship, & as I think, of patriotism."
Reference for research, publication, and institutions: Raab L13.060
Lincoln's essential philosophy was to put personal feelings aside for the sake of the country. He built his famed Team of Rivals on that premise, selecting his political opponents to serve in his Cabinet. In 1862, he named Edwin M. Stanton to be Secretary of War, despite Stanton having called him "the original gorilla", and blamed the reverses in the war to date to "the imbecility of this administration," because he saw Stanton as competent and up to the job. He allowed General George B. McClellan to treat him rudely, so long as there was hope he would bring the country victories. It takes a great man and masterful leader to put aside personal feelings, as Lincoln did. In 1864, Lincoln summed his principle: "There is enough yet before us requiring all loyal men and patriots to…sink all personal considerations for the sake of the country."
Here is this principle in action. The letter revolves around the need to strengthen pro-Union sentiment in a Border State, as these states had historically been in the Democratic column and opposed to Republican Party measures..
The Unconditional Union Party was a loosely organized political group during the Civil War. First established in 1861 in Missouri, where support for secession was strong, the party fully supported the preservation of the Union at all costs. Unlike the similarly named Unionist Party, which operated throughout the North, the Unconditional Union Party mainly operated in the border states of Maryland, Kentucky and Missouri. Members included Southern Democrats who were loyal to the Union, as well as elements of the old Whig Party and other factions opposed to secession and the Southern Confederacy.
A Unionist movement was underway in Maryland, where its leaders advocated the immediate emancipation of all slaves in the state without compensation to the slave owners. With the help of the Federal government and its troops, and suspension of the Writ of Habeas Corpus, Maryland's secessionist voices were stilled. The party was not formalized until the summer of 1863 when adherents worked to elect pro-Union candidates at the state and local level, particularly in Western Maryland. Because Lincoln's Emancipation Proclamation only applied to slaves in those states in rebellion, and did not include border states such as Maryland, the party shifted its emphasis to the question of freeing slaves locally. The Conservative Union States Central Committee, led by Thomas Swann and John P. Kennedy, met in Baltimore on December 16, 1863. It passed a resolution supporting immediate emancipation "in the manner easiest for master and slave." Supporters included the local military commander, Gen. Robert C. Schenck.
Lincoln had served in Congress together with fellow Whig Robert C. Schenck in the 1840s and made Schenck a Major General at the beginning of the war. Severely wounded at the Second Battle of Bull Run in August 1862, Schenck was unfit for field duty for six months, but was assigned to the command of VIII Corps, embracing the Middle Department in Maryland, assigned to deal with the turbulent citizens of that state, repressing all turbulence and acts of disloyalty or any complicity with treason. This made Schenck unpopular with the disloyal portion of the inhabitants of Maryland, but this did not deter him. Schenck was a strong supporter of the Unconditional Union Party. In December 1863, he would resign his commission to take a seat in Congress.
In July 1861, Secretary of War Simon Cameron, with the President's encouragement, authorized Congressman (and former Maryland Governor) Francis Thomas, a lifelong Democrat who had only left that party in 1861, and who now supported the Unconditional Union Party, to raise four regiments of loyal citizens from Western Maryland for the protection of the Chesapeake and Ohio Canal. On September 6, 1862, Thomas sent Lincoln a lengthy private letter, which is now in the Lincoln Papers at the Library of Congress. That letter contained a deep criticism of the state of the country, and of Lincoln for having selected the wrong men for his cabinet, and to run the war.
Wrote Thomas, "Our acquaintance is very limited … [and] it may be presumptuous, in me, to write this letter…. In my humble judgment, all the evils now threatening seriously the utter ruin of the country, are to be traced to the error consummated in the organization of your Cabinet. There is not, so far as my knowledge extends, at the head of any one of the Departments, a single individual who has come into your Administration, under the right influences… Now I have watched, with the deepest anxiety all, or nearly all of your difficulties have their origin in the fact that you have Presidential aspirants in your cabinet, and Presidential aspirants, in your own party, outside of your cabinet, all of whom have their partisans in the Senate and House of Representatives." Thomas's criticisms must have wounded Lincoln's feelings.
Yet Lincoln's legacy is firmly rooted in his ability to balance competing interests for the preservation of the Union. His Team of Rivals is only one example, where he was able to look past partisan and parochial interests and find common ground with, and provide high office to, those who disagreed with him. This form of powerful executive leadership is brilliantly exemplified in this letter.
A month later, Lincoln wrote General Schenck this letter. As the Maryland Unionist group sought to organize under Schenck and others, Lincoln exhibited a willingness to overlook any slights in Thomas's letter, and to connect two voices in Maryland friendly to the Union cause there – Schenck and Thomas.
Autograph letter signed, on Executive Mansion letterhead, Washington, May 31, 1863, to General Schenck. "I have been requested to say, what I very truly can, that I esteem Gov. Francis Thomas, as an able, and very true man. I do not know that he agrees with me in everything—perhaps he does not; but he has given me evidence of sincere friendship, & as I think, of patriotism." That is what mattered to Lincoln – Thomas was a true patriot, and would gain the President's support regardless of his criticisms. As for Schenck and Thomas, in December 1863 Schenck resigned from the army and went to Congress, where he joined Thomas, who was already serving there.
Thomas's personal feeling about Lincoln by this time had altered. The Cumberland, Maryland, Civilian and Telegraph of 30 April 1863, reported on an address Thomas gave at a mass meeting of Unconditional Union men of Allegheny County, Maryland. Thomas accorded to President Lincoln the purest motives, and a patriotic determination to crush the rebellion and restore peace and prosperity to the country. He said that power and responsibility must rest somewhere, and that he was willing to confide in the President, and sustain him to the fullest extent, in carrying out the measures adopted by Congress for prosecuting the war. He spoke of the Emancipation Proclamation of the President as a retaliatory measure for the confiscation acts of the southern conspirators, and said it was a war measure calculated to subdue the rebels who had raised the standard of rebellion, without any justifiable cause.
In all our decades in this field, we have never before seen a letter on the market showing Lincoln directly manifesting his principle that patriotism must triumph over all personal considerations.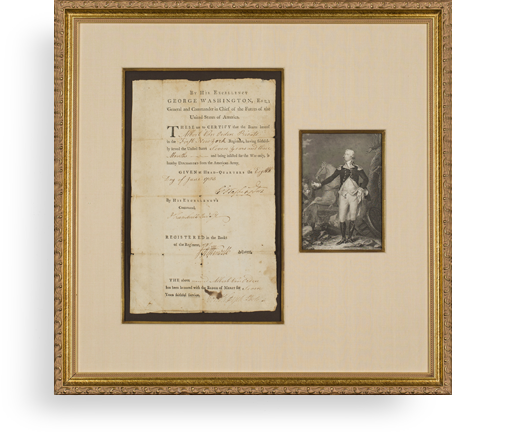 Frame, Display, Preserve
Each frame is custom constructed, using only proper museum archival materials. This includes:The finest frames, tailored to match the document you have chosen. These can period style, antiqued, gilded, wood, etc. Fabric mats, including silk and satin, as well as museum mat board with hand painted bevels. Attachment of the document to the matting to ensure its protection. This "hinging" is done according to archival standards. Protective "glass," or Tru Vue Optium Acrylic glazing, which is shatter resistant, 99% UV protective, and anti-reflective. You benefit from our decades of experience in designing and creating beautiful, compelling, and protective framed historical documents.
Learn more about our Framing Services