In the Wake of the First Loss of a Nuclear Submarine, President John F. Kennedy Writes a Grieving Widow That the Price of Freedom Is Sacrifice
Kennedy, whose own family knew all too well the meaning of sacrifice for one's country, consoles a woman whose husband went down on the USS Thresher
"It is a sad fact of history that this price of freedom must be paid again and again, by our best men in each generation. Yours husband has joined the other defenders of this Nation who have given their lives for their country."
At the time of the Manhattan Project (before the...
"It is a sad fact of history that this price of freedom must be paid again and again, by our best men in each generation. Yours husband has joined the other defenders of this Nation who have given their lives for their country."
At the time of the Manhattan Project (before the Cold War really began), there was some talk about the possibility of using nuclear power to propel submarines. The idea of arming submarines with nuclear missiles didn't come up until the 1960 launching of the George Washington. When nuclear energy was conceived of as a power source for submarines, that was a jaw-dropper in itself. But when navies gained the ability to launch a nuclear warhead from a nuclear-powered submarine, the world had touched on what was quite arguably the most powerful — in terms of strength and mobility — weapons system ever.
Creating a modern nuclear Navy to counter the USSR during the Cold War involved not merely outfitting submarines, but aircraft carriers and other ships as well, and increasing the firepower of the fleet with Polaris missiles. Using submarines and missiles, American might could now be delivered to any point in the world; and American submarines could cruise, silently and never surfacing, beneath the waves shadowing Soviet naval movements, collecting Soviet missile telemetry and eavesdropping on Soviet communications. This would, it was believed, give the US an advantage in the Cold War.
On January 20, 1961, John Kennedy ushered in a new era in the United States (and indeed the world) with his historic, visionary, and inspirational Inaugural Address. which is widely considered one of the greatest ever, with the new President saying that the inaugural was "not a victory of party but a celebration of freedom", and called for idealistic sacrifice, saying Americans should "ask not what your country can do for you–ask what you can do for your country". Spellbinding to hear, it seemed to leave behind existing attitudes and limitations, while acting as a clarion call to young and old alike to realize their personal potential while helping build a better nation and world. The speech immediately infused energy and excitement, Washington was almost bristling with it, which led to such programs as the Peace Corps, and such major Kennedy policies and achievements as the Nuclear Test Ban Treaty. The Sixties, which followed from that moment would hardly have been possible without it.
The USS Thresher, a nuclear submarine, was commissioned on August 3, 1961. At the time it was built, Thresher was the fastest and quietest submarine in the world. SSN 593 was considered the most advanced weapons system of its day, created specifically to seek out and destroy Soviet submarines.In company with USS Skylark, Thresher put to sea on April 10, 1963, for deep-diving exercises. In addition to her 16 officers and 96 enlisted men, the submarine carried 17 civilian technicians to observe her performance during the deep-diving tests. Fifteen minutes after reaching her assigned test depth, the submarine communicated with Skylark by underwater telephone, apprising the submarine rescue ship of difficulties. Garbled transmissions indicated that far below the surface things were going wrong. Suddenly, listeners in Skylark heard a noise "like air rushing into an air tank"–then, silence. Efforts to reestablish contact with Thresher failed, and a search group was formed in an attempt to locate the submarine. Rescue ship Recovery recovered bits of debris, including gloves and internal insulation. Photographs taken by bathyscaph Trieste proved that the submarine had broken up, taking all hands on board to their deaths. This was the first major setback for the US nuclear reactors program and devastated President Kennedy. This was a crucial element of his deterrence campaign.
Raymond Peter Foti had taken up Kennedy's call and joined the Navy. He completed his basic training, and attended the Navy's Electronics Technician School at the U.S. Naval Training Center, Great Lakes, Ill. He volunteered for submarine duty and upon being accepted he was enrolled in the Submarine School at the U.S. Naval Submarine Base, New London, Conn. He successfully completed the course of instruction and was assigned to his first submarine, the U.S.S. Medregal (SS 480). He was selected for advance training in nuclear power, and attended the school at the Nuclear Power Training Unit at Windsor Locks, and at the submarine base, New London, Conn. On November 29, 1961, Raymond was assigned to the Thresher, as a member of her crew. He had gone down with the ship.
John F. Kennedy was a young commander of a Navy vessel in World War II, the legendary PT-109. His boat was sliced in two by a Japanese destroyer, and some men were killed in the collision. Kennedy then, according to his citation, "unmindful of personal danger…unhesitatingly braved the difficulties and hazards of darkness to direct rescue operations, swimming many hours to secure aid and food after he had succeeded in getting his crew ashore." For his heroism he was awarded the Navy and Marine Medal. His elder brother, Joseph P. Kennedy, Jr., was killed in action in 1944 and received the Navy Cross. The Kennedy family knew firsthand what sacrifice meant.
The sacrifices of Foti and others touched Kennedy, and caused him to think deeply on its meaning.
Typed letter signed, on White House letterhead, April 19, 1963, to Mrs. Foti. "Dear Mrs. Foti, Mrs. Kennedy and I want to express our very deepest sympathy to you in the loss of your husband aboard the USS Thresher. The loss of Thresher was a great shock to freedom-loving people around the world. The American people feel deeply this tragic loss.
"It is a sad fact of history that this price of freedom must be paid again and again, by our best men in each generation. Yours husband has joined the other defenders of this Nation who have given their lives for their country. I want you to know of my person feeling of loss and to wish for you God's blessing in this time of sorrow."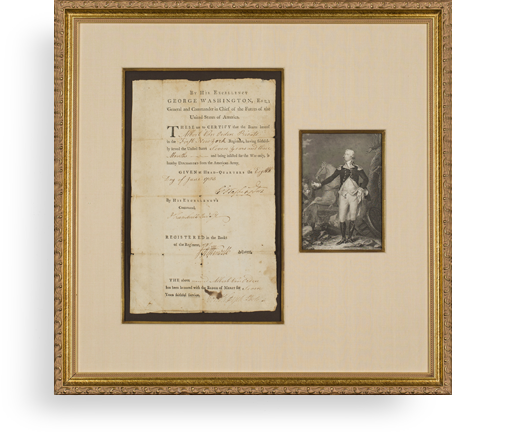 Frame, Display, Preserve
Each frame is custom constructed, using only proper museum archival materials. This includes:The finest frames, tailored to match the document you have chosen. These can period style, antiqued, gilded, wood, etc. Fabric mats, including silk and satin, as well as museum mat board with hand painted bevels. Attachment of the document to the matting to ensure its protection. This "hinging" is done according to archival standards. Protective "glass," or Tru Vue Optium Acrylic glazing, which is shatter resistant, 99% UV protective, and anti-reflective. You benefit from our decades of experience in designing and creating beautiful, compelling, and protective framed historical documents.
Learn more about our Framing Services