President-elect John F. Kennedy Informs the Influential Chairman of the House Armed Services Committee That He Has Named Robert McNamara Secretary of Defense
He asks for a meeting with the Chairman, Carl Vinson, whose approval would be required for McNamara's nomination to be approved
Thus did JFK bring "The Best and the Brightest" to Washington
"You can't beat brains," John F. Kennedy liked to say, and admired people with strong credentials who were confident and incisive. When picking his cabinet and national security team, the dashing, youthful 43-year old President-elect chose a crop of the finest...
Thus did JFK bring "The Best and the Brightest" to Washington
"You can't beat brains," John F. Kennedy liked to say, and admired people with strong credentials who were confident and incisive. When picking his cabinet and national security team, the dashing, youthful 43-year old President-elect chose a crop of the finest minds around: a proudly tough-minded crew of self-avowed "hard-nosed realists" and World War II veterans whom David Halberstam immortalized as The Best and the Brightest. Kennedy's aides, wrote Halberstam, "carried with them an exciting sense of American elitism, a sense that the best men had been summoned forth from the country" to bring "a new, strong, dynamic spirit to our historic role in world affairs, not necessarily to bring the American dream to reality here at home, but to bring it to reality elsewhere in the world."
Foremost among these Best and the Brightest was JFK's choice for Secretary of Defense, 44-year-old Robert S. McNamara. McNamara, with an MBA from Harvard and military experience in the Air Force in World War II, had recently been appointed President of the Ford Motor Company. He was a registered Republican, though Kennedy's vigor and ideas had attracted his support. McNamara's rapid rise at Ford had been through the financial and accounting side of the business, where he was brought in by Henry Ford II as one of a team known as "whiz kids" right after World War II. Kennedy made the announcement of McNamara's selection on December 13, 1960, from the stoop of his Georgetown home. In making public the selection, Kennedy told reporters that he was naming McNamara with the understanding that the Defense Department must be "so strong that it cannot merely defend the Nation in event of war but, rather, so strong that it can maintain the peace." Kennedy also confirmed that he was asking his appointee to remain in place for "as near to four years as possible." In accepting the position, McNamara took a huge pay cut. His new government salary was about one-fifteenth of what he was getting paid at Ford. As the Washington Post wrote, despite the sub-freezing temperatures, "both men were bareheaded and wore no overcoats." Thus did they seek to communicate their strength visually.
Kennedy's immediate task as he announced the McNamara appointment that morning of December 13 was to gain the approval of Congress, and particularly of the Senate and House Congressional Armed Services Committees that considered Defense Department appointees. Both the Senate and the House Committees had very powerful and influential chairmen, and if either of these men disapproved, the McNamara nomination would fail. So JFK and McNamara must be solicitous of them, and of their concerns. The Chairman of the Senate Committee was Georgia Senator Richard Russell, and in the House the Chairman was fellow Georgian Carl Vinson, a Democrat who was nearing his 50th year of service in the House.
After Kennedy decided upon McNamara as his choice for Secretary of Defense, the first thing he and McNamara did was to inform Vinson of his choice and request a meeting. This is the very letter in which he did so. Typed Letter Signed, on his Senate Memorandum stationery, no date but December 13, 1960, to Vinson (and addressed "Carl" in Kennedy's hand). "I attempted to reach you this afternoon to tell you that I was appointing Robert McNamara Secretary of Defense. I was anxious to have him talk to you on the phone. I suggested that he call you in the next few days to arrange a convenient time for you to get together. I hope everything is going well." He adds in holograph, "Many many thanks – Jack."
The meeting JFK called for was held on December 20; and as Kennedy and McNamara were aware, Vinson had a hot button. At the meeting Vinson expressed his firm opposition to a proposed reorganization of the armed services that would abolish the Navy, Army and Air Force departments in favor of one unitary command structure. McNamara listened patiently to Vinson's arguments, and assured him that he would not undertake such a reorganization, and in turn Vinson endorsed the nomination, saying that McNamara was brilliant, and predicted that "He'll make the best Secretary of Defense the country has had". McNamara also met with Senator Russell, who thought he was "remarkable" and approved the choice.
President Kennedy's appointment of McNamara as Secretary of Defense was confirmed on January 21 by voice vote and without dissent. McNamara remained in this post until February 1968.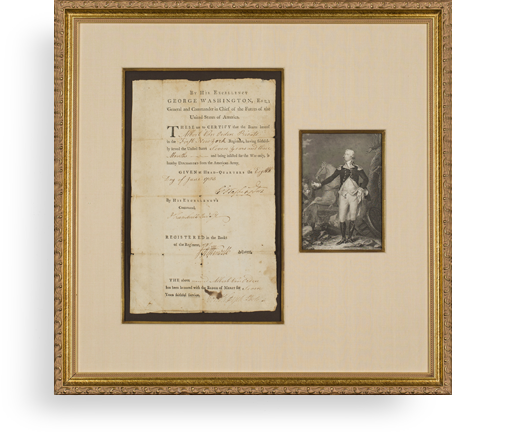 Frame, Display, Preserve
Each frame is custom constructed, using only proper museum archival materials. This includes:The finest frames, tailored to match the document you have chosen. These can period style, antiqued, gilded, wood, etc. Fabric mats, including silk and satin, as well as museum mat board with hand painted bevels. Attachment of the document to the matting to ensure its protection. This "hinging" is done according to archival standards. Protective "glass," or Tru Vue Optium Acrylic glazing, which is shatter resistant, 99% UV protective, and anti-reflective. You benefit from our decades of experience in designing and creating beautiful, compelling, and protective framed historical documents.
Learn more about our Framing Services