President John F. Kennedy Is Grateful for Bernard Baruch's Support of His Administration's Actions to Integrate the University of Mississippi
James Meredith was admitted there when Kennedy sent Federal troops and the National Guard to maintain order
This was JFK's first action to integrate publicly funded schools and universities
The administration of President John F. Kennedy played an important role in the great victories of the civil rights movement leading up to the Civil Rights Act of 1964.
The first of these was based on segregation in interstate transportation....
This was JFK's first action to integrate publicly funded schools and universities
The administration of President John F. Kennedy played an important role in the great victories of the civil rights movement leading up to the Civil Rights Act of 1964.
The first of these was based on segregation in interstate transportation. For decades, seating on buses in the South had been segregated, along with bus station waiting rooms, rest rooms, and restaurants. In May 1961, the Congress of Racial Equality, led by James Farmer, organized integrated Freedom Rides to defy this segregation. Freedom Riders were arrested in North Carolina and beaten in South Carolina. In Alabama, a bus was burned and the riders attacked with baseball bats and tire irons. Attorney General Robert Kennedy sent 400 federal marshals to protect the freedom riders and urged the Interstate Commerce Commission to order the desegregation of interstate travel.
The second action was to enable segregation of public colleges. On January 21, 1961, inspired the day before by President Kennedy's inaugural address, James Meredith determined to apply to the segregated University of Mississippi. His goal was to insist on his civil rights to attend the state-funded university, and to show that segregation in state run colleges was illegal since the Supreme Court had ruled in Brown vs Board of Education that segregation of public schools was unconstitutional, as they are supported by all the taxpayers.
Meredith wrote in his application that he wanted admission for his country, race, family, and himself. He said, "Nobody handpicked me…I believed, and believe now, that I have a Divine Responsibility…I am familiar with the probable difficulties involved in such a move as I am undertaking and I am fully prepared to pursue it all the way to a degree from the University of Mississippi." He was twice denied admission. During this time, he was advised by future civil rights martyr Medgar Evers, who was head of the Mississippi chapter of the NAACP.
Meredith sued, and the case went through many hearings, after which the Fifth Circuit Court of Appeals ruled that Meredith had the right to be admitted to the state school. The state appealed to the Supreme Court, which supported the ruling of the appeals court. On September 13, 1962, the District Court entered an injunction directing the members of the Board of Trustees and the officials of the University to register Meredith. The Governor of Mississippi, Ross Barnett, declared "no school will be integrated in Mississippi while I am your governor". On September 20, just as Meredith had hoped, the Federal government got involved. It gained an enjoinment against enforcement of an Act and of two state court decrees that had barred Meredith's registration. That day Meredith was rebuffed again by Governor Barnett in his efforts to gain admission, though university officials were prepared to admit him. On September 28, the Court of Appeals found the Governor in civil contempt and ordered that he be arrested and pay a fine of $10,000 for each day that he kept up the refusal, unless he complied by October 2.
The Kennedy administration decided to intervene more directly. Attorney General Robert Kennedy called Governor Barnett a number of time between September 27 and October 1. Facing prison and Federal action, Barnett reluctantly agreed to let Meredith enroll in the university. To make sure the school was integrated and to maintain order in the face of threatened demonstration, the Attorney General ordered 500 U.S. Marshals to accompany Meredith during his arrival and registration. On September 29, President Kennedy issued a proclamation commanding all persons engaged in the obstruction of the laws and the orders of the courts to "cease and desist therefrom and to disperse and retire peaceably forthwith", citing his authority to use the militia or the armed forces to suppress any insurrection, domestic violence, unlawful combination, or conspiracy.
A riot broke out on September 30. Whites opposing integration had been gathering at the campus. Despite the Kennedy administration's reluctance to use force, it ordered the nationalized Mississippi National Guard and Federal troops to the campus. In the violent clashes which followed, two men were killed by gunshot wounds, and the white mob burned cars, pelted federal marshals with rocks, bricks and small arms fire, and damaged university property. The next day on October 1, 1962, after troops took control, Meredith became the first African-American student to enroll at the University of Mississippi. Meredith's admission is regarded as a pivotal moment in the history of civil rights in the United States. He persisted through harassment and extreme isolation to graduate on August 18, 1963, with a degree in political science.
Kennedy later helped integrate the University of Alabama and sent thousands of U.S. troops there to maintain order in Birmingham, issued an order prohibiting racial discrimination in federally supported housing or related facilities, met with Martin Luther King and other leaders during the great March on Washington, made a public speech calling for civil rights, and introduced the legislation that became the Civil Rights Act of 1964. He thus initiated the actions – unfinished at the time of his assassination – for which others mainly get the credit.
After becoming attaining great success as an investor, Bernard Baruch left Wall Street in 1916 to advise President Woodrow Wilson on issues of foreign policy and national defense. During the Second World War, President Franklin Roosevelt, tapped him as an adviser. In 1946, President Harry Truman named Baruch the United States' representative to the United Nations Atomic Energy Commission. President Kennedy met with Baruch, who was by then a senior statesman, a number of times. Baruch was also a close personal friend of Winston Churchill, and helped save Chartwell for him during the Depression. He approved of JFK's actions in aid of Meredith and sent him a telegram saying so.
Typed letter signed, on White House letterhead, October 23, 1962, in reply to Baruch. "Thank you for your message. It was thoughtful of you to wire, and I am most appreciative of your word of approval regarding the incident in Mississippi." He added in holograph, "Many thanks."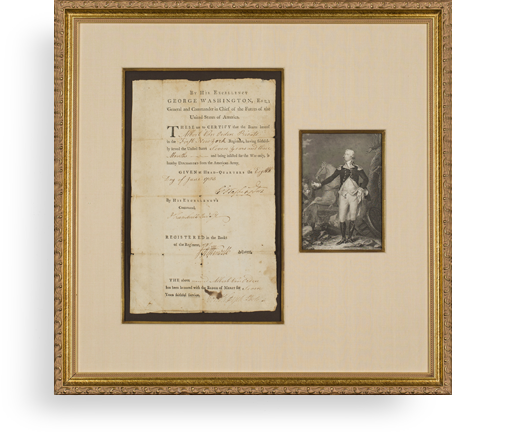 Frame, Display, Preserve
Each frame is custom constructed, using only proper museum archival materials. This includes:The finest frames, tailored to match the document you have chosen. These can period style, antiqued, gilded, wood, etc. Fabric mats, including silk and satin, as well as museum mat board with hand painted bevels. Attachment of the document to the matting to ensure its protection. This "hinging" is done according to archival standards. Protective "glass," or Tru Vue Optium Acrylic glazing, which is shatter resistant, 99% UV protective, and anti-reflective. You benefit from our decades of experience in designing and creating beautiful, compelling, and protective framed historical documents.
Learn more about our Framing Services