President Thomas Jefferson Works to Pay Off the Debts of His Father-in-Law's Estate, Which Brought Him Land and Slaves, Including the Hemings Family
Jefferson will use his sale of tobacco to help settle his debts, incurred when he took ownership of the Wayles assets of 11,000 acres of land and 135 slaves, including Sally Hemings and her family
An ALS as President
John Wayles, the father of Jefferson's wife Martha, died at age 58 in 1773. He left a huge estate to his three daughters, and the Wayles heirs decided to divide up the estate's land and slaves among themselves. This appeared to be a sensible decision at the time....
An ALS as President
John Wayles, the father of Jefferson's wife Martha, died at age 58 in 1773. He left a huge estate to his three daughters, and the Wayles heirs decided to divide up the estate's land and slaves among themselves. This appeared to be a sensible decision at the time. The Jeffersons' share was 11,000 acres and 135 slaves, and among the slaves was the Hemings family (which included Sally Hemings, Martha's half-sister). But the heirs also inherited Wayles' substantial debt, which in the Jefferson's share was some ₤4,000. Converting this figure into a modern estimate would yield a result in the millions of dollars. Much of this was owed to British creditors, such as the London mercantile firm of Robert Cary & Company.
In 1774, as the heirs – Jefferson and his brothers-in-law Francis Eppes and Henry Skipwith – studied the estate, they were confident that sales of the less-desirable lands could liquidate the British debts. The plan was sound in 1774, but then came the Revolution the very next year. Jefferson proceeded with his portion of land sales as planned and accepted the purchasers' bonds with the pledge to pay in installments, as was customary. But the payments ended up being made in the depreciated paper money issued during the war. Under Virginia's wartime legal tender act, Jefferson was obligated to accept the money, which he would later describe as not worth "oak leaves." The Treaty of Paris of 1783 worked against the Wayles heirs because it provided that creditors on either side of the conflict were due payment in sterling and not the depreciated paper Jefferson was holding. In Jefferson's words, "The paper-money for which my lands were sold with a view to pay off Mr. Wayles' debts, leave this work to be done over again."
Under Virginia law in the wake of the Revolution, had the Wayles estate been kept together, only the estate's assets could be looked to for repayment. But since the estate was divided between Jefferson and his two brothers-in-law, the estate's liabilities passed through to their own personal estates. With the Virginia economy depressed, the cash flow from tobacco sales fell far short of that needed to retire the Wayles debt.
Wakelin Welch was a partner in the London mercantile firm of Robert Cary & Company, and after 1796 he became its surviving partner. Jefferson owed money to the Cary firm not only as heir to the Wayles debt, but also a smaller sum in his own right. Jefferson would struggle to pay this debt his whole life.
Littleton Waller Tazewell was an attorney who served six years in the Virginia House of Delegates and sat in the U.S. House of Representatives in 1800–01. He supported Jefferson in the presidential election of 1800 which fell to the House to decide, thus opposing the claims of Aaron Burr. He was later in the U.S. Senate and served as governor of Virginia from 1834 to 1836. Generally supportive of Jeffersonian positions, Tazewell worked with Jefferson on the development of a state university, and Jefferson selected him as one of his counsel in the controversy over the Batture Sainte Marie, a land claim related to the Louisiana Purchase. In 1798 Tazewell's nephew Benjamin Carter Waller was the agent for Robert Cary & Company, so Tazewell got involved in trying to collect the remaining debt due from the Wayles estate to Wakelin Welch. As early as 1799, Jefferson wrote Tazewell about the debt, saying "I fear you will have considered me as improperly in default."
In 1807 Jefferson is President of the United States, but the Wayles debt dogged his footsteps. Tazewell wrote him on January 15 of that year, apologizing to him for the intrusion but dunning him for the money: "A recent communication from those to whom I am accountable for what I do relative to the business of the late firm of Robt. Cary & Co. of London which has been committed to my charge, makes it necessary for me again to address you upon that part of this subject in which you are concerned. I have forborne to trouble you sooner, under the assurance that whensoever you could find it convenient to discharge the whole or any important part of your debt I should hear from you. And still influenced by the same consideration I should not now have made this application. But acting under the directions of others I am reluctantly compelled to request, that you will be so good as to make payment of this debt, or such part of it as you can find it convenient to discharge, at the earliest period which your own arrangements will admit."
Jefferson responded by putting Tazewell off, while implying, but not promising, he would pay. Autograph letter signed, as President, Washington, February 27, 1807, to Tazewell. "Dear Sir, Although your letter of Jan. 15. was received soon after that date, it has not been in my power sooner to notice it; nor can I at this time do more than acknowledge it's receipt. My papers relative to Mr. Wayles's debt to Robt. Cary & co. are at Monticello, to which place I make a short visit every spring in order to pay some attention to my private affairs. I shall go there in the ensuing month, and will from thence write you on the subject of your letter. In the mean time accept my friendly salutations and assurances of great esteem & respect. Th. Jefferson."
Tazewell followed up this letter by writing to Jefferson on March 7, saying he had personally laid out some of the money on Jefferson's account, on the understanding that Jefferson had previously promised to pay. But now Tazewell was in urgent need of the funds himself. "Yours of the 27th. Ulto. was duly received. In consequence of the assurance you gave me in the last letter but one I had the honor to receive from you, I immediately remitted Mr. Welch a sum of money, (which I knew he wanted) calculating for my reimbursement…Not having occasion myself for money at that time, I forbore to say any thing to you upon this subject, being convinced that I should hear from you so soon as you were prepared to make the contemplated settlement. But my situation is now somewhat different, I have a very large payment to make in Richmond by the 15th. of next month, and in order to enable myself to meet it, I must have the command of all my funds at that time. This emergency occasioned my former letter to you upon this subject, and compels me now to solicit, that you will be so good as to place the sum of One Thousand dollars at least under my control in Richmond by the 15th. of April next. This sum being but a small part of the debt due from you, will I hope be certainly appropriated as I have wished, because I have calculated upon it certainly in my arrangements, and disappointment would place me under much embarrassment."
Jefferson answered by stating frankly that he did not have the money to pay. "Your letter of the 7th finds me still here [in Washington]. The warning for such a sum as 1000 Dollars is rather short for me. My funds here are always more than exhausted at the end of a session of Congress. But my crop of tobacco is arrived or arriving at Richmond. I had before desired Mr. Jefferson to turn it into money as soon as arrived. I expect daily to hear from him on that subject, and as soon as I can know it's exact state so as to give a precise direction, I will desire him to raise out of it & pay to you 1000. D. by the 15th. of April if possible, or as soon after as possible."
Upon Jefferson's death in 1826 – 53 years after inheriting his father-in-law's debt to Cary and its successor Welch – the debt would remain unpaid. It is nothing short of extraordinary, and is very sad, that onerous debt – and being literally hounded for payment – was a constant companion for Jefferson throughout the Revolutionary War, his term as vice president, his two terms as president, and his entire retirement.
A search of public sale records going back 40 years fails to turn up even one letter of Jefferson relating to the estate of his father-in-law. As to his struggle with debt, less than a half dozen letters have reached the public sale market in all that time, and none in almost 20 years.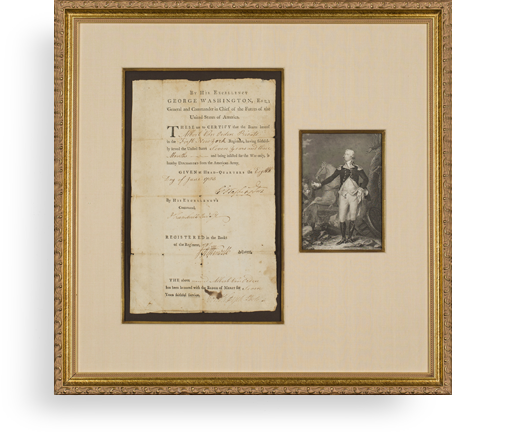 Frame, Display, Preserve
Each frame is custom constructed, using only proper museum archival materials. This includes:The finest frames, tailored to match the document you have chosen. These can period style, antiqued, gilded, wood, etc. Fabric mats, including silk and satin, as well as museum mat board with hand painted bevels. Attachment of the document to the matting to ensure its protection. This "hinging" is done according to archival standards. Protective "glass," or Tru Vue Optium Acrylic glazing, which is shatter resistant, 99% UV protective, and anti-reflective. You benefit from our decades of experience in designing and creating beautiful, compelling, and protective framed historical documents.
Learn more about our Framing Services