President Franklin D. Roosevelt Is Jammed Up With Hitler, the Impending Visit of King George VI, and Executive Branch Reorganization on His Plate
An extremely rare, and unpublished, letter mentioning Hitler by name.
The march of the dictators that would end in World War II began in earnest in October 1935, when Italy took Ethiopia. Then, on March 7, 1936, Hitler invaded the demilitarized Rhineland, which action conflicted with and basically tore up the Versailles Treaty that ended World War I. In 1937 Neville Chamberlain...
The march of the dictators that would end in World War II began in earnest in October 1935, when Italy took Ethiopia. Then, on March 7, 1936, Hitler invaded the demilitarized Rhineland, which action conflicted with and basically tore up the Versailles Treaty that ended World War I. In 1937 Neville Chamberlain became Prime Minister of Great Britain, and despite growing pressure from Winston Churchill and others, he held firm to his policy of appeasing the dictators, saying Hitler was a reasonable person with whom he could negotiate. In Asia, the Japanese offensive in China reached a stormy milestone with the occupation of Beijing on July 29, 1937. Just a month later, Hitler made a speech stating that Germany was "too small to guarantee an undisturbed, assured, and permanent food supply," thus virtually guaranteeing he would made additional territorial demands in Europe. Austria and Czechoslovakia were obvious next targets. On December 12, Japan attacked and sank the American gunboat Panay while she was anchored in the Yangtze River, killing and wounding some 50 people.
On March 13, 1938, Germany annexed Austria, and Hitler, a native Austrian, triumphantly entered Vienna. On September 17, President Roosevelt wrote a letter to Hitler hoping "a peaceful settlement is found, and that thereby a resort to force be avoided." Just three days later,the notorious Munich Agreement was signed by Germany, France, Britain, and Italy, allowing Germany to annex part of Czechoslovak in exchange for peace. Chamberlain returned to Britain waving "the paper which bears his [Hitler's] name upon it as well as mine", and claiming he had secured "peace for our time". On March 15, 1939, however, Germany occupied Czechoslovakia in violation of the Munich Agreement. On March 31, Britain and France guaranteed Polish independence against Germany, making war inevitable. On April 14, Roosevelt sent another letter to Hitler, this time demanding that he "give assurance that your armed forces will not attack or invade the territory or possessions of the following independent nations", listing 30 of them. Hitler famously read Roosevelt's letter before the Reichstag, ridiculing him all the way though to the loud laughter of the gathered Nazis. Two weeks later Hitler renounced the Anglo-German Naval Agreement, and the German-Polish Non-Aggression Pact. On May 22, a military alliance is signed between Germany and Italy.
Roosevelt was alarmed by these developments, and despised the dictators, who he said "threatened civilization". He realized that Europe was poised on the brink of war, and though disappointed by its record of appeasement, he saw Britain waking up and looked to it as the bastion of democracy. Seeing the necessity of fostering closer ties between the two democracies, FDR invited King George VI for a visit to the United States, to commence on June 8, 1939, a visit that would make the King the first reigning British Monarch had ever set foot on American soil. The positive imagery and press that would be generated in both countries would go a long way toward improving ties.
Since 1937, Roosevelt had been pressing Congress for the authority to reorganize the entire executive branch into an Executive Office of the President. This would allow him to increase executive department scope, to hire additional staff, and create confidential offices reporting to him. Congress passed the bill in April 1939, though not without opposition, and did not fund the reorganization. So at the same time as he was planning for the King's visit, and dealing with Hitler's ridicule and obvious plans to invade Poland, FDR was also lobbying Congress to fund the reorganization.
Commander George C. Sweet was a U.S. Navy officer significant in promoting the early use of aircraft by the Navy. In September 1908, then-Lieutenant Sweet, serving as a Naval observer, reported favorably on the Wright Brothers airplane demonstration at Fort Meyer, near Washington, D.C. In 1909 Sweet was taken up with the Wright Brothers first Army flyer, becoming the first Navy officer to travel in an airplane. Sweet was then assigned to the Navy's school for airplane instruction, and was thereafter a Navy engineer in Washington, specializing in steam engines. In early 1919 Sweet was named assistant to the Naval Attache at the American embassy in Paris, a particularly plum posting as the peace conference to end World War I was being carried on in Versailles.
Franklin D. Roosevelt followed in his cousin's footsteps to fame by serving as Assistant Secretary of the Navy from 1913-1920. He was a prime advocate of naval aviation, and against strong opposition is credited with preserving the Navy's air arm from demobilization after World War I. He surely met Sweet in his capacity of promoting naval aviation. Roosevelt was called to Paris to join President Wilson at the Versailles Conference in January 1919. According to the Sweet descendants, FDR and Commander Sweet forged a friendship onboard ship, clearly indicating that the two men were passengers on the USS George Washington together in 1919, though whether on the sailing in January or return in July (or both) is not known.
Roosevelt was a careful man, aware that his statements must be made guardedly to avoid giving aid and opportunity to his political enemies. His public correspondence was generally drafted by aides, and was measured, serious, deliberate and discreet. However, the private FDR was outgoing, humorous and frank, the life of the party, and when he corresponded with those he could trust, this side could show through. Sweet was such a man.  We recently obtained this letter directly from the Sweet descendants.
Typed letter signed, on White House letterhead, Washington, May 24, 1939, to Sweet, saying he is tied up with Hitler, the King's visit and the government reorganization on his plate.  "Many thanks for your note. When I get to Hyde Park toward the end of June, do run down and see me. I am in a jam until then. Royalty, Congress, Hitler, etc., etc." This is the first letter of FDR mentioning Hitler by name that we have had, and a search of public sale records going back 40 years reveals just one other, also written to a friend in the same informal language as this.
This historic letter appears to be unpublished, as we can find no mention of it. It remained in the hands of the Sweet descendants until now, and has never before been offered for sale.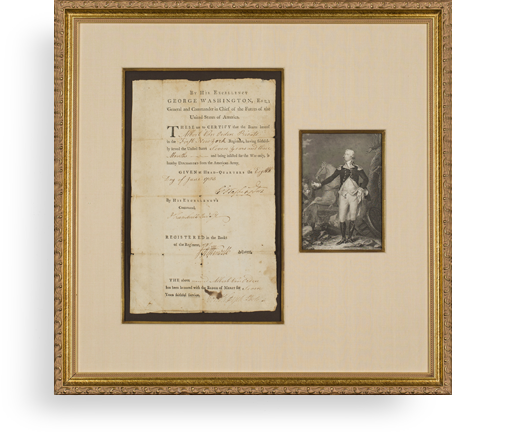 Frame, Display, Preserve
Each frame is custom constructed, using only proper museum archival materials. This includes:The finest frames, tailored to match the document you have chosen. These can period style, antiqued, gilded, wood, etc. Fabric mats, including silk and satin, as well as museum mat board with hand painted bevels. Attachment of the document to the matting to ensure its protection. This "hinging" is done according to archival standards. Protective "glass," or Tru Vue Optium Acrylic glazing, which is shatter resistant, 99% UV protective, and anti-reflective. You benefit from our decades of experience in designing and creating beautiful, compelling, and protective framed historical documents.
Learn more about our Framing Services