In a Letter to Salmon Chase, President Lincoln Forcefully Defends His Integrity: "The public interest can not fail to suffer in the hands of this irresponsible and unscrupulous man."
An Important Communication in the Power Struggle Between President Abraham Lincoln and Treasury Secretary Salmon P. Chase For Control of the Republican Party in 1864
Lincoln defends his integrity to Chase, and states that such attacks are against the public interest; He criticizes the performance of Chase's men in the New York Customs House, and seeks to replace them with his own men
"This Mr. Bailey as I understand having been summoned as a witness...
Explore & Discover
The autograph

- A bold, dark signature of Lincoln. The letter overall is in beautiful condition

The recipient

- Here, Lincoln's note is addressed to the Secretary of the Treasury, Salmon P. Chase

Anxiety

- Lincoln's use of the term anxiety, or any where he expresses his feelings, are very uncommon

Lincoln's character

- Here he uses the words honor and integrity to show his view of the character of public service

The public interest

- Lincoln ties this incident to its effect on the American people, stating that the "public interest" is being hurt by the actions of one man, actions also against the character of the President
Lincoln defends his integrity to Chase, and states that such attacks are against the public interest; He criticizes the performance of Chase's men in the New York Customs House, and seeks to replace them with his own men
"This Mr. Bailey as I understand having been summoned as a witness to testify before a committee of the House of Representatives which purposed investigating the affairs of the New-York Custom-House, took occasion to call on the Chairman in advance, and to endeavor to smother the investigation, saying among other things, that whatever might be developed, the President would take no action…The public interest can not fail to suffer in the hands of this irresponsible and unscrupulous man."
As early as December 1862 Republican leaders met to express dissatisfaction with the Lincoln administration, and there was continuing organized criticism over the next year that caused Lincoln much grief. Then in 1864 there was a movement to replace Lincoln at the head of the Republican ticket, which became strong enough that Lincoln despaired of his renomination. Lincoln put the blame squarely on Salmon Chase, his Secretary of the Treasury, whom he said was at the bottom "of all the mischief."
Hiram Barney was a Republican whose wife was the daughter of noted abolitionist Lewis Tappan, who played a key role in the defense of the slaves who captured the Amistad. Lincoln was entertained by Barney while visiting New York for his Cooper Union speech in February 1860. After the speech, it was Barney who took Lincoln out to dinner at the Athenaeum Club on Fifth Avenue. Barney was a political ally of Salmon P. Chase of Ohio, who viewed Barney as his chief New York sponsor. However, Barney supported Lincoln at the May 1860 Republican National Convention when he realized that Chase was out of the running for the presidential nomination. After Lincoln was nominated, Barney traveled to Springfield to meet with Lincoln and consult regarding potential cabinet appointments. Barney enthusiastically supported the ticket and raised $35,000 in New York for the national ticket. This would be the equivalent of over $1,000,000 today.
Newly inaugurated President Lincoln appointed Chase Secretary of the Treasury. The greatest prize within the Treasury Department was the collectorship of the port of New York, a place highly paid, honorable, and, through its large number of employees, a means of affecting the politics of New York City and State. Lincoln named Barney Collector of the Port of New York.
Lincoln later related, "You remember that when Hiram Barney was appointed, at the beginning of this administration, collector of the port of New York, everybody supposed that he was Chase's selection and nobody else's. Now Barney was as much my choice as he was Chase's; and when (Chase, Seward, and myself standing round that table) Barney's appointment was decided upon, I believe that I was the most gratified person then present." But in office Barney was was a lightening rod for trouble. He was not politically active enough to suit Chase's supporters, was soon out of favor with the anti-Chase faction in New York that was loyal to William Seward, appointed Democrats to posts in his department, and was widely and credibly accused of corruption. Barney made noises about resigning, but did not.
Meanwhile, in early 1864, Barney's enemies spread stories that he was supporting Chase for President and opposing President Lincoln's reelection. Moreover, Lincoln had his eye on the New York customs house because he feared the embarrassing corruption scandals might hurt his chances in New York in the November election. At this time Barney had drifted into the Radical Republican orbit, and some radicals sought to replace Lincoln at the top of the ticket, with Chase's at least tacit approval. So there was growing pressure on Lincoln to remove Barney, but Chase came to his rescue, both for political and personal reasons. On a personal level, Barney had quietly, and unbeknownst to Lincoln, lent Chase a substantial sum of money, so Chase was in his debt, and Barney managed Chase's New York real estate. He was too good a friend for Chase to sacrifice.
Lincoln wrote Chase rather gently on January 11, 1864: "I am receiving letters and dispatches indicating an expectation that Mr. Barney is to leave the Custom House, at New York. Have you anything on the subject." But Chase made Barney's retention a question of personal honor. In response Chase defended Barney, writing Lincoln: "Nothing at all, except urgent representatives of the necessity of reform, which do not, at all impeach Mr. Barney, in whose integrity I have undiminished confidence." Chase also told Lincoln, "I am to-day fifty-six years old. I have never consciously and deliberately injured one fellow man. It is too late for me to begin by sacrificing to clamor the reputation of a man whom I have known for more than twenty years, and whose repute for honesty has been all that time unsullied. I shall not recommend the removal of Mr. Barney, except upon such show of misconduct, or incapacity, as makes it my duty to do so. In such a case I shall not shrink from my duty." This did not satisfy Lincoln, who was fed up with Chase and his protege Barney. On February 13, 1864, the President told Attorney General Edward Bates that he had decided Barney must go. Then he asked Secretary of State William Seward to find a diplomatic post for Barney, which he did – the ambassadorship to Portugal.
Barney's position was additionally undermined by the actions of a Chase lieutenant, Joshua S. Bailey, special agent of the Treasury at New York, who was supposed to investigate corruption in Barney's customs operations, but but who threw Lincoln under the bus, telling the Congressional committee investigating him that "whatever might be developed the President would take no action." Furious at the false and slanderous allegation that he tolerated corruption, the day before he told Bates that Barney must go, Lincoln wrote Chase directly.
Autograph letter signed, Executive Mansion, Washington, February 12, 1864, to Chase,  "My dear Sir: I have felt considerable anxiety concerning the Custom House at New-York. Mr. Barney has suffered no abatement of my confidence in his honor and integrity; and yet I am convinced that he has ceased to be master of his position. A man by the name of Bailey, whom I am unconscious of ever having seen, or even having heard of, except in this connection, expects to be, and even now assumes to be, Collector de facto, while Mr. Barney remains nominally so. This Mr. Bailey as I understand having been summoned as a witness to testify before a committee of the House of Representatives which purposed investigating the affairs of the New-York Custom-House, took occasion to call on the Chairman in advance, and to endeavor to smother the investigation, saying among other things, that whatever might be developed, the President would take no action, and the committee would thereby be placed unpleasantly. The public interest can not fail to suffer in the hands of this irresponsible and unscrupulous man.  I propose sending Mr. Barney Minister to Portugal, as evidence of my continued confidence in him; and I further propose appointing ___ Collector of the Customs at New-York. I wrote the draft of this letter two weeks ago, but delayed sending it for a reason which I will state when I see you. Yours truly A. Lincoln."
In his original retained draft, Lincoln had indicated that he would appoint Preston King, a former Republican U.S. Senator from New York who was then practicing law. Apparently Lincoln thought twice about specifically naming King (or anyone else) under the circumstances, so left the name blank. And Lincoln was right about Bailey, who, it turned out, was more corrupt than the people he was investigating; Bailey eventually fled to avoid prosecution for embezzlement.
Chase replied to this letter the next day, and sought to keep Lincoln from acting to replace Barney without his consent. "I was surprised and pained by your letter this morning. Misrepresentations, I am sure, must have been made to you about the New York Custom House. I regret that I was not earlier consulted in a matter which so deeply concerns this Department & still trust, that before you take any definitive action, you will confer with me fully on the subject. I shall be ready at any hour which may suit your convenience." Lincoln later said that Chase had threatened to resign from the Secretaryship of the Treasury if Barney was removed, and that he (the President) gave in, once telling a Treasury aide on this subject, "Well, I backed down again."
Illness now interfered in the communication between Chase and Lincoln on the issue. Lincoln replied on February 13 that, "On coming up from the reception, I found your note of today. I am unwell, even now, and shall be worse this afternoon. If you please, we will have an interview Monday."
In the midst of this patronage controversy, Lincoln learned of the distribution of the "Pomeroy Circular" advocating Chase's candidacy for President, just 10 days after sending this letter. Chase offered to resign on February 22, and on February 29, the President wrote the Treasury Secretary: "Whether you shall remain at the head of the Treasury Department is a question which I will not allow myself to consider from any stand-point other than my judgment of the public service; and, in that view, I do not perceive occasion for a change." Lincoln was not yet ready to let go of Chase.
Lincoln again unsuccessfully pushed the Treasury Secretary to dismiss Barney on June 6, 1864. He paid Chase a visit. The President opened the conversation on the persistent custom-house problem. After he gave his opinion, an unfavorable one about Bailey, he went on to speak of Barney's replacement. Chase as usual was well prepared and his tone of voice was self-assured. He denied that Bailey had been so indiscreet to say what he was alleged to have said and he backed this statement up with a detailed account of Bailey's activities. Chases's biographer wrote: "This personal conference removed the difficulty for the time being; there is some reason to suppose that Chase again threatened to resign, and that the President again gave way.
In late June 1864, Chase sought to replace the well-respected John Cisco as Assistant Treasury Secretary for New York with a clearly unqualified candidate of suspect political loyalty. Lincoln, fearing an open revolt among Republicans (and voters), urged Chase to select from among three alternative candidates. Chase rejected them and instead persuaded the incumbent to withdraw his resignation, forcing the President's hand. When Chase sought a meeting with Lincoln, he was rebuffed, "because the difficulty does not, in the main part, lie within the range of a conversation between you and me." On June 29, Chase once again resigned, and this time Lincoln accepted. "I thought I could not stand it any longer," the President confided to his secretary John Hay.
With Chase gone from the cabinet and the new Treasury Secretary William P. Fessenden not committed to Barney's retention, Lincoln was free to make a change. As Barney explained to Chase, the President requested his resignation "as a personal and political favor of great value and importance to him." In late August Lincoln's secretary John G. Nicolay was dispatched to New York to make the necessary job shifts. After a conference, Barney submitted his resignation. Simeon Draper was named to replace Barney, and he was in office until August 1965 when President Andrew Johnson named Preston King to replace him. Barney remained loyal to Chase – serving on a presidential organizing committee in 1868. He was at Chase's side when he died.
Lincoln realized that Chase had a constituency within his own party, and rather than let a competent enemy battle with him for years going forward, in December 1864 Lincoln kicked Chase upstairs and named him the 6th Chief Justice of the U.S. Supreme Court. This removed Chase from politics, and at the same time placed a reliable and capable Republican in that office.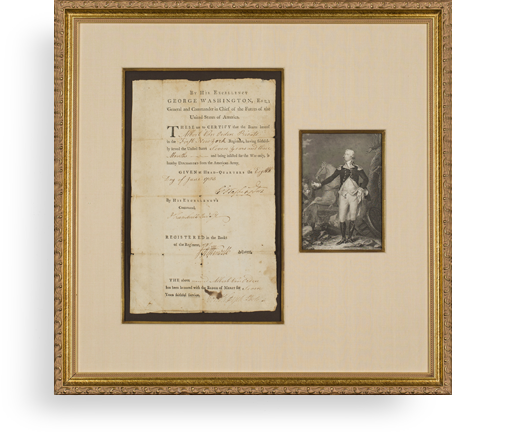 Frame, Display, Preserve
Each frame is custom constructed, using only proper museum archival materials. This includes:The finest frames, tailored to match the document you have chosen. These can period style, antiqued, gilded, wood, etc. Fabric mats, including silk and satin, as well as museum mat board with hand painted bevels. Attachment of the document to the matting to ensure its protection. This "hinging" is done according to archival standards. Protective "glass," or Tru Vue Optium Acrylic glazing, which is shatter resistant, 99% UV protective, and anti-reflective. You benefit from our decades of experience in designing and creating beautiful, compelling, and protective framed historical documents.
Learn more about our Framing Services