President Abraham Lincoln as Commander in Chief: "This is my authority"
Writing to Stanton, he laments the "fall" of the heroic young General George Bayard, Killed at Fredericksburg, insisting on his authority to appoint Bayard's aide-de-camp to the Regular Army. Stanton defies him nonetheless.
A searching spotlight on the real relationship between Lincoln and Stanton
1862 was a discouraging year for the Union and it leader, President Abraham Lincoln. In the spring and summer, McClellan's plan to take the Confederate capital of Richmond by rolling up the Peninsula to that city's east ended in ignominious withdrawal...
A searching spotlight on the real relationship between Lincoln and Stanton
1862 was a discouraging year for the Union and it leader, President Abraham Lincoln. In the spring and summer, McClellan's plan to take the Confederate capital of Richmond by rolling up the Peninsula to that city's east ended in ignominious withdrawal and the rise of Robert E. Lee. In the Shenandoah Valley, Stonewall Jackson completely overmatched Union commanders and won a series of stunning victories, and a name in history. In August at Second Bull Run, the Confederates again emerged victorious. Then in September, Lee's Army of Northern Virginia and McClellan's Army of the Potomac engaged in the single bloodiest day of the war. On Sept. 4-5, Lee's 40,000-man army crossed the Potomac River in an attempt to reclaim Maryland for the Confederacy. The day-long Battle of Antietam cost both sides 23,000 casualties (roughly one of every four men who fought), and was a tactical draw but a strategic Union victory, as it resulted in two important outcomes: it saved Maryland from Confederate occupation and served as a vehicle for Lincoln to issue his Preliminary Emancipation Proclamation on Sept. 22. However, McClellan failed to follow up on his advantage, causing Lincoln to lose confidence in him for the final time.
The wake of the Battle of Antietam, Lincoln was facing immense pressure to achieve a clear victory, as many in the north were unhappy with how the war was going and were losing confidence in the war effort; and he hoped such a victory would help support issuance of the upcoming Emancipation Proclamation. Lincoln appointed Ambrose Burnside commander of the Army of the Potomac. The resulting Battle of Fredericksburg on December 13, 1862, involved nearly 200,000 combatants, the largest concentration of troops in any Civil War battle. Burnside had ordered his more than 120,000 troops to cross the Rappahannock River, where they made a two-pronged attack on the right and left flanks of Robert E. Lee's 80,000-strong Army of Northern Virginia at Fredericksburg. On both ends, Lee's rebel defenders turned back the Union assault with heavy casualties (nearly 13,000), particularly from their high position atop Marye's Heights. The results of the battle sent Union morale plummeting and lent much-needed new energy to the Confederate cause. President Lincoln was, one observer said, "heart-broken…and soon reached a state of nervous excitement…" Lincoln himself stated, "We are now on the brink of destruction," and fretted about what he would tell the country.
Col. George D. Bayard led his 1st Pennsylvania Cavalry in a probe of Confederate bridge defenses outside Falmouth, Virginia, but when his troops found themselves in a trap, they had to fight their way out. Bayard ordered a mounted charge of the Confederate position, and although rifle fire hit his horse three times, the charge was successful, they made their escape, and Bayard survived the engagement unharmed. As a result of his leadership, Bayard was commissioned brigadier general of volunteers on April 28, 1862, and took command of a brigade of cavalry in the Shenandoah Valley, serving throughout Jackson's Valley Campaign. When the Army of Virginia was formed in July 1862, Bayard was appointed Chief of Cavalry of the III Corps, and served with great distinction at Second Bull Run. When the Army of the Potomac was restructured that fall, Bayard was promoted to cavalry commander for the Left Division. With Burnside's appointment to command the Army of the Potomac, Bayard resumed a field command. At the Battle of Fredericksburg, he commanded a six-regiment brigade. On December 13, 1862, while visiting the headquarters of Maj. Gen. William B. Franklin, commander of the left wing of Burnside's army, and speaking with a group of officers, he was struck by a shell and mortally wounded; a Confederate round shot tore through his body, carrying away his thighs, a hip, and part of his abdomen. Friends carried him into the house, but doctors could do nothing to save him. Bayard's death caused widespread consternation in the Union ranks. He would later be eulogized as "the Sheridan of our army in the early days of the war". Lincoln was fond of Bayard, and felt his loss keenly.
William Bayard was George's double cousin. He was in Texas when the war broke out, and with Robert Anderson's brother Charles managed to escape Confederate custody to Mexico and make his way to New York. He was introduced by Anderson to President Lincoln and Secretary of War Simon Cameron, and was promised a commission in the Regular Army. Meanwhile, he joined his cousin George's unit as his lieutenant and adjutant. He was cited for bravery at Falmouth, and at Second Bull Run he and George performed heroically when they almost single-handedly charged the enemy's position.
Then his position was abolished, and he served as volunteer aide to his cousin until the latter's death. After Fredericksburg he again made application for a commission in the Regular Army. This time President Lincoln determined to intercede on his behalf.
Edwin Stanton had met Lincoln before the war when they had served as co-counsel in a famous lawsuit involving the McCormick reaper. Stanton, who had a reputation for being stern, imperious, hot-tempered and controlling, had snubbed him, and then ridiculed him publicly as a gorilla and an imbecile. Lincoln, however, saw Stanton as honest, dedicated and extremely competent. Carrying no grudges, he appointed Stanton to be Secretary of War, and it was a brilliant choice. The two men came to respect and even like each other as they worked together daily to achieve victory. Yet there were still frictions, and there has been much conjecture and much written about the precise nature of their relationship.  Stanton looked on the War Department as his fiefdom, and Lincoln had to be careful about how he dealt with military topics lest Stanton consider his actions interference. His letters and notes to Stanton show a certain caution to avoid giving offense or causing an angry flare-up, and for Stanton's part, it is known that he would sometimes try to ignore Lincoln's requests. Lincoln himself papered over the issue, claiming "I want to oblige everybody when I can; and Stanton and I have an understanding that if I send an order to him which cannot be consistently granted, he is to refuse it. This he sometimes does." The renowned historian David Donald wrote that Lincoln, for his own purposes, "pretended" that Stanton exerted a veto over his actions, but that Lincoln could control Stanton when he desired. This is consistent with Lincoln's statement of Stanton, "I can overrule his decision if I will." This brief letter throws a bright light onto the state of the actual relationship between these two men, and answers some significant questions about Lincoln's authority over the War Department.
Autograph letter signed as President, Washington, January 23, 1863, to Secretary of War Edwin M. Stanton, asking Stanton to make the appointment of Bayard, but going beyond and insisting on his own authority in the matter.  "The bearer of this, William Bayard, is a double cousin of our lamented Gen. Bayard, and served on his staff from his promotion to a generalship up to his fall. He wishes to be a Lieut. in the regular army. Hear him, & if you can find a way, this is my authority." This is the only time we have seen Lincoln express himself in this fashion, and it indicates the warmth of his feelings about the Bayards. Yet Stanton did not act on the appointment nonetheless.
Now nobody would claim that Stanton was in control of Lincoln, nor that Lincoln was actually afraid of Stanton. However, the specific affirmative nature of Lincoln's request that Bayard be appointed, and Stanton's ignoring of that request, seems inconsistent with the idea that Lincoln and Stanton had a viable arrangement or understanding between them about these matters. Moreover, this shows a fascinating side of Lincoln, if not an altogether unfamiliar one, as he was married to an imperious, hot-tempered and controlling woman with whom he had to take similar precautions. The accommodations he made in his private life promoted his domestic tranquility, and those to Stanton in his public life the Union victory he desired above all else.
William Bayard was determined to remain in the war and enlisted as a private in the 4th U.S. Cavalry, serving from 1863 to war's end in the western theater. He was breveted a second lieutenant in late October 1863, served in the Atlanta and Nashville Campaigns, and received brevets all the way up to the rank of major. When Georgia Governor Joseph Brown was captured in May 1865, Bayard was designated his guard. After the war he served in Texas.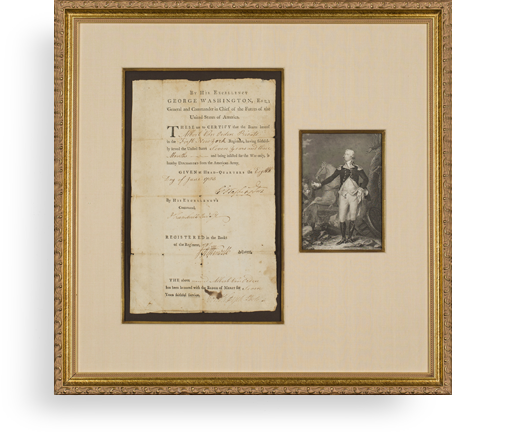 Frame, Display, Preserve
Each frame is custom constructed, using only proper museum archival materials. This includes:The finest frames, tailored to match the document you have chosen. These can period style, antiqued, gilded, wood, etc. Fabric mats, including silk and satin, as well as museum mat board with hand painted bevels. Attachment of the document to the matting to ensure its protection. This "hinging" is done according to archival standards. Protective "glass," or Tru Vue Optium Acrylic glazing, which is shatter resistant, 99% UV protective, and anti-reflective. You benefit from our decades of experience in designing and creating beautiful, compelling, and protective framed historical documents.
Learn more about our Framing Services