Mark Twain Writes Out The Final Line of His Book "Eve's Diary," Which Was Written As An Ode to His Own Wife, Who Had Died
"Wheresoever she was, there was Eden" - inscribed inside a copy of that very book
A fine association copy, as it is inscribed to the wife of Clemen's close advisor Zoeth Freeman, who would soon become vice president of the Mark Twain Company
"Eve's Diary" is written in the style of a diary kept by the first woman in the biblical creation story, Eve, and is claimed...
A fine association copy, as it is inscribed to the wife of Clemen's close advisor Zoeth Freeman, who would soon become vice president of the Mark Twain Company
"Eve's Diary" is written in the style of a diary kept by the first woman in the biblical creation story, Eve, and is claimed to be "translated from the original MS." The "plot" of this story is the first-person account of Eve from her creation up to her burial by her mate Adam, including meeting and getting to know Adam, and exploring the world around her – Eden. The story then jumps 40 years into the future after the Fall and expulsion from Eden.
It is one of a series of books Twain wrote concerning the story of Adam and Eve, including Extracts from Adam's Diary, "That Day In Eden," "Eve Speaks," "Adam's Soliloquy"' and the "Autobiography of Eve." "Eve's Diary" has a lighter tone than the others in the series, as Eve has a strong appreciation for beauty and love.
The book may have been written as a posthumous love-letter to Mark Twain's wife Olivia Langdon Clemens, or Livy, who died in June 1904, just before the story was written. Twain is quoted as saying, "'Eve's Diary' is finished — I've been waiting for her to speak, but she doesn't say anything more." The story ends with Adam's speaking at Eve's grave, "Wherever she was, there was Eden."
Between 1867 and his death in 1910, Twain visited Bermuda numerous times, enchanted by the inhabitants of "that happy little paradise" from the time he first set foot here, once writing: "The spectacle of an entire nation grovelling in contentment is an infuriating thing." He traveled there for an extended trip, from February to April 1908.
Zoeth Freeman was a banker and would become one of the trustees of Clemens's estate. At the time Clemens went to Bermuda in 1908, he began considering forming a company for the purpose of allowing his two daughters Clara L. and Jean L. Clemens, to receive the financial benefits of his works for the greatest possible length of time. Freeman was to be involved, and after the company was formed in December 1908 as the Mark Twain Company, Freeman became the director and vice president. Clemens clearly sought Freeman's counsel about the formation, and Freeman and his wife Grace Watson Freeman joined Clemens in Bermuda.
"Eves Diary" Copyright 1905,1906 by Harper & Brothers, signed and inscribed by Twain from Bermuda, March 27, 1908, to Mrs. Grace Watson Freeman, who was pictured with him in a well-known photograph of the trip. He writes; "Adam, lamenting, said, 'Wheresoever she was, there was Eden.' Truly yours, Mark Twain."
The Mark Twain Company owned all the copyrights to Twain's books until 1978 when Clara's estate was closed, the assets being transferred to the Mark Twain Foundation.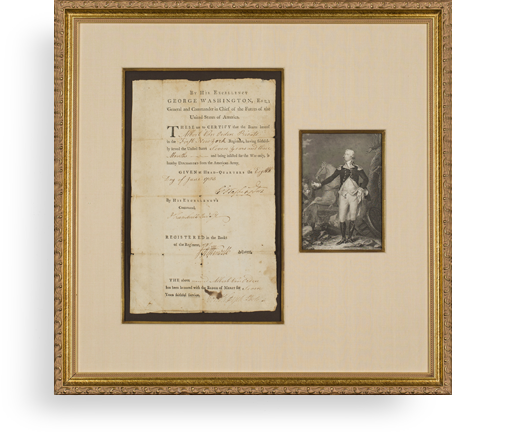 Frame, Display, Preserve
Each frame is custom constructed, using only proper museum archival materials. This includes:The finest frames, tailored to match the document you have chosen. These can period style, antiqued, gilded, wood, etc. Fabric mats, including silk and satin, as well as museum mat board with hand painted bevels. Attachment of the document to the matting to ensure its protection. This "hinging" is done according to archival standards. Protective "glass," or Tru Vue Optium Acrylic glazing, which is shatter resistant, 99% UV protective, and anti-reflective. You benefit from our decades of experience in designing and creating beautiful, compelling, and protective framed historical documents.
Learn more about our Framing Services