Henri Matisse and Noted Collector Albert C. Barnes, Together in Nice, Send Joint Praise to the Editor of Barnes' Newly Released "The Art of Henri-Matisse"
With four Books from Albert Barnes to his close friend, publisher, biographer, and life long confidante, Henry Hart
A rare glimpse into among the more important relationships between art collector and artist: Matisse and Barnes, whose collection is at the Barnes Museum in Philadelphia
Never before offered for sale; acquired from the recipient's heirs
Albert C. Barnes was an American chemist, businessman, art collector, writer, educator, and the founder...
A rare glimpse into among the more important relationships between art collector and artist: Matisse and Barnes, whose collection is at the Barnes Museum in Philadelphia

Never before offered for sale; acquired from the recipient's heirs
Albert C. Barnes was an American chemist, businessman, art collector, writer, educator, and the founder of the Barnes Foundation. Barnes made a fortune as the developer of the antiseptic Argyrol, and subsequently amassed an impressive collection of more than 2,000 pieces of rare art. His extensive holdings include many European and American impressionist masterpieces and early modern art, including works by Cezanne, Matisse, Van Gogh, and Picasso. His collection of 181 Renoir paintings continues to be the largest number of the artist's paintings gathered in one location.
Barnes started the Barnes Foundation in 1922 as an educational institution, with strict limits to its use and very specific rules about its operations. Barnes was known for his ambition and his artistic sensibility, as well as his eccentricity.
At the Foundation, he insisted that the art be displayed in a unique way, exhibiting the works by their formal and expressive similarities rather than using the traditional method of grouping items by the date they were created, the place of origin, the type of item, or its medium.
In 1931, Dr. Barnes began work on "The Art of Henri-Matisse" whom he regarded as "the foremost painter of the day." Barnes first met Matisse in 1930 when the artist asked to visit the Foundation during a trip to the United States. During his visit, Dr. Barnes proposed that Matisse create a mural for the Main Gallery, which later would become The Dance mural.
Henry Hart first met Dr. Barnes in the early 1920s while Hart was employed as a journalist for the Philadelphia Record. The two developed a close friendship, and maintained a personal relationship until Dr. Barnes's unexpected death. Henry Hart transitioned from journalism and became an editor at Scribner, where he published "The Art of Henri-Matisse." The book was released on January 13, 1933.
In early January 1933, Hart sent Barnes an advanced copy of the book, which he shared with Matisse. At the time Barnes was in Nice with Matisse. Both Matisse and Barnes replied to Hart.
Autograph note of Matisse and Barnes on the verso of a scenic Nice postcard, addressed to Hart at his Scribner's Office in New York City:
"Nice, January 1933. Thanks for the advance copy of our book. It's fine, very attractive, Matisse is delighted with its appearance, especially the illustrations – but he will add his own comments, herewith. A.C.B."
Matisse adds, "I congratulate you on your book. I find it well composed and the prints are excellent. Sincerely, H. Matisse".
Dr. Barnes, believed that art had the power to improve minds and transform lives. Over the course of his lifetime, along with "The Art of Henri-Matisse", he wrote several books about his theories of art aesthetics.
Albert C Barnes books inscribed to his close friend, Henry Hart, who later published his only biography, "Dr. Barnes of Merion, an Appreciation":
"The Art of Henri Matisse": To Henry Hart, who, with kindness and patience, delivered this baby in the Scribner Maternity. Albert Barnes.
"Art and Education": To Henry Hart, with mixed feelings, all good. Albert Barnes.
"The French Primitives and Their Forms": To Henry Hart, in friendship and esteem. From Albert C Barnes April 2, 1931.
"The Art of Renoir": To Henry Hart, with best wishes. Albert Barnes, Merion March 9, 1935."
A unique grouping that pulls back the curtains and shows us Dr. Barnes as collector, author, educator, and friend, and his relationships with the greatest artists of his day.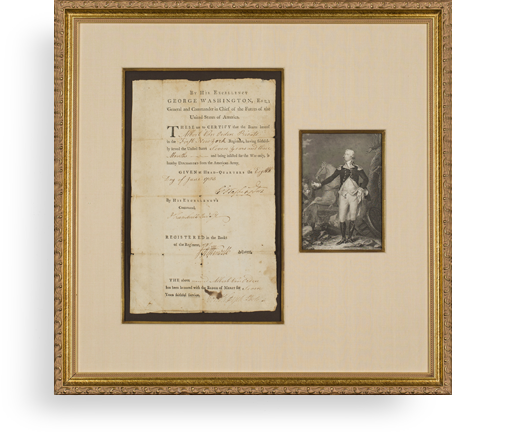 Frame, Display, Preserve
Each frame is custom constructed, using only proper museum archival materials. This includes:The finest frames, tailored to match the document you have chosen. These can period style, antiqued, gilded, wood, etc. Fabric mats, including silk and satin, as well as museum mat board with hand painted bevels. Attachment of the document to the matting to ensure its protection. This "hinging" is done according to archival standards. Protective "glass," or Tru Vue Optium Acrylic glazing, which is shatter resistant, 99% UV protective, and anti-reflective. You benefit from our decades of experience in designing and creating beautiful, compelling, and protective framed historical documents.
Learn more about our Framing Services