A Who's Who of American Physics at the Dawn of the Space Age (and the Nuclear Arms Race), including Einstein
The program for "The Theory of Relativity and Contemporary Science", with the attendance roster signed by the 59 attendees, headed by Albert Einstein
On March 19, 1949, on the "occasion of Professor Einstein's 70th birthday", his Institute for Advanced Study held a symposium entitled "The Theory of Relativity and Contemporary Science". Invited speakers included J. Robert Oppenheimer speaking on "Relativity in the Atomic Domain", I.I. Rabi speaking on "On the Implications of Relativity for Modern...
On March 19, 1949, on the "occasion of Professor Einstein's 70th birthday", his Institute for Advanced Study held a symposium entitled "The Theory of Relativity and Contemporary Science". Invited speakers included J. Robert Oppenheimer speaking on "Relativity in the Atomic Domain", I.I. Rabi speaking on "On the Implications of Relativity for Modern Experimental Physics", and E.P. Wigner, speaking on "Invariance in Physical Theory".
The attendees and signatories are a virtual who's who of American physics, just months before the Soviet Union exploded its first atomic bomb and commenced the nuclear arms race, and at the preliminary stage of the American space program, which had its roots in the Intermediate Range and Intercontinental Ballistic Missile programs that emerged after World War II, as the military sought to launch larger and heavier payloads into space using rockets.
Among the signing physicist attendees were:
Albert Einstein, inventor of the Theory of Relativity;
Rudolf Ladenburg, a friend of Einstein since 1907, who encouraged him to leave the Swiss Patent Office for a career in science. Ladenburg's research explored dispersion lines in atomic spectra, and his most original work was on the anomalous dispersion of gases;
Walker Bleakney, one of inventors of mass spectrometers, noted for his research in atomic physics, molecular physics, fluid dynamics, the ionization of gases, and blast waves;
J.B. Ehrman, co-discoverer of the Thomas-Ehrman shift relating to nuclei;
Lyman Spitzer, who conceived the idea of telescopes operating in outer space. Spitzer invented the stellarator plasma device and is the namesake of NASA's Spitzer Space Telescope;
David Bohm, one of the greatest theoretical physicists of the 20th century, who contributed ideas to quantum theory. He developed a theory of plasmas, discovered the electron phenomenon now known as the Bohm Diffusion, and also the pilot wave theory and the Bohm—Staver relation;
Tor Staver, co-discoverer of the Bohm—Staver relation;
Hedwig Kohn, one of the earliest and foremost women pioneers in physics, who worked in the field of quantitative measurement of the intensity of radiation, and contributed to atomic and molecular spectroscopy, mostly in work involving quantitative measurements of luminosity or temperature;
Fritz Reiche, a student of Max Planck and colleague of Einstein, who made important contributions to the development of quantum mechanics and co-authored the Thomas-Reiche-Kuhn sum rule;
George T. Reynolds, who served with the Manhattan Project and was co-designer of the explosive lenses required by the implosion-type nuclear weapons. He was director of Princeton's High Energy Physics Program;
Raymond J. Emrich, who pioneered the techniques of using sub-micron tracer particles to measure fluid flows and developed and perfected new techniques of flow visualization;
Henry Norris Russell, Dean of American Astronomers. His work on binary stars led to the first systematic analysis of the variation of light received from these eclipsing bodies. He initiated a series of quantitative investigations on the absorption-line spectrum of the Sun that enabled scientists to determine the abundance of various chemicals in the solar atmosphere, devised the theory of L–S coupling to explain spectra produced by atoms;
Lester Lees, authority on supersonic and Hydrosonic aerodynamics, played a pivotal role in the creation of the United States ballistic missile defense system;
Martin Summerfield, co-founder of Aerojet, head of Princeton's propulsion and combustion laboratory;
P.C. Gugelot, Director of NASA's Space-Radiation Laboratory, consultant at its Langley Research Center and the Los Alamos Science Laboratory;
Irving Wolf, co-inventor of the world's first radar set;
Richard Ferrell, co-developer of the famous Ferrell-Glover-Tinkham sum rule.
Daniel Bershader, aerophysicist whose studies of the turbulent flow of gases led to knowledge about the physics of supersonic flight and the entry of space vehicles into planetary atmospheres, director of the Aero-Astro Shock Tube Laboratory at Stanford.
M.G. White, who built the cyclotron at Princeton;
Bengt Stromgren, Director of the Yerkes and McDonald Observatories. In 1957, he was appointed the first professor of theoretical astrophysics at the Institute for Advanced Study, where he got Einstein's office;
L.A. Delsasso, expert on Gamma-Radiation and Free-Flight Ballistic Measurements of Guided Missiles;
E.P. Tomlinson, co-inventor of thePrinceton-Pennsylvania Accelerator, a particle research facility;
Martin Schwarzschild, worked in the fields of stellar structure and evolution. He computed some of the first stellar models to correctly ascend the red giant branch, with Härm was the first to compute stellar models going through thermal pulses, and showed that these models develop convective zones between the helium- and hydrogen-burning shells. Author whose "Structure and Evolution of the Stars" taught a generation of astrophysicists how to apply electronic computers to the computation of stellar models;
F.B. Harrison, who worked on the team that confirmed the existence of the Free Neutrino, which won the Nobel Prize for the team head;
Hans Kopferman, who did pioneering work in measuring nuclear spin;
Silvan Schweber, author of a book on relativistic quantum field theory;
Frank Stern, who quantized motion of electrons of silicon-silicon dioxide interface;
Edward L. Fireman, who developed the radiometric dating method of freshly fallen meteorites;
Allen G. Shenstone, mentored by Ernest Rutherford at Cambridge, Chair of the Department of Physics at Princeton;
R.H. Kent, physicist at the Ballistics Research Laboratories;
Luke Chia-Liu Yuan, grandson of the first president of the Republic of China, helped found the Synchroton Radiation Research Center and the Wu-Yuan Research Foundation;
W.P. Alford. expert on Isovector Excitations in Nuclei and Elastic Scattering of Protons;
R.W. Peelle, with the Oak Ridge National Laboratory Fission-product decay energy-release program;
Karl Meissner, director of the spectroscopy laboratory at Purdue;
Arnold Feingold, founding member of Stony Brook University and the first dean of its graduate school;
Marshal H. Wrubel, director of Indiana University's Research Computing Center which in now named in his honor;
H. J. White, expert on liquids and Industrial Electrostatic Precipitation;
Malcolm P. Savedoff, astronomy professor;
Wesley Brittin, chair of the Department of Physics at the University of Colorado; and
E.C. Hutter, expert on cyclotron resonance.
This is undoubtedly the most diverse collection of the autographs of American physicists of that era that we have ever seen. And all there to help celebrate Einstein's 70th birthday.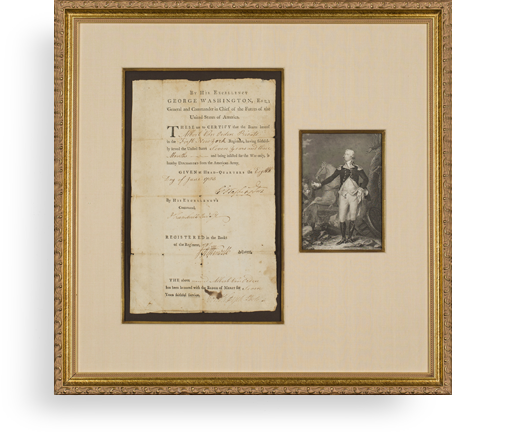 Frame, Display, Preserve
Each frame is custom constructed, using only proper museum archival materials. This includes:The finest frames, tailored to match the document you have chosen. These can period style, antiqued, gilded, wood, etc. Fabric mats, including silk and satin, as well as museum mat board with hand painted bevels. Attachment of the document to the matting to ensure its protection. This "hinging" is done according to archival standards. Protective "glass," or Tru Vue Optium Acrylic glazing, which is shatter resistant, 99% UV protective, and anti-reflective. You benefit from our decades of experience in designing and creating beautiful, compelling, and protective framed historical documents.
Learn more about our Framing Services