In the Wake of the First Loss of a Nuclear Submarine, Pres. John F. Kennedy Reassures Adm. Hyman Rickover, Father of the Nuclear Navy, That His Program Will Continue Despite the Tragedy
He quotes Andrew Jackson on the strength of the US Navy
"I know that you, and all others responsible, will continue this fine work, and not relax your efforts to provide the greatest possible memorial to the gallant men of the Thresher – ships they would wish, and in which they would be proud, to serve."
World War II was barely over when...
"I know that you, and all others responsible, will continue this fine work, and not relax your efforts to provide the greatest possible memorial to the gallant men of the Thresher – ships they would wish, and in which they would be proud, to serve."
World War II was barely over when Hyman Rickover, in 1946, recognized nuclear power "as an opportunity for the Navy".  The next year he received training in nuclear power at Oak Ridge, Tennessee, and there began exploring the possibility of nuclear ship propulsion. In February 1949 he was assigned to the Division of Reactor Development within the Atomic Energy Commission and then assumed control of the Navy's effort as Director of the Naval Reactors Branch. Using this twin role as a platform, with unrelenting determination, Rickover advocated, in fact championed, nuclear power in his effort to modernize the U.S. Navy, expand its reach and efficiency, and increase its firepower in a world in the midst of the Cold War. His strategy was to keep the Executive Branch and Congress fully informed and thoroughly engaged, and as a result of his success in doing so, his program was approved. He then supervised the construction of the world's first nuclear powered submarine, USS Nautilus (which joined the fleet in January 1955), and over the next decades spearheaded the building of the U.S. Navy's nuclear fleet and oversaw its operations. This involved not merely outfitting submarines, but aircraft carriers and other ships as well, and increasing the firepower of the fleet with Polaris missiles. Using his submarines and missiles, American might could now be delivered to any point in the world; and American submarines could cruise, silently and never surfacing, beneath the waves shadowing Soviet naval movements, collecting Soviet missile telemetry and eavesdropping on Soviet communications. This would, he believed, give the US an advantage in the Cold War.
Rickover generally had strong support for his program, but then came the fateful disaster of the USS Thresher. The Thresher, the lead nuclear submarine in her class, was commissioned on August 3, 1961. In company with USS Skylark, Thresher put to sea on April 10, 1963, for deep-diving exercises. In addition to her 16 officers and 96 enlisted men, the submarine carried 17 civilian technicians to observe her performance during the deep-diving tests. Fifteen minutes after reaching her assigned test depth, the submarine communicated with Skylark by underwater telephone, apprising the submarine rescue ship of difficulties. Garbled transmissions indicated that far below the surface things were going wrong. Suddenly, listeners in Skylark heard a noise "like air rushing into an air tank"–then, silence. Efforts to reestablish contact with Thresher failed, and a search group was formed in an attempt to locate the submarine. Rescue ship Recovery recovered bits of debris, including gloves and internal insulation. Photographs taken by bathyscaph Trieste proved that the submarine had broken up, taking all hands on board to their deaths. This was the first major setback for Rickover's nuclear reactors program.
Rickover was devastated by the loss of the men, saying "I…knew many of the crew members personally and was responsible for their selection, training and encouragement…Everyone knows how I felt about the crew. It was a personal loss to me." His son wrote, "He had been on the sub [Thresher] during its initial sea trials two years earlier – just as he had for every new atomic submarine since the Nautilus. He felt that it was only fair to share the risks inherent in the first voyage of any submarine for which he was responsible. When he heard the news about the Thresher, he stayed up all night hoping against all odds that she would be found and that her crew would be OK. When she was located at the bottom of the sea, broken apart into six sections, he wrote personal letters of condolence to the relatives of the 129 officers, crewmen and civilians who had been on board…He agonized over this loss for years, long after it had became clear that faulty welding during repairs in a Navy shipyard -something over which he had no control – was the cause of the disaster."
However, that was not his only problem, as many were questioning, and some blaming, him and his program for the disaster.  The Navy established a court of inquiry the very day after the sinking, and Rickover had to defend his program before it and an upcoming Congressional inquiry. Thus, the loss of the Thresher threatened to undermine Rickover's life's work, even as he had to cope with the loss of colleagues and men he knew personally.
In May 1963 the nuclear sub USS Andrew Jackson was ready to be commissioned, and Rickover informed President Kennedy of that fact. The President used the occasion to reassure Rickover that he approved of the nuclear Navy, that the mishap would not lead to cancellation of the nuclear program, and that the best memorial to the Thresher crew would be to build new submarines on which they would be proud to serve.
Typed letter signed, on White House letterhead, May 23, 1963, to Admiral Rickover, containing words that must have made this letter one of the most welcome that Rickover ever received. "I am pleased to hear from you once again upon the successful completion of sea trials of yet another nuclear powered man-of-war, the Andrew Jackson. The man for whom this latest is named said 126 years ago: 'In the construction of vessels at the different Navy yards and in the employment of our ships and squadrons at sea, that branch of the service has been actively and usefully employed.' This bit of understatement is still true, particularly in the case of nuclear powered submarines, the concept of which we are indebted to you. I know that you, and all others responsible, will continue this fine work, and not relax your efforts to provide the greatest possible memorial to the gallant men of the Thresher – ships they would wish, and in which they would be proud, to serve." We originally obtained this directly from the Rickover family.
The Navy's investigation ultimately concluded that the Thresher was lost for a non-nuclear related reason: a leak developed at a joint in an engine room seawater system likely due to improper welding, and water from the leak may have short-circuited electrical equipment, causing a reactor shutdown and leaving the submarine without primary and secondary propulsion systems. Rickover saw to it that the procedure that caused this was changed, eliminating the cause of this malfunction.
In fact, no U.S. nuclear submarine was ever lost for reasons that can be laid at Admiral Rickover's feet. And as his memorial to the Thresher crew, and in fulfillment of Pres. Kennedy's statement, Rickover built many more submarines on which sub crews were proud to serve.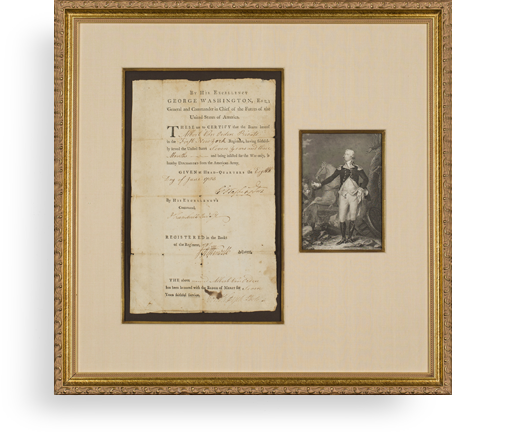 Frame, Display, Preserve
Each frame is custom constructed, using only proper museum archival materials. This includes:The finest frames, tailored to match the document you have chosen. These can period style, antiqued, gilded, wood, etc. Fabric mats, including silk and satin, as well as museum mat board with hand painted bevels. Attachment of the document to the matting to ensure its protection. This "hinging" is done according to archival standards. Protective "glass," or Tru Vue Optium Acrylic glazing, which is shatter resistant, 99% UV protective, and anti-reflective. You benefit from our decades of experience in designing and creating beautiful, compelling, and protective framed historical documents.
Learn more about our Framing Services