Napoleon Prepares to Makes His Last Stand, Rushing to Defend Against the Invasion of France by the Allied Powers
In a letter to his Minister of War, he urges a division general, some battalions, national guard and artillery be sent to the front lines
Rushing to counter the invasion, he wants to know "if we can speed up their march"
His efforts were in vain, and just months later he would abdicate and go to Elba, his first exile
In November 1813, the 70,000 French survivors of the disastrous German Campaign of 1813 crossed to...
Rushing to counter the invasion, he wants to know "if we can speed up their march"

His efforts were in vain, and just months later he would abdicate and go to Elba, his first exile
In November 1813, the 70,000 French survivors of the disastrous German Campaign of 1813 crossed to the west bank of the Rhine River. Emperor Napoleon left 100,000 French soldiers in German garrisons, trapped by enemy blockading forces and hostile populations. All of Napoleon's German allies switched sides and joined the anti-French Sixth Coalition. The Russian, Prussian, Austrian, and English allied powers made the consequential decision to follow Napoleon into France itself. They did so in Northeastern France. They first crossed in late December and by mid-January, though no major conflict had taken place, they had taken a few towns and dislodged minor French detachments.
Napoleon called up conscripts to replenish his dwindling ranks, including many who were not seasoned and lacked battlefield experience. He saw the allies moving south and west and aimed to stop them around Troyes. But his activity in mid to late January was frenetic as the scope of his problem took shape. He was facing a combined allied threat on his doorstep, at a time when morale and numbers were low for his men, and his supplies were hard to come by. This threat would become existential.
The Duke de Feltre was Napoleon's Minister of War. Betrand was a general and close confidant, effectively chief of staff.
In this letter, Napoleon rushes to defend his homeland and bring troops and artillery to Troyes, where the enemy was gathering.
Letter signed, Paris, January 21, 1814, to the Duke de Feltre. "It is very important that there be at Troyes a Division General, 6 pieces of artillery, a few infantry bataillons, and some national guard bataillons. I have instructed the Count Bertrand to inform you when the troops will arrive and if we can speed up their march. The national guard must be assured to find rifles there."
Just three days after this letter was the First Battle of Bar-sur-Aube, followed by another battle just days later in the same vicinity. Although Napoleon enjoyed a few fleeting minor victories, the die was cast. He would abdicate April 11, 1814 and go to Elba, his first exile.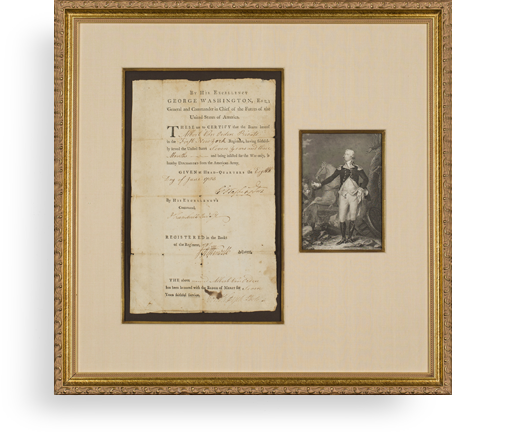 Frame, Display, Preserve
Each frame is custom constructed, using only proper museum archival materials. This includes:The finest frames, tailored to match the document you have chosen. These can period style, antiqued, gilded, wood, etc. Fabric mats, including silk and satin, as well as museum mat board with hand painted bevels. Attachment of the document to the matting to ensure its protection. This "hinging" is done according to archival standards. Protective "glass," or Tru Vue Optium Acrylic glazing, which is shatter resistant, 99% UV protective, and anti-reflective. You benefit from our decades of experience in designing and creating beautiful, compelling, and protective framed historical documents.
Learn more about our Framing Services