King George III Summons the House of Lords to a New Parliament
He instructs a member of the House of Lords "to be personally present with us and with the Prelates, Peers and Barons of our realm at our Parliament now holden at Westminster"
It was the last Parliament George III would call, as soon his son took over as Regent and assumed the King's duties
After passing a prohibition of the slave trade in March 1807, the third United Kingdom Parliament was dissolved. A new Parliament was directed to assemble on June 22 of that...
It was the last Parliament George III would call, as soon his son took over as Regent and assumed the King's duties
After passing a prohibition of the slave trade in March 1807, the third United Kingdom Parliament was dissolved. A new Parliament was directed to assemble on June 22 of that year. A general election was held for the House of Commons seats, and it ran from May 4 until June 9. Members of the House of Lords were summoned by King George III in April for this upcoming fourth U.K. Parliament, which lasted until 1812. George III's final lapse into insanity lay just ahead, and in the Act of February 1811 his eldest son George, Prince of Wales, was named as Regent. So this 1807 Parliament was the last that George III would call; in the future his son George would perform this duty under the British Constitution.
Charles William Montagu Scott of Tindall, known as Lord Dalkeith, was elected to the House of Commons in 1793, and remained there until early 1807. In the latter year he was summoned to the House of Lords through a writ of acceleration in his father's junior title of Baron Scott of Tyndale. In 1812 he was made a Knight of the Thistle, and succeeded his father as the Duke of Doncaster the same year. He would attend the House of Lords in the 1807 Parliament, and received an official summons to do so from the King. Confirming this, the book "The Historic Peerage of England" specifically states that Lord Dalkeith was summoned by Writ to Parliament in April 1807.
This is that very document. Document signed, Whitehall, April 10, 1807, to John Lord Eldon, Lord Chancellor of Great Britain, and as such the presiding officer of the House of Lords. "Right trusty and well beloved Councillor, our will and pleasure is that you make or cause to be made forth one Writ of Summons under our Great Seal of our United Kingdom of Great Britain and Ireland to be directed to our trusty and well beloved Charles William Montagu Scott of Tindall in our County of Northumberland commonly called Earl of Dalkeith to be personally present with us and with the Prelates, Peers and Barons of our realm at our Parliament now holden at Westminster, in as ample and honorable manner and form, to all intents and purposes as any Baron of this Realm hath at any time hitherto…And for so doing this shall be your warrant." An emendation indicates that a few minor corrections to this were made three days later "in His Majesty's presence and by his command."
The 1807 Parliament saw three Tory administrations (Prime Ministers Portland, Perceval, and Liverpool), and the only assassination of a British prime minister, when Spencer Perceval was shot in the lobby of the House of Commons by a deranged bankrupt. And after some initial disasters, there was a decisive change of fortune in the war against France, as Viscount Wellington won a series of victories in the Peninsula.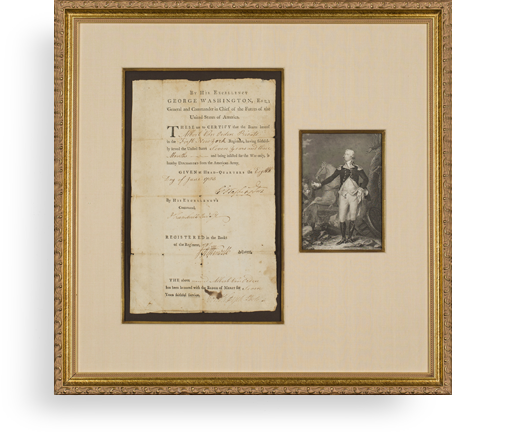 Frame, Display, Preserve
Each frame is custom constructed, using only proper museum archival materials. This includes:The finest frames, tailored to match the document you have chosen. These can period style, antiqued, gilded, wood, etc. Fabric mats, including silk and satin, as well as museum mat board with hand painted bevels. Attachment of the document to the matting to ensure its protection. This "hinging" is done according to archival standards. Protective "glass," or Tru Vue Optium Acrylic glazing, which is shatter resistant, 99% UV protective, and anti-reflective. You benefit from our decades of experience in designing and creating beautiful, compelling, and protective framed historical documents.
Learn more about our Framing Services