Prime Minister Winston Churchill Writes An American General In Command in North Africa, Praising the Swift Action of U.S. Troops Who Swept Inland During Operation Torch in 1942
An uncommon letter as Prime Minister, thanking the American military for handling arrangements during his trip to Marrakesh in December 1943, where he met with Charles De Gaulle to discuss strategy
Never before offered for sale
"I would like to express too my admiration of the move made to Marrakesh made by the troops under the command of Colonel Stevenson. The speed with which they covered the distance indicates a very high efficiency in movement by forced marches."
Operation Torch was an Anglo–American...
Never before offered for sale

"I would like to express too my admiration of the move made to Marrakesh made by the troops under the command of Colonel Stevenson. The speed with which they covered the distance indicates a very high efficiency in movement by forced marches."
Operation Torch was an Anglo–American invasion of French North Africa in November 1942. It was aimed at paving the way for an Allied invasion of Southern Europe, and reducing pressure on Allied forces in Egypt, both of which goals it accomplished. It also provided the 'second front' that the Soviet Union had been requesting, though not nearly what it had been hoping.
In late November 1942, U.S. troops, led by Gen. Dwight D. Eisenhower and Gen. George Patton, along with their British counterparts, landed in North Africa. They secured several ports for the Allies in what British Prime Minister Winston Churchill was already calling "the beginning of the end" of the war. Aerial operations were split into two, east of Cape Tenez in Algeria, with British aircraft under Air Marshal Sir William Welsh and west of Cape Tenez, all American aircraft under Major General Jimmy Doolittle. Ike stated in a press conference shortly following the American landing that he was glad that the French had come around and accepted the presence of American and British troops. Eisenhower also praised the American army for its ability to move quickly and take African ports while setting up defense points across the coastline.
Particularly worthy of praise was Col. John D. Stevenson, who in June 1942 was transferred to England as a planning officer on General Eisenhower's staff. In November 1942, he look part in the North African landing as an 12th Fighter Command Staff Officer, under the command of Doolittle and Patton. After the invasion of the coast, these men pushed inward. Basic to any Air Force operation, and especially important in the launching of an invasion, was the work of the air service command. The 12th, under Stevenson, supplied the U.S. air forces with gasoline and bombs; built, improved, and maintained airfields; administered airdromes and took care of housekeeping; provided repair and maintenance for aircraft; and handled the 500,000 different items of Air Corps supply.
Ike soon moved on into Europe, leaving representatives in major outposts in North Africa. General Arthur R. Wilson, who wrote an account of U.S. Army operations in North Africa titled "Report of Operations in North Africa," was Eisenhower's representative in Marrakesh. Wilson's chief aide was Major Sig Unander, and when Churchill showed up in Marrakesh in December 1943, Wilson and Unander were responsible for his safety and accommodations.
Churchill meanwhile had left Britain on November 12, 1943 aboard the battleship Renown for an exhausting program of conferences and visits in the Middle East, culminating in the first Big Three conference with Roosevelt and Stalin in Tehran. On December 12, in Tunisia, he contracted pneumonia. When a heart attack followed two days later, Clementine flew out to join him. However, he worked from his sickbed until Christmas Eve, and by December 27 was fit enough to fly to Marrakesh.
Churchill's visit to Morocco was an important one. It was there that he reconciled with the head of the provisional French government, Charles de Gaulle, at that time based in Algeria. De Gaulle, ever anxious to place himself on a par with the great powers, held a colorful parade for Churchill to review. First came Senegalese troops in their red tunics, then a contingent of the French foreign Legion, followed by white turbaned Spahis in red jackets and blue pantaloons trotting past on lively Arab horses. Later came the rumble of tanks and guns and the roar of fighters and bombers flying overhead. Churchill took the salute dressed in the uniform of a British Air Commodore, and was moved by the crowd crying "Vive Churchill".
His health repaired, Churchill left Marrakesh on January 14, 1944, flying to Gibraltar where he boarded the battleship George V.
Typed letter signed on his Prime Minister's letterhead, London, February 1944, to Gen. Wilson, commending him and Unander. "Thank you so much for sending me the pamphlet 'Why I Am Fighting'. I look forward to reading it. Thank you too for the address of Mr. Paul Cauvin. I I am sending a photograph to him as promised.
"I would like to take this opportunity to thank you for the arrangements made in your command for my stay at our Marrakesh. Major Unander's efficiency, in caring for the comfort and convenience, not only of myself and my party, but also of my visitors, was greatly appreciated. I would like to express too my admiration of the move made to Marrakesh made by the troops under the command of Colonel Stevenson. The speed with which they covered the distance indicates a very high efficiency in movement by forced marches. I hope you will accept the enclosed photograph is a souvenir of New Year 1944." Wilson gave this letter to Unander because he was praised in it, and we obtained it directly from the Unander descendants. It has never before been offered for sale.
Letters of Churchill as Prime Minister are increasingly uncommon. We don't recall seeing another come up praising the service of American troops in Operation Torch, let alone one to an American General.
A remarkable rarity offered for sale here for the first time.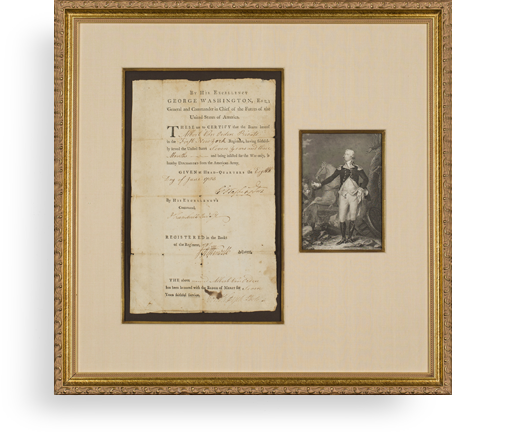 Frame, Display, Preserve
Each frame is custom constructed, using only proper museum archival materials. This includes:The finest frames, tailored to match the document you have chosen. These can period style, antiqued, gilded, wood, etc. Fabric mats, including silk and satin, as well as museum mat board with hand painted bevels. Attachment of the document to the matting to ensure its protection. This "hinging" is done according to archival standards. Protective "glass," or Tru Vue Optium Acrylic glazing, which is shatter resistant, 99% UV protective, and anti-reflective. You benefit from our decades of experience in designing and creating beautiful, compelling, and protective framed historical documents.
Learn more about our Framing Services