The Week the Alaska Acquisition Became Official, Secretary of State William Seward Surprisingly Admits the United States Has No Coherent Plan to Explore the New Territory
Proponents had assumed a Lewis and Clark type exploration would be undertaken, but Seward, father of the Alaska purchase, reveals "None is contemplated"
Beginning in 1725, when Russian Czar Peter the Great dispatched Vitus Bering to explore the Alaskan coast, Russia had a keen interest in this Pacific Northwest, which was rich in natural resources and lightly inhabited. As the United States expanded westward in the early 1800s, Americans soon found themselves in competition with...
Beginning in 1725, when Russian Czar Peter the Great dispatched Vitus Bering to explore the Alaskan coast, Russia had a keen interest in this Pacific Northwest, which was rich in natural resources and lightly inhabited. As the United States expanded westward in the early 1800s, Americans soon found themselves in competition with Russian explorers and traders. Russia, however, lacked the financial resources to support major settlements or a military presence along the Pacific coast of North America, and permanent Russian settlers in Alaska never numbered more than four hundred. Defeat in the Crimean War further reduced Russian interest in this region. In 1859, realizing that they could not retain it, the Russians made a geopolitical calculation and chose in whose hands to place Alaska: they offered to sell Alaska to the United States, believing the U.S. would off-set the designs of Russia's greatest rival in the Pacific, Great Britain. Russia feared that otherwise the British would find their way there, and a strong British presence so close to eastern Russia could not be tolerated. On the other hand, the Americans seemed to pose no threat, and moreover they had no real stake in European politics.
The looming U.S. Civil War delayed the sale, but after the war, Secretary of State William Seward quickly took up a renewed Russian offer and on March 30, 1867, agreed to a proposal from Russian Minister in Washington, Edouard de Stoeckl, to purchase Alaska for $7.2 million. The far-sighted Seward wanted Alaska because of his belief that it had substantial and valuable natural resources (such as fisheries, fur, and lumber) that Americans were in a position to exploit, and because it ensured U.S. access to the Pacific northern rim. He was also interested in increasing the size of the country by 25%. Critics of the deal to purchase Alaska called it "Seward's Folly" or "Seward's Icebox", and he was ridiculed at the time.
The Treaty with Russia was negotiated and signed by Seward and de Stoeckl. Despite any doubts, on April 9, 1867, the U.S. Senate ratified the treaty by a vote of 37 to 2. President Andrew Johnson signed the treaty on May 28, and it was officially ratified on that date. Copies of the treaty were exchanged with Russia on June 20, 1867, which became the date it was proclaimed by the United States. But Alaska would not be officially transferred to the U.S. until October 18, 1867, and the House of Representatives would not vote funds to pay for the purchase until July 1868.
Rev. Francis Vinton was a noted cleric of the day, with a congregation in New York. He was a West Point graduate and interested in the sciences. His brother, Major John R. Vinton, was killed in the Mexican War, and another brother, Major David Vinton, was serving in Texas when the Civil War broke out and was taken prisoner by the Rebels. Escaping and coming North, Vinton served as Chief Quartermaster at New York City throughout the war, where he was in charge of the depot for supplying the army with clothing and equipage. Thomas Egleston was Professor of Mineralogy and Metallury at Columbia College (now Columbia University), and Francis L. Vinton was Professor of Mining Engineering at the same college. Professor Vinton was Rev. Vinton's nephew, the son of the brother killed at Vera Cruz in 1847. The relationship was, of course, important, but both professors were eminently qualified to take part in a scientific exploration of Alaska. Clearly Rev. Vinton was expecting the equivalent of a Lewis and Clark expedition to explore and survey the expanse of Alaska.
Yet though the U.S. government now owned Alaska, shockingly, as this letter shows, it had no coherent plan to explore, populate, or govern the new territory. Letter signed, Department of State, Washington, May 22, 1867, to Rev. Vinton in New York. "Your letter of the 17th instant recommending Professors Vinton and Egleston for appointment upon any commission which may be organized for the exploration of the territory ceded by Russia to the United States was duly received. The reports which have been in circulation that such an expedition is being prepared are at least premature. None is contemplated by this Department. Were it otherwise, your statements in regard to these estimable gentlemen would have great weight in determining the selection of scientific officers for such duty." This was a polite brush off, but really Vinton had a point.
Despite the skeptics, and U.S. government inaction, American pioneers and traders took matters into their own hands. Between the final purchase date in 1867 and the great Alaskan gold rush in the Klondike tributaries in 1896, many people came to the region of their own accord, looking to make their fortunes. After the first discovery of gold in Juneau in 1881, there was never a dearth of gold seekers. Large gold strikes at Nome brought more people in a gold rush fever and, behind them, came suppliers of physical and mining needs, who also profited from the region's booming resources. Others came to Alaska to break through the mountain barriers and explore its interior, mapping the Upper Yukon, stringing telegraph line, exploring northern Alaska to the Arctic Ocean, and discovering the glacier-lined shores of 40-mile-long Glacier Bay.
The response of the U.S. government to this was almost completely disorganized. The human stampede to Alaska finally resulted in the passage of the 1884 Organic Act, which placed Alaska under a collection of federal laws and Oregon state laws. Congress enacted a second Organic Act in 1912, providing for land ownership, mail service, and civil government (as the Territory of Alaska). This form of government prevailed until 1959, when Alaska became the forty-ninth state in the union.
Just in terms of wealth, the U.S. gained from the Alaska purchase about 370 million acres of mostly pristine wilderness – almost a third the size of the European Union – including 220 million acres of what are now federal parks and wildlife refuges. Hundreds of billions of dollars in whale oil, fur, copper, gold, timber, fish, platinum, zinc, lead and petroleum have been produced in Alaska over the years. And Alaska still likely has billions of barrels of oil reserves. So Seward's folly was really Seward's shrewd bargain.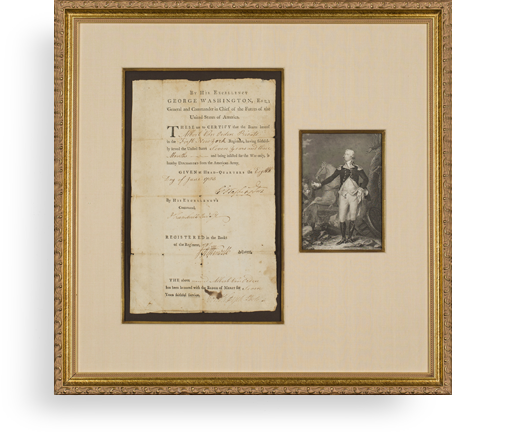 Frame, Display, Preserve
Each frame is custom constructed, using only proper museum archival materials. This includes:The finest frames, tailored to match the document you have chosen. These can period style, antiqued, gilded, wood, etc. Fabric mats, including silk and satin, as well as museum mat board with hand painted bevels. Attachment of the document to the matting to ensure its protection. This "hinging" is done according to archival standards. Protective "glass," or Tru Vue Optium Acrylic glazing, which is shatter resistant, 99% UV protective, and anti-reflective. You benefit from our decades of experience in designing and creating beautiful, compelling, and protective framed historical documents.
Learn more about our Framing Services