General Robert E. Lee's Original Battle Report to President Jefferson Davis, Concerning General JEB Stuart and his Brave Defense Against the Yankees
This was the first battle on southern soil between the Army of Northern Virginia and the Army of the Potomac after the Battle of Gettysburg
Currency:
USD
GBP
JPY
EUR
CNY
This currency selector is for viewing only.
The Raab Collection only accepts USD payments at checkout.
Exchange rates are updated hourly. Rates may be inaccurate.
The first Lee battle report to Davis we have ever carried: Gen. James Longstreet's command to the Western Theater, mentioning Stuart, Meade and Longstreet by name; a Union spy in the Confederate war department
JEB Stuart was a key element in the successes of the Army of Northern Virginia, and there were...
The first Lee battle report to Davis we have ever carried: Gen. James Longstreet's command to the Western Theater, mentioning Stuart, Meade and Longstreet by name; a Union spy in the Confederate war department
JEB Stuart was a key element in the successes of the Army of Northern Virginia, and there were many all the way up to June 1863. Under Stuart, the Confederate cavalry came to own the territory between the two armies, wherever that might be. Gen. Robert E. Lee always seemed to know what the Union forces were up to, and where they were, while Union commanders were constantly guessing about Lee's whereabouts and intentions. Lee came to rely on this informational advantage, perhaps analogous to modern-day air superiority. To name the battles in which Stuart played a key role is to feel again the emotion of the rising tide of the Confederacy: Second Bull Run (where Stuart managed to overrun Union army commander Maj. Gen. John Pope's headquarters and intercepted orders that provided Lee with valuable intelligence; Fredericksburg (about which Lee noted, "To the vigilance, baldness and energy of Gen. Stuart and his cavalry is due chiefly the early valuable information of the movements of the enemy"); and Chancellorsville (where Stuart discovered that Union General Hooker was across the river, and later that Hooker's right flank was "in the air", which intelligence led Lee to make his famous turning movement). Lee paid him the highest possible accolade by saying of him, "He was second to none in valor, in zeal, in unflinching devotion to his country…To military capacity of a high order, and all the virtues of the soldier, he added the brighter graces of a pure life…"
Then came July 1863 and the Battle of Gettysburg. The first shots were fired by a group of Confederate infantry who were probing for Union troops on a reconnaissance mission that might more correctly have belonged to Stuart's cavalry, who were not present. Lee initially thought he was facing Pennsylvania militia, only to have General Henry Heth's men see their Union enemy wearing the black hats that distinguished the Iron Brigade (which was an experienced combat unit in the Army of the Potomac itself). During the early phases of the battle, Lee simply did not know how much of the Federal army he was facing, nor where they were located. That uncertainty had an impact on Lee's decision-making, and thus possibly the result of the battle. In the end, Gettysburg was a defeat that, in retrospect, revealed it as the high water mark of the Confederate cause. Had Lee instead scored a great victory, it is probable that it would have resulted in Confederate independence. Instead Lee's army returned to Culpeper, Virginia, in late July, and in early August Lee shifted his infantry behind the Rapidan River, leaving Stuart's cavalry in Culpeper.
In early August, Gen. James Longstreet proposed that his command be detached from Lee's army and transferred to the Western Theater, where Confederate forces under Gen. Braxton Bragg were under increasing pressure from Union troops. Lee and President Jefferson Davis agreed to the request on September 5. In one of the most daunting logistical efforts of the Confederacy, Longstreet, with the divisions of Generals Lafayette McLaws and John Hood, a brigade from George Pickett's division, and Porter Alexander's 26-gun artillery battalion, traveled over 16 railroads on a 775-mile route from Richmond through the Carolinas to reach Bragg. The entire operation would take over three weeks, but Longstreet and lead elements of his corps would arrive on September 17.
Union commander Gen. George Meade quickly learned that Longstreet's corps was leaving Lee's army to fight in the western theater; in fact the news appeared in the New York Herald newspaper. Seeing a numerical superiority, he moved to exploit this advantage. On September 12, 1863, the Army of the Potomac's 10,000-man cavalry corps left camp and crossed the Rappahannock River, where various elements concentrated near the hamlet of Sulphur Springs. Their objective was to attack Stuart's headquarters at Culpeper Court House. Only a few hours later, Stuart learned that the Yankees would advance the next day. Sending his wagons south, he readied to confront the attack with three incomplete brigades of cavalry, less than 5,000 men. This force proved insufficient to repel the numerically superior Yankees. The next morning Union troops moved forward two miles and approached Culpeper. Near the main Confederate defensive line at 1 p.m., Gen. Judson Kilpatrick ordered a mounted charge, which was led by the flamboyant Gen. George A. Custer. Custer carried the Confederate position centered at the railroad depot and seized more than 100 prisoners as well as three artillery pieces. The three Union columns converged at Culpeper and continued their advance, so the Confederates withdrew their commands and retreated toward the safety of infantry support at the Rapidan River. The entire Union force then entered Culpeper, staying for a month. This was the first battle on southern soil between the Army of Northern Virginia and Army of the Potomac after the Battle of Gettysburg.
The day after, Lee reported on the battle to Confederate President Jefferson Davis, and also discussed logistics for Longstreet's transfer out west.
Battle report signed, Headquarters ANVa [Army of Northern Virginia], September 14th, 1863, to "His Excellency, Jefferson Davis, President of the Confederate States of America", whom he addresses as "Mr. President."
"The guns (cannons) of the battalions of Artillery have been called forward to go with General Longstreet to Richmond. With that objective, before they go it should be ascertained if they can obtain horses for them in that region, if it cannot be done it would be worse than useless to carry them, they would not only undergo wear and tear of transportation, but we might possibly lose them.
"A little after Midnight on Sept. 13th General Stuart received notice of an intended Advance by the enemies cavalry and made his preparations accordingly. On the morning of that day, they came in full, having crossed the Rappahannock at all the fords from Stuart's to Kelley's, They were supported by a force of Infantry, he skirmished with them all day and by 6 o'clock was pressed back to Cedar Mountain, with loss I regret to say of 3 pieces of Artillery. From this point he fell back to the Rapidan to prevent being turned and to obtain supplies. He was greatly out numbered, the enemy had 3 Divisions of cavalry with infantry, and he having 3 Brigades, the fourth being Fitz Lee's is still at Fredericksburg. He reports that his men behaved with bravery, and that his men took a considerable number of prisoners. He left a picket force in front of the enemy at Cedar Mountain. It may be a reconnaissance force, but I have preparations in case it should be an advance of his (Meade's) whole force.
"I have been informed that the New York Herald of the 9th contained the movement of Longstreet's Corps in the order in which his Divisions moved and even contained the announcement that two of his brigades will probably stay in Richmond and Wise & Jenkins take their places. I only communicated this movement to the Quartermaster General on the night of the 6th, and it must have been received in New York on the 7th. I fear that there has been great imprudence in 'talking' on the part of our people or that there may be improper persons among the office clerks. I am with Great Respect. R.E. Lee General."
This is the first Lee battle report to Davis we have ever carried in all our decades in the field. A search of public sale records going back over twenty years shows only three other Civil War date letters of Lee to Davis having reached that marketplace, and none of these were battle reports.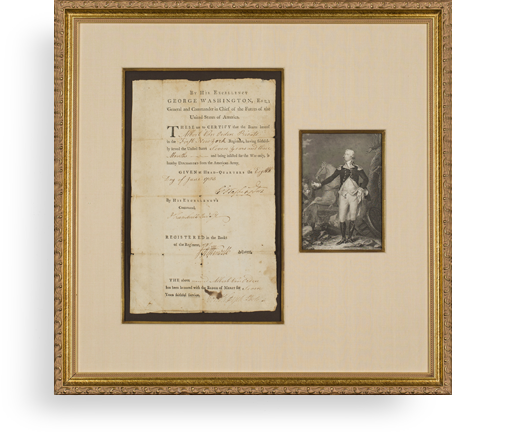 Frame, Display, Preserve
Each frame is custom constructed, using only proper museum archival materials. This includes:The finest frames, tailored to match the document you have chosen. These can period style, antiqued, gilded, wood, etc. Fabric mats, including silk and satin, as well as museum mat board with hand painted bevels. Attachment of the document to the matting to ensure its protection. This "hinging" is done according to archival standards. Protective "glass," or Tru Vue Optium Acrylic glazing, which is shatter resistant, 99% UV protective, and anti-reflective. You benefit from our decades of experience in designing and creating beautiful, compelling, and protective framed historical documents.
Learn more about our Framing Services