Program For the Event Held in Honor of General George S. Patton the Very Night He Returned to the U.S. After Germany's Surrender, Signed
The hard-bitten Patton was in tears at the tributes he and his famed 3rd Army received at this event
Our first signed Patton memento from his war bond tour after the war in Europe came to an end
Gen. George Smith Patton Jr. was one of the most brilliant soldiers in American history. Audacious, unorthodox and inspiring, he led his troops to great victories in North Africa, Sicily and on the...
Our first signed Patton memento from his war bond tour after the war in Europe came to an end
Gen. George Smith Patton Jr. was one of the most brilliant soldiers in American history. Audacious, unorthodox and inspiring, he led his troops to great victories in North Africa, Sicily and on the European Western Front after the landings on D-Day. At El Guettar in March of 1943 he won the first major American victory over Nazi arms. In July of that year he leaped from a landing barge and waded ashore to the beachhead at Gela, Sicily. In just thirty-eight days the American Seventh Army, under his leadership, and the British Eighth Army, under Gen. Sir Bernard Montgomery, conquered all of Sicily.
But it was as the leader of his famed Third Army on the Western Front that Patton staked out his strongest claims to military greatness. In ten months his armor and infantry roared through six countries – France, Belgium, Luxembourg Germany, Czechoslovakia and Austria. It crossed the Seine, the Loire, the Moselle, the Saar, the Rhine, the Danube and a score of lesser rivers; captured more than 750,000 Nazis, and killed or disabled 500,000 others. It was instrumental in winning the crucial battle of the Bulge in December 1944. There were times, in those great days when the tank spearheads of the Third were racing across France with almost unbelievable speed and again when they were cutting the dying Nazi armies to pieces in the final spring of the war, that not even Supreme Headquarters itself knew where his vanguards were. Driven by his iron will, his advanced units had to be supplied with gasoline and maps dropped by air. By the time Germany surrendered on V-E Day – May 8, 1945 – Patton's Third Army had fought for nine months since becoming operational, capturing more than 80,000 square miles of territory. During that time the Third Army suffered roughly 137,000 casualties, but it had inflicted more than 10 times that on the enemy.
At the beginning of June Patton received orders to return to the U.S. for a 30-day bond sales tour. His plane, escorted by a formation of fighters and Boeing B-17 Flying Fortress bombers, touched down at an airfield near Boston on June 7, where an honor guard, a 17-gun salute, and the governor of Massachusetts greeted him. The American press had guaranteed him a hero's welcome. Rather surprisingly, Patton chose to return the governor's hat-doffing salute by removing his own helmet, complete with its four stars and the emblems of the Third and Seventh Armies and I Armored Corps. Then, with the formalities over, he was finally able to embrace his wife Beatrice—it was their first hug in nearly three years. They were then driven through the suburbs of Boston to a ticker tape reception in the city itself.
The crowd along the 25-mile route was estimated at a million; people wept and girls threw flowers. Then, before a crowd of up to 50,000, he made a speech in which he said, "My name is merely a hook to hang the honors on. This great ovation by Boston is not for Patton the general, but Patton as a symbol of the Third Army." The following day, the Daily Record headlines announced: "Frenzied Hub Hails Patton" and "Gen. Patton in Tears at Hub Tribute." This latter headline referred to Patton breaking down in tears during a speech at a state dinner held in his honor that night; he was completely overcome by the glowing tributes.
This is the program for that state dinner, held on the evening of June 7, 1945, at the Copley Hotel in Boston, signed by Patton on the cover. It is accompanied by a button and ribbon commemorating the event. The inside contains not merely the menu, but a message from Massachusetts Governor Maurice Tobin welcoming Patton home and stating, "Skillful in strategy, daring and resourceful in action, he has made his name a symbol of ability, of aggressiveness, of achievement…"
Patton was indeed moved by the tribute at this dinner. He spread the credit for his army's achievements to his men, and saying of those who had given their lives for victory, "It is foolish and wrong to mourn the men who died. Rather we should thank God that such men lived."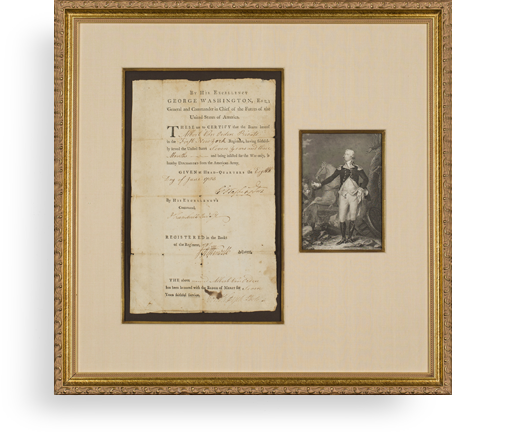 Frame, Display, Preserve
Each frame is custom constructed, using only proper museum archival materials. This includes:The finest frames, tailored to match the document you have chosen. These can period style, antiqued, gilded, wood, etc. Fabric mats, including silk and satin, as well as museum mat board with hand painted bevels. Attachment of the document to the matting to ensure its protection. This "hinging" is done according to archival standards. Protective "glass," or Tru Vue Optium Acrylic glazing, which is shatter resistant, 99% UV protective, and anti-reflective. You benefit from our decades of experience in designing and creating beautiful, compelling, and protective framed historical documents.
Learn more about our Framing Services