Handwritten Social Calendar of America's Third First Lady, Martha Jefferson; Perhaps The Only Such Early American Document to Have Reached the Market
This remarkable unpublished list, compiled from 1829-1832, illustrates her role as heir to her father and the dignitaries with whom the former First Lady communicated
She met wives of President James Monroe, Secretary of State Henry Clay, Supreme Court Justices Roger Taney and  Bushrod Washington, and scores more
Martha Jefferson was the oldest child of Thomas Jefferson, and she spent much of her life assisting and supporting her father and his career. Since Jefferson's wife died in...
She met wives of President James Monroe, Secretary of State Henry Clay, Supreme Court Justices Roger Taney and  Bushrod Washington, and scores more
Martha Jefferson was the oldest child of Thomas Jefferson, and she spent much of her life assisting and supporting her father and his career. Since Jefferson's wife died in 1782, Martha served as his First Lady in the White House during his terms as president. After Jefferson's retirement, Martha and her children spent their time primarily at Monticello, where she oversaw various household and plantation operations, and acted as his hostess, offering hospitality to a steady stream of familiar and sometimes famous guests. She earned a reputation for her intellectual abilities, and was seen as a conduit to Jefferson himself, particularly in his later years when she was essentially his chief of staff (helping him politically and financially) and managed his appointments and access to him. In addition to all this, she married Thomas Mann Randolph and raised their 12 children, 11 of whom survived to adulthood. Thomas Jefferson died in 1826, ending her stint as her father's gatekeeper.
Martha was in Washington between 1829 and 1832 staying with her daughter and son-in-law, Virginia and Nicholas Trist. There she would exchange visits with women of the great families of the day, many of whom she had known for decades, and share information and pleasantries. These visits were a mix of social matters and politics.
Martha maintained a social list – a social calendar in a sense – to record visits made to her and make sure she returned those visits. To fail to fulfill this obligation would have been a liability at best and a snub at worst. And fortunately, that very social list has survived. It illustrates how the former First Lady handled her social obligations, as heir to her father.
Lisa Mayo was a noted historian who started her career at the Library of Congress. Between 1941 and 1950 she published biographies and historical studies on the United States in the 19th century. In the early 1950s she became the historian for the U.S. Army Ordnance Corps, and later was the historian for the U.S. Army Center of Military History. In the course of her work she took an interest in Martha Jefferson Randolph, and obtained this very social list – which she identified as "Visiting list of Martha Jefferson Randolph (Mrs. Thomas Mann Randolph) daughter of Thomas Jefferson." The document was obtained by a family friend from her estate, and we obtained it from her just recently. It has not been offered publicly for sale in a half century at least.
Autograph document signed, Washington, completely in the hand of Martha Jefferson Randolph, containing literally scores of names, perhaps as early as 1829 but mainly 1831- 1832, a period in which she was the most tangible link to the past – between the revered Thomas Jefferson and the world after his death. We have researched the names, and fortunately many of them can be identified. Some identifications are clear, as Mrs. Monroe can only be Elizabeth Monroe, wife of former President James Monroe, a neighbor of the Jefferson's in Monticello and living in Washington in the immediate aftermath of his term. Other names have been identified after determining the likely person of that surname and proving that they were in Washington at the right time. Thus, Mrs. Washington is identified as Julia Ann Washington, wife of Supreme Court Justice Bushrod Washington, then living in the nation's capital. In some cases we have the names of prominent families, like the Barnwells of South Carolina, but cannot determine exactly which Barnwell visited and merited the return visit. The locale of Washington is easily proven by the places she mentions, such as Brown's Hotel which was on the north side of Pennsylvania Avenue back then. As for the purpose of the list, at its top Martha herself has written, "The + means visit returned & the / means owing again".
We are not aware of any other such social calendar of any early American First Lady ever to have reached the market.
Here is a partial list, published here for the first time:
Wives of important public servants:
Mrs. Monroe – Elizabeth Monroe, wife of former President James Monroe
Mrs. Washington – Julia Ann Washington, wife of Supreme Court Justice Bushrod Washington, who was also president of the American Colonization Society
Mrs. Taylor – Jane Taylor, wife of John W. Taylor, Speaker of the House
Mrs. Stevenson – Sarah Stevenson, wife of Andrew Stevenson,  Speaker of the House          Mrs. Clay – Lucretia Clay, wife of Henry Clay, former Speaker of the House and  Secretary of State
Mrs. Graham – Jane Graham, wife of George Graham, Commissioner of the Land Office and Secretary of War
Mrs. Cutts – Anna Payne Cutts, who was Dolley Madison's sister, and wife of Treasury Comptroller Richard Cutts
Mrs. Pleasanton – Mary Pleasanton, wife of Treasury Auditor Stephen Pleasanton, who saved the Declaration of Independence and Constitution from being burnt by the British during the War of 1812. From 1820 to 1852 he was in charge of America's lighthouses. Their son was Civil War general Alfred Pleasanton.
Mrs. Lovell – Margaret Lovell, wife of Surgeon General Joseph Lovell
Mrs. Mecklin – Margaret Mecklin, wife of Joseph Mecklin, Treasury Auditor and parents of the Colonization Agent resettling freed slaves in Liberia
Mrs. Dickins – wife of Asbury Dickins, Chief Clerk of the U.S. Treasury and later Secretary of the Senate
Wives of Congressmen and Senators:
Mrs. Hayne – Rebecca, wife of Senator Robert Y. Hayne, who engaged in a famous debate with Daniel Webster
Mrs. Silsbee – Mary Crowninshield Silsbee, wife of Senator Nathaniel Silsbee
Mrs. Everett – Charlotte Everett, wife of Congressman and future Secretary of State Edward Everett
Mrs. McLane – Catherine, wife of Congressman Louis McLane, who was later a cabinet member
Mrs. Findlay – Jane Findlay, wife of Congressman James Findlay
Mrs. Hobbie – Juliana Hobbie – wife of Congressman Selah Hobbie
Mrs. Speight – Louisa, wife of Congressman Jesse Speight
Mrs. Newton – Newton, wife of Virginia Congressman Thomas Newton
Mrs. Kerr – Elizabeth Goldsborough Kerr, wife of Congressman John Leeds Kerr
Wives of foreign dignitaries:
Mrs. Montoya – wife of Jose María Montoya, Mexican Ambassador to the United States
Mrs. de Iturbide – Carmen de Iturbide, wife of Augustin de Iturbide, only Crown Prince in Mexican history and Mexican ambassador to the U.S.
Mrs. Arguelles – Eulalia Arguelles, wife of Spanish reformer José Canga Arguelles, who was exiled from his homeland and became an admirer of American democracy
Mrs. Serrurier – Countess de Serrurier, wife of the Count Serrurier, twice French Ambassador to the U.S.
Wives of senior military officers:
Mrs. Gratiot – wife of Charles Gratiot, chief engineer of the army
Mrs. Hull – Ann Hull, wife of Commodore Isaac Hull, hero of the War of 1812, captain of the USS Constitution, and Commandant of the Washington Navy Yard
Mrs. Rodgers – Minerva Rodgers, wife of Commodore John Rodgers, who headed the Navy Board of Commissioners and later served as Secretary of the Navy
Mrs. Newell – Rebecca F. Newell, wife of Commodore Thomas M. Newell, Mediterranean commander, often in Washington
Wives of other dignitaries:
Mrs. Taney – Ann Key Taney, sister of Francis Scott Key and wife of Attorney General and future Chief Justice Roger Taney
Mrs. Thorndike – Sarah Thorndike, wife of financier industrialist Israel Thorndike
Mrs. Gray – Milly Gray, wife of Virginian Col. William F. Gray, later a pioneer of Texas
Mrs. Blair – Eliza Blair, wife of Francis Blair, Sr., Editor-in-Chief of the Washington Globe. Their son Montgomery was in Lincoln'c cabinet and son Francis Jr. was a general in the Civil War.
Mrs. Thruston – Jeannette Thruston, wife of Federal judge and Jefferson ally Buckner Thruston
Wives in some famous families:
The Misses Cass – daughters of Lewis Cass, cabinet member and presidential candidate
Towson of Maryland
Goldsborough of Maryland
Turnbull of South Carolina and Mississippi
Other – There are other names worthy of further research.
In this remarkable, unpublished list we can see the variety of people with whom the Jeffersons kept in touch, from Washington's political elite to its diplomatic corps to its military and more. It is fascinating to see their hand still in foreign affairs and naval matters, and touching to see her meeting with the family that saved the Declaration of Independence from the fire in the War of 1812, and with the sisters of Dolley Madison and Francis Scott Key. A truly significant discovery.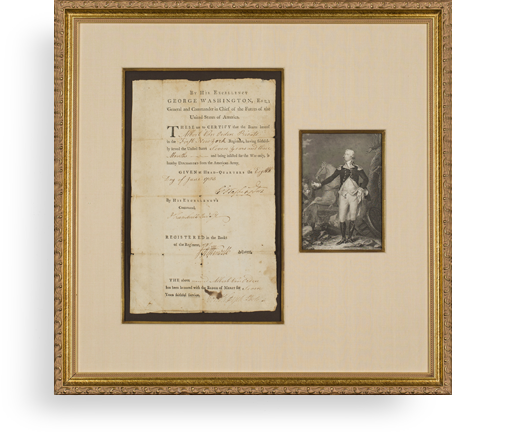 Frame, Display, Preserve
Each frame is custom constructed, using only proper museum archival materials. This includes:The finest frames, tailored to match the document you have chosen. These can period style, antiqued, gilded, wood, etc. Fabric mats, including silk and satin, as well as museum mat board with hand painted bevels. Attachment of the document to the matting to ensure its protection. This "hinging" is done according to archival standards. Protective "glass," or Tru Vue Optium Acrylic glazing, which is shatter resistant, 99% UV protective, and anti-reflective. You benefit from our decades of experience in designing and creating beautiful, compelling, and protective framed historical documents.
Learn more about our Framing Services