A Letter of Robert E. Lee Mentioning General J.E.B. Stuart
This is just the third time in all our years that we have had a Lee letter so much as mentioning Stuart
The recipient was likely hoping they could spare an autograph of the great Confederate cavalry leader, and Lee directs to them Stuarts family
J.E.B. Stuart was a key element in the successes of Robert E. Lee's Army of Northern Virginia, and there were many. Stuart was not yet 30 years of age,...
The recipient was likely hoping they could spare an autograph of the great Confederate cavalry leader, and Lee directs to them Stuarts family
J.E.B. Stuart was a key element in the successes of Robert E. Lee's Army of Northern Virginia, and there were many. Stuart was not yet 30 years of age, and Lee saw him as a protege. Under Stuart, the Confederate cavalry came to own the territory between the two armies, wherever that might be. Lee always seemed to know what the Union forces were up to, and where they were, while Union commanders were constantly guessing about Lee's whereabouts and intentions. Lee came to rely on this informational advantage, perhaps analogous to modern-day air superiority. To name the battles in which Stuart played a key role is to feel again the emotion of the rising tide of the Confederacy: Second Bull Run (where Stuart managed to overrun Union army commander Maj. Gen. John Pope's headquarters and intercepted orders that provided Lee with valuable intelligence; Fredericksburg (about which Lee noted, "To the vigilance, baldness and energy of Gen. Stuart and his cavalry is due chiefly the early valuable information of the movements of the enemy"); and Chancellorsville (where Stuart discovered that Union General Hooker was across the river, and later that Hooker's right flank was "in the air", which intelligence led Lee to make his famous turning movement). Lee paid him the highest possible accolade by saying of him, "He was second to none in valor, in zeal, in unflinching devotion to his country…To military capacity of a high order, and all the virtues of the soldier, he added the brighter graces of a pure life…
But as the war entered its third summer in 1863, that would begin to change. At Brandy Station, despite holding the field for the South, Stuart failed to detect the movements of the Union cavalry. Just a month later, Stuart's cavalry fell out of touch with headquarters in the days leading up to Gettysburg, and left Lee and his fellow commanding officers with little to no intelligence in unfamiliar enemy territory. Stuart fought his final battle on the outskirts of Richmond on May 11, 1864. The Confederate cavalry was working feverishly to deny Gen. Philip Sheridan's Federal horsemen from gaining entry into the Confederate capital. Stuart's men were indeed able to check the Yankee advance but at a terrible cost. Stuart was killed, age 31, and was buried at Hollywood Cemetery in Richmond.
William Alexander Stuart was JEB's older brother. In 1856, he purchased a piece of property in Saltville, Va. Because of territorial loss and the effectiveness of the Union's naval blockade, the Saltville Valley was the Confederacy's only significant source of salt. U.S. troops made a number of attempts to take and hold left Saltville. Stuart owned the Saltville works throughout the war. His brother, General J.E.B. Stuart, sent his wife and children to live with William in Saltville during the war. He believed Saltville to be the one of the best defended locations in the Confederacy. Shortly after the war began, the firm negotiated a contract with the Confederate government to provide 22,000 bushels of salt per month "to and for the uses of the Confederate State armies". Over the next three and a half years, Stuart, Buchanan, & Co. managed to do this and more, with production reaching a peak of 4,000,000 bushels in 1864. After J.E.B. Stuart's death, his widow, Flora, moved into a home home owned by William with her two small children, where she taught school.
Autograph note signed, Lexington, Va., December 8, 1868, to F.F. Stockwell, who had apparently written Lee asking for the location of Stuart's family. It is believed that Stockwell was a 19th century autograph collector, and he sought out the Stuart address in the hope that the brother might have an autograph of J.E.B. he could spare. Lee replied, "William A. Stuart (Stuart, Buchanan, & Co.), Saltville, Smyth County, Virginia, is the brother of the late General J.E.B. Stuart."
This is just the third time in all our years that we have had a Lee letter so much as mentioning J.E.B. Stuart.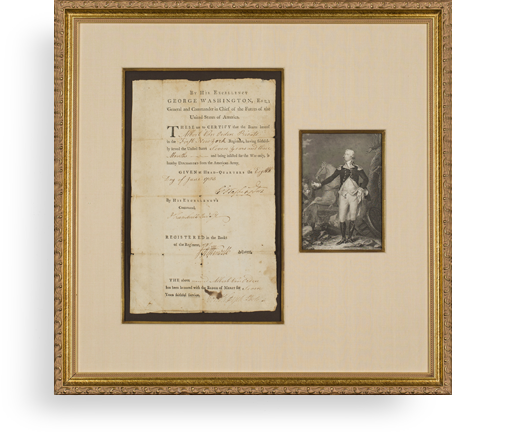 Frame, Display, Preserve
Each frame is custom constructed, using only proper museum archival materials. This includes:The finest frames, tailored to match the document you have chosen. These can period style, antiqued, gilded, wood, etc. Fabric mats, including silk and satin, as well as museum mat board with hand painted bevels. Attachment of the document to the matting to ensure its protection. This "hinging" is done according to archival standards. Protective "glass," or Tru Vue Optium Acrylic glazing, which is shatter resistant, 99% UV protective, and anti-reflective. You benefit from our decades of experience in designing and creating beautiful, compelling, and protective framed historical documents.
Learn more about our Framing Services