A Flag Carried by Amelia Earhart on the Flight on Which She Became the First Woman to Fly Across the Atlantic Ocean
The treasured memento is integral to her First Edition Author's Autograph Edition of her book, 20 HRS. 40 MIN. Our Flight in the Friendship: The American Girl, First Across the Atlantic by Air, tells her story
The edition with flag is limited to 150, and this one comes with the bookplate of noted collector, Margaret Hale Fawcett
Earhart began flying in 1920, and set out to break flying records, breaking the women altitude record in 1922. In April 1928 Earhart received the telephone call that would change her...
The edition with flag is limited to 150, and this one comes with the bookplate of noted collector, Margaret Hale Fawcett
Earhart began flying in 1920, and set out to break flying records, breaking the women altitude record in 1922. In April 1928 Earhart received the telephone call that would change her life: an offer to become the first woman to fly the Atlantic in an airplane. "The idea of just going as 'extra weight' did not appeal to me at all," she said, preferring to be at the controls rather than be a passenger, but she accepted the offer nonetheless. Her job was to keep the flight log for co-pilots Wilmer "Bill" Stultz and Louis "Slim" Gordon. The party would make their way from Boston to Newfoundland and depart from there in a plane named Friendship. In Newfoundland, they were delayed 13 days in departing for Great Britain, waiting for favorable weather and shedding unnecessary weight from their airplane. Earhart and the crew finally departed Trepassy, Newfoundland, at 11:40 a.m. on June 17, 1928, Originally headed for Southampton, England, but instead landed in Burry Port, South Wales, after a flight of 20 hours and 40 minutes. Earhart thus became the first woman to fly across the Atlantic Ocean. When the trio came ashore, some 2,000 people — nearly the entire population of Burry Port — came out to see the woman who had conquered the Atlantic Ocean. After a night's rest, the three flew on to Southampton. Earhart, who never touched the controls over the Atlantic, finally got her chance to pilot the Friendship on this last leg. They were greeted by cheering crowds, proud dignitaries, and excited reporters. Earhart had carried with her on the flights 150 small American flags as treasured mementos.
Earhart became an immediate international sensation, and she was astounded by the reception she received. She was feted in London, received a ticker-tape parade through New York City, and had a visit with President Calvin Coolidge at the White House. Earhart realized that she had a unique opportunity to promote her passion for aviation and interest in being an example to girls everywhere. She became an accomplished speaker and writer, and also a columnist for Cosmopolitan. She joined Charles A. Lindbergh in promoting a new air mail service, and she purchased a Lockheed Vega, which she flew in the first women's cross-country air derby in 1929. She encouraged girls to believe they could achieve anything they set their minds to, and wrote letters of encouragement to them. In 1932 she became the first woman to fly solo across the Atlantic, thus cementing her fame. Her stirring story ends with her tragic death in 1937 at age 39.
She published a book after her flight, 20 HRS. 40 MIN. Our Flight in the Friendship: The American Girl, First Across the Atlantic by Air, tells her story. It was illustrated with 61 black-and-white photographic plates. Initially it came out in a limited edition, called "First Edition Author's Autograph Edition." The text stated that "This edition is printed on Old Stratford Linen and is limited to 150 signed and numbered copies. Each copy contains one of the small silk flags which Miss Earhart carried in the 'Friendship' from Boston to Wales; as well as facsimile reproduction of pages of the log book written by Miss Earhart during the transatlantic flight."
We offer number 118 of the 150 limited edition, complete with the flag she carried on The Friendship. If bears the bookplate of Margaret Hale Fawcett, a noted collector whose bookplate is in the bookplate collection of The American Antiquarian Society.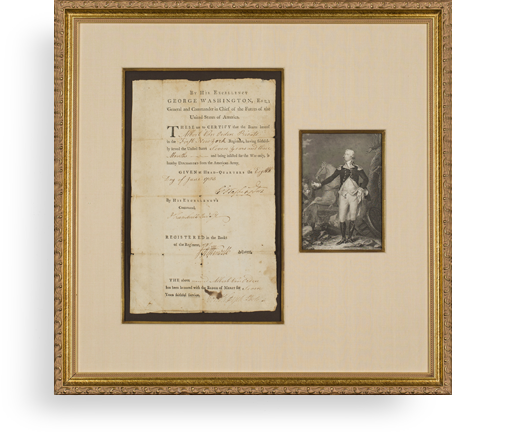 Frame, Display, Preserve
Each frame is custom constructed, using only proper museum archival materials. This includes:The finest frames, tailored to match the document you have chosen. These can period style, antiqued, gilded, wood, etc. Fabric mats, including silk and satin, as well as museum mat board with hand painted bevels. Attachment of the document to the matting to ensure its protection. This "hinging" is done according to archival standards. Protective "glass," or Tru Vue Optium Acrylic glazing, which is shatter resistant, 99% UV protective, and anti-reflective. You benefit from our decades of experience in designing and creating beautiful, compelling, and protective framed historical documents.
Learn more about our Framing Services