Two Unique Autograph Manuscripts in Dolley Madison's Hand Capturing Lafayette's Visit to the United States in 1824, and the Feelings the Madisons Harbored for him
James Madison on Toasting Lafayette at Monticello: "The guest of the nation. Nowhere more welcomes than in Virginia. She received his best services. He enjoys her best affections. To love liberty a nation must know it; to possess it, but to will it."
Dolley Madison on Lafayette, in Poem Format: "Crowned, at the last, with hope and wide applause. Champion of Freedom, well thy race was run; all time shall hail thee, Europe's noblest son."
The Marquis de Lafayette was revered in the United States as a hero of the Revolution, and by the 1820s...
Dolley Madison on Lafayette, in Poem Format: "Crowned, at the last, with hope and wide applause. Champion of Freedom, well thy race was run; all time shall hail thee, Europe's noblest son."
The Marquis de Lafayette was revered in the United States as a hero of the Revolution, and by the 1820s was among a dwindling number of the major participants still living. In February 1824, Lafayette received a letter from President James Monroe on behalf of Congress following a joint resolution, inviting him to visit the United States. The letter expressed the "sincere attachment of the whole Nation…whose ardent desire is once more to see you amongst them." Lafayette was excited to return to America and departed from the French port of Le Havre on July 13, 1824. He was accompanied by his son, George Washington Motier de Lafayette.
The celebrations of his arrival that ensued were reportedly some of the largest, most amazing ever held in the United States to that date. He was greeted his entire journey by huge, cheering crowds and lavish banquets and balls of celebration. People were thrilled to entertain one of the most famous heroes of the American Revolution. One account of a ball given in New York City observes that it was "the most brilliant and magnificent scene ever witnessed in the United States." Six thousand ladies and gentlemen attended it. The entire fort was covered by a 75-foot-high awning and lit by fourteen cut glass chandeliers. Another account tells of of the celebrations in Boston where 3000 children ages 8-12 lined up to receive him. They "wore ribbons in their breasts, stamped with a miniature likeness of Lafayette." In addition to the celebrations and fashion statements for Lafayette, many monuments were erected in his honor and parks, streets, cities and counties were named for him. Lafayette College in Pennsylvania was named for him.
Lafayette came to Virginia, where two of the most important Founding Fathers still survived: Thomas Jefferson and James Madison. Lafayette visited Jefferson at Monticello and then went to the University of Virginia in Charlottesville, where a dinner was held for him under the rotunda on November 5, 1824. He then saw James Madison at his home Montpelier, after which a dinner was held for him at the Orange Court House on November 19. Toasts were given at those dinners. An attendee recalled, "On the 19th of November, we left Montpelier to go to Fredericksburg by the way of Orange court-house, a numerous escort commanded by Captain Mason came in the morning to attend General Lafayette, and Mr. Madison wished to accompany him. … After the dinner, we parted from Mr. Madison, who, notwithstanding his seventy-four years, mounted his horse with activity, and set out through the woods for his peaceful dwelling."
Former First Lady Dolley Madison made notes of the toasts given by Madison to Lafayette at Charlottesville and Orange Court House. She noted the former as: "Toast given by Mr. Madison at a dinner in Charlottesville at which Lafayette was present. 'Happy the people who have virtue for their guest and gratitude for their feast.'" She noted the former as: "Toast suggested by Mr. Madison for the dinner to General Lafayette at Orange Courthouse. 'The guest of the nation. Nowhere more welcomes than in Virginia. She received his best services. He enjoys her best affections. To love liberty a nation must know it; to possess it, but to will it.'"
She also prepared a statement on Lafayette, to be presented to George L Washington, a distant relative of the first president. It reads: "Born, nurtured, wedded, prized within the pale Of peers and princes, high in camp. At court he hears in joyous youth a wild report swelling the murmurs of a Western gale. Of a young people struggling to be free! Straight quitting all, across the waves he flies. And with his sword wealth, blood, the high emprise prizes and shares the glories of its victory. Then comes for 50 years a high romance of toils, reverses, suffering is the cause. Of man, of justice, liberty and France**. Crowned, at the last, with hope and wide applause.Champion of Freedom, well thy race was run; all time shall hail thee, Europe's noblest son." This statement – this autograph poem signed – she provided to George L. Washington, a relative of the first president, on April 13, 1848.
Both of these documents are entirely in her hand, and then are unique. They are on the recto-verso of the same sheet.
After her death in 1849 the possessions Dolley had cherished went to her niece and great niece. At last in 1899, half a century after Mrs. Madison's passing, they were put up for auction at Henkel's. These papers, cherished by her, were sold in that 1899 sale.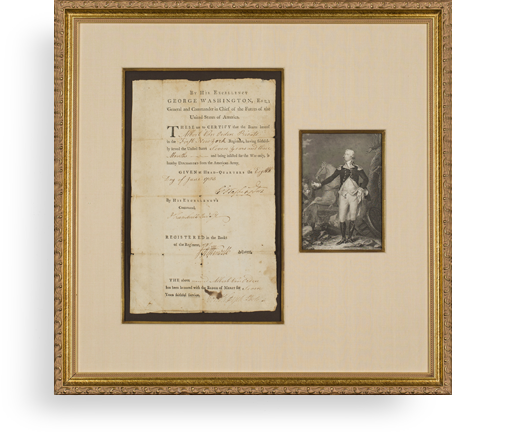 Frame, Display, Preserve
Each frame is custom constructed, using only proper museum archival materials. This includes:The finest frames, tailored to match the document you have chosen. These can period style, antiqued, gilded, wood, etc. Fabric mats, including silk and satin, as well as museum mat board with hand painted bevels. Attachment of the document to the matting to ensure its protection. This "hinging" is done according to archival standards. Protective "glass," or Tru Vue Optium Acrylic glazing, which is shatter resistant, 99% UV protective, and anti-reflective. You benefit from our decades of experience in designing and creating beautiful, compelling, and protective framed historical documents.
Learn more about our Framing Services