Codicil of John Cutt, First President of Colonial New Hampshire, Showing Him Trying to Promote Harmony Within His Family After His Death
An extraordinary rarity: a 17th century document signed by a major figure of New England; the first we've obtained in 30 years
Cutt, one of the wealthiest men in the Colony, was balancing between providing for his second wife, while satisfying his children, who were all by his first wife
John Cutt was born in the British Isles and emigrated to the colonies in 1646, He became a successful merchant and mill owner in...
Cutt, one of the wealthiest men in the Colony, was balancing between providing for his second wife, while satisfying his children, who were all by his first wife
John Cutt was born in the British Isles and emigrated to the colonies in 1646, He became a successful merchant and mill owner in Portsmouth, New Hampshire and acquired a large fortune, at the time of his death being rated as one of the wealthiest men in the province. He was married to Hannah Starr, daughter of Dr. Comfort Starr, a founder of Harvard College, and by her had five children. She died in 1674, and Cutt remarried a woman named Ursula, and there were no children by this marriage.
In 1679. King Charles II issued a commission separating the territory of New Hampshire from Massachusetts Bay Colony and directing that a new government be organized. The King appointed a President and Council from the 4,000 settlers of the seacoast area and required that they take office by January 21, 1680. John Cutt became the first President of this government, being the head of the seven-member royal provincial council. This was a position analogous to governor. Soon after his appointment he fell ill. On March 1, 1681 the provincial Council and General Assembly designated March 17, 1681, "A day of public fasting and prayer." The Council and Assembly believed Cutt's illness and the recent sighting of a comet were signs of "divine displeasure." The day of fasting and prayer was unsuccessful, as John Cutt died on March 27, 1681.
Cutt made a last will and testament on May 6, 1680, and in it he tried to deal with a complication: a second wife, and all his children by the first wife. How could he guarantee her comfort, while yet making sure his children were satisfied? How could he promote harmony when he was gone? So Section 7 of the will was designed to make sure his widow was adequately cared for from the monies provided his children. It stated in part: "Provided always that I give & bequeath unto my beloved wife Ursula Cutt the full Sum of five hundred pounds to be taken out of ye portion which I have given to my Son's John & Sam & to my daughter Hanna, each of them to pay their proportion of the Said five hundred pounds according to ye quantity of Goods that falls to their Share…Moreover I will that my beloved wife shall have liberty to dwell in my house till my Son John come to age or Marry if She continue a widdow whom I request to have respect to my Children & be a mother to them. If my Son John Marry while my wife Continues a Widdow she shall have the use of a Couple of rooms in the house such as shall be Judged most convenient by my Execut & Overseers together & may be comfortable for her accommodation. Or she shall have liberty to build an house upon that piece of land which she hath lately taken in as an addition to ye Orchard & may therein dwell during her Widdowhood & when she leaves it my Son John shall have it…" 500 pounds was a huge sum in those days, enough to keep his widow living in comfort.
But as Cutt became more ill in early 1681, and his fortune was reduced accordingly, he became concerned that 500 pounds was too much considering, and might create hard feelings within the family. He decided to reduce the amount to a sum more in keeping with his present assets. So he made a codicil to the will that became in fact his last will disposing of his assets. Manuscript document signed, Portsmouth, NH, January 3, 1680/81 (1681 in our calendar). "As an explication with Some alteration of the Seventh article in my aforementioned last will & Testament in the foregoeing folio bearing date the 6 of May 1680, I annexe what hereafter followes to Say that whereas I have in said article given five hundred pounds to my beloved wife Ursula Cutt upon Consideration of the great wasting of my Estate by reason of long Sicknesse & other late providences attending me, I doe hereby will that the Sum which I bequeath unto her my wife aforesaid shall be but four hundred pounds payable in manner as is in Said Article Expressd & withall I give this as my meaning in Said article that the said Sum of four hundred pounds is in lieu of what She my Said wife would or might have expected on the Acc of writ of Dowry or thirds of my Estate or any other way by vertue of any law in Old England or New, & She shall renounce all other her interest in or claim to any part of my estate or else shall not receive any part or whole of this four hundred Pounds that I have here bequeathed her, leaveing her to her choice which of the two she will take either the thirds of my house & land dureing her life time or this four hundred pounds & I do hereby will & declare that this schedule here annexed is & shal bee my last will & testament anything in my will aforesaid to ye Contrary Notwithstanding. As Witnesse my hand & seal this third day of January one thousand six hundred & Eighty [1681]." Cutts signature is somewhat damaged but the document is overall in fine condition.
This codicil was witnessed by Richard Waldron, who succeeded Cutt and became second president of the Council, and Joshua Moodey, who was Portsmouth's foremost minister. Below that is a statement in the hand of the Colonial Recorder and Council member, Elias Stileman, dated April 9, 1681, certifying that Waldron, Moody, and other witnesses had appeared before him and testified that they personally saw Cutt sign and seal this document.
On the verso appear two dockets. The top one reads: "The last will and testament of Mr. John Cutt [was] 6th May 1680." The lower one states that this was "Brought before secretary of ye Council", verified by witnesses, and recorded on April 19, 1681, just after Cutt's death. It appears in the probate records of the Province of New Hampshire.
It is hard to express the extraordinary rarity of this document. When we started in this field in the mid-1980s, you would, every now and then, come across a 17th century document signed by a major figure of New England in that era. We had, back then, a document signed by John Winthrop (first governor of Massachusetts) and John Eliot, and another by William Hawthorne, Speaker of the General Court of Massachusetts and Assistant Commissioner of the United Colonies. But such gems of the earliest years of America have just disappeared from the market, as far as New England goes (and with the exception of William Penn, the same applies to other colonies). We've looked for another for so many decades – for Winthrop of Massachusetts, Thomas Hooker of Connecticut, Roger Williams of Rhode Island, and John Cutt – to no avail until now. We obtained this privately and cannot find any record that it was ever before been offered for sale.
As for Ursula, things didn't end well. Rev. John Pike's journal records in 1694: "Mrs. Ursula Cutt, with three others, was slain by the Indians as they were busy about hay upon her plantation near Boiling Rock."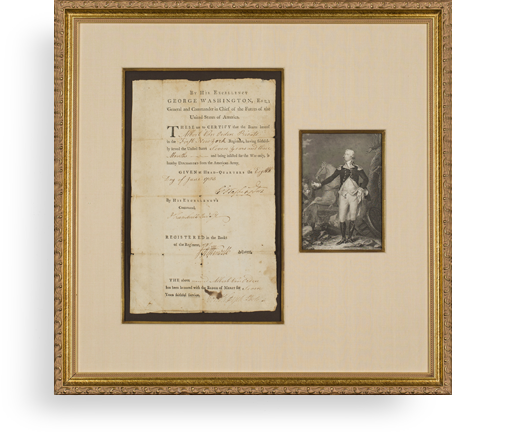 Frame, Display, Preserve
Each frame is custom constructed, using only proper museum archival materials. This includes:The finest frames, tailored to match the document you have chosen. These can period style, antiqued, gilded, wood, etc. Fabric mats, including silk and satin, as well as museum mat board with hand painted bevels. Attachment of the document to the matting to ensure its protection. This "hinging" is done according to archival standards. Protective "glass," or Tru Vue Optium Acrylic glazing, which is shatter resistant, 99% UV protective, and anti-reflective. You benefit from our decades of experience in designing and creating beautiful, compelling, and protective framed historical documents.
Learn more about our Framing Services