Evidence of Vendetta of Jefferson Davis & Franklin Pierce Against Winfield Scott
Having run for president on the Whig ticket against Pierce and lost, Scott finds his old opponents trying to ruin him financially and using his service in Mexico as a pretext.
Currency:
USD
GBP
JPY
EUR
CNY
This currency selector is for viewing only.
The Raab Collection only accepts USD payments at checkout.
Exchange rates are updated hourly. Rates may be inaccurate.
Scott was the senior American general in the Mexican War, and the most successful, as it was forces under his command that took Mexico City and forced the Mexicans to sue for peace. They ended up ceding all of their territory north of the Rio Grande to the United States for $15...
Scott was the senior American general in the Mexican War, and the most successful, as it was forces under his command that took Mexico City and forced the Mexicans to sue for peace. They ended up ceding all of their territory north of the Rio Grande to the United States for $15 million, which constituted a sudden increase in the size of the U.S. almost equal to the Louisiana purchase. This presented President Polk with a fantastic achievement for his administration; however, back in Washington Polk was facing criticism for spending too much money on the war. To reduce expenses, Scott was ordered to collect payments from the Mexican states to cover the cost of the American occupation. He soon discovered that he had enemies in the military, composed of generals who resented the appreciation he was receiving, or who were afraid that the hero would become a viable presidential candidate of the Whig Party. They began complaining to Washington that Scott was not raising enough money, and that he was spending too much. Polk, likely to derail Scott's political prospects, called Democratic Senators Jefferson Davis of Mississippi and Lewis Cass of Michigan to investigate, and they recommended that Scott be removed from command of the occupation forces. So Scott, the general who made the war a success, was fired; and the Whig nominee in 1848 was not him but Zachary Taylor.
In 1852, Scott won the Whig nomination, but the slavery question had split his party and discounted the value of that nomination. His rival, the Democratic nominee Franklin Pierce, was also a general in the Mexican War, but one whose military record was anything but extraordinary. Pierce resented Scott, but the Democrat easily won the election. Scott remained head of the U.S. Army, and when he petitioned the new President Pierce to move army headquarters to New York, Pierce was glad to get Scott out of Washington and approved. Soon, however, the Pierce administration launched a campaign that can only be called a vendetta against Scott. Scott had incurred significant personal expenses connected with the Mexican War, as he had personally advanced monies that were entitled to be reimbursed. He had kept a record of both these expenses and the money he had collected during the occupation of Mexico, and submitted "an itemized statement" to the War Department in 1854.
He had also made various expenditures from government funds on behalf of his army. The new Secretary of War, Jefferson Davis, decided that Scott should not be entitled to reimbursement for all of his expenses, and that, in fact, he had misspent government funds and needed to set off those expenses against the large amount he owed to the U.S. Treasury. Davis argued that Scott had failed to secure required "special written orders from his superiors" before incurring expenses. Moreover, according to Scott, the, "usages of war and prize money in the naval service" entitled him to a commission of approximately $11,000. So by depriving Scott of tens of thousands of dollars he was owed (an amount equal to over $500,000 today), Davis and Pierce seem to have hoped to ruin Scott financially.
Autograph Letter Signed, 3 pages, Headquarters of the Army, New York, October 24, 1854, to Francis Burt, 3rd Auditor of the Treasury, maintaining that Davis was using phony records against him and complaining that he could make no sense of them. The Third Auditor was responsible for all financial matters related to the army. "Expecting to be in Washington early the next month for the purpose of settling my accounts for disbursements in Mexico in 1847-8, I will beg you to oblige me with the items making up the $15,417.54 which the Secretary of War, in a letter dated May 22, 1854, tells me stands charged to me on the books of the Treasury Department. I have already received from your office through the 2nd Controller & the Secretary of War abstracts of those accounts marked B, C, D, E &F. From these it is impossible for me to pick out the particular items objected to which compose the sum $15,417.54. May I also beg that you will have the goodness to send me a copy of the abstract A of the same series??And in this place I beg to say that the five abstracts before me are not mine, but seem to be hashed out of two which I did not furnish…"

The recipient was a South Carolina Democrat whom Pierce appointed to his Treasury Department post in 1853. However, apparently unbeknownst to Scott, Burt was no longer holding that office, as Pierce had named Burt the first governor of the Nebraska Territory. Eight days before writing this letter Burt was sworn in in Nebraska; two days later he died, after a term of two days. So when this letter was penned, Burt had been dead for six days. His successor as Third Auditor was Robert Atkinson, already in office for two months; and he would have received Scott's letter.
Eventually Pierce and Davis agreed to pay Scott a sum far less that what Scott was expecting. So Scott ended up losing money for his efforts in Mexico. He did, however, have the last laugh on Davis. In 1861, when Davis was president of the Confederacy, Scott (though a native Virginian) remained with the Union. He developed the Acaconda Plan for strangling the Confederacy by blockading its ports and controlling crucial rivers, a plan that played a major role in the final Union victory.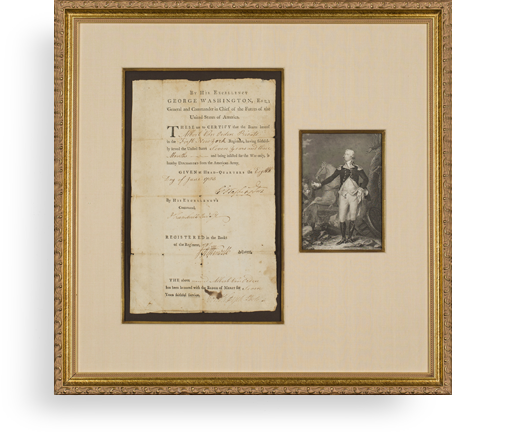 Frame, Display, Preserve
Each frame is custom constructed, using only proper museum archival materials. This includes:The finest frames, tailored to match the document you have chosen. These can period style, antiqued, gilded, wood, etc. Fabric mats, including silk and satin, as well as museum mat board with hand painted bevels. Attachment of the document to the matting to ensure its protection. This "hinging" is done according to archival standards. Protective "glass," or Tru Vue Optium Acrylic glazing, which is shatter resistant, 99% UV protective, and anti-reflective. You benefit from our decades of experience in designing and creating beautiful, compelling, and protective framed historical documents.
Learn more about our Framing Services