Attorney General Robert Kennedy Attacks Organized Crime by Name in Building Key Support for His Campaign Against It
The first RFK letter we have seen mentioning his war on organized crime, which with civil rights are the two things for which he is primarily remembered.
Robert Kennedy's career began in 1951 as a lawyer in the criminal division of the Justice Department. In 1957, with a staff of 65, he became chief counsel of the Senate Rackets Committee. There he exposed corruption in the labor unions – primarily in the Bakers and Confectioners Union, but also in...
Robert Kennedy's career began in 1951 as a lawyer in the criminal division of the Justice Department. In 1957, with a staff of 65, he became chief counsel of the Senate Rackets Committee. There he exposed corruption in the labor unions – primarily in the Bakers and Confectioners Union, but also in the Mechanics, the Carpenters, the Hotel Employees, the New York Postal Workers, the Textile Workers, and even the Garbage Collectors unions. He became an expert on labor racketeering. In November 1957, he received the first annual award as "Outstanding Investigator of the Year" from the Society of Professional Investigators. When he became Attorney General in 1961, Kennedy already had a good idea of the importance of organized crime in the United States. The kingpins of crime, some of them survivors of the Roaring Twenties era, others more recent arrivals, had left the gangs for the big cities. The gambling industry alone supported 50,000 people and employed the services of 400,000 bookmakers. In addition to pervasive gambling there were also prostitution, narcotics traffic and commercial pornography, and shake-downs and protection rackets, not to speak of hold-ups and murders.
In January 1961, the Crime and Rackets Section of the Justice Department employed only 17 people. They worked individually, and neither gathered nor received comprehensive information on international and organized crime. The F.B.I., under Director J. Edgar Hoover, had little interest in the subject. Through speeches and writing, such as his book The Enemy Within, RFK alerted the country to the existence of a "private government of organized crime with an annual income of billions, resting on a base of human suffering and moral corrosion." He established the first coordinated program involving all twenty-six Federal law enforcement agencies to investigate organized crime. By 1963, the Crime and Rackets Section had swelled to 60, and Kennedy had opened Federal investigative bureaus in cities outside of Washington charged with gathering information on racketeers. In 1961 and 1962, Congress approved seven anti-crime laws authorized by the Attorney General, the first result being the dismantling of a nationwide betting system. In November 1962, a gambling and prostitution establishment in Detroit which had been doing a $20 million-a-year business was raided and closed down. In 1963, the illegal gambling organizations were obliged to cease their activities in many different parts of the country. In the first six months of 1963, 171 racketeers were indicted, as against 24 in 1960. The Attorney General revealed that the crime syndicate, known to its members as Cosa Nostra, was directed by a board of active members whose names were known to him, and to whom the representatives in the various cities were responsible. And famously, in October 1963, RFK persuaded Joseph Valachi, a member of the crime syndicate who had requested government protection in 1962 and who had been imprisoned since that date for second-degree murder, to testify. Valachi was the first member of Cosa Nostra to reveal the activities of this "cruel and calculating" organization, and the hearings in which he testified were carried live on television day by day to a shocked nation first really appreciating the nature of the threat.
The General Services Administration (GSA) constructs, manages and provides workplaces for federal employees, oversees the preservation of historic buildings, regulates the sale of supplies to federal agencies, manages and stores government records, handles emergency preparedness, and stockpiles strategic supplies for wartime. It has ten offices around the country. In the course of performing its services it deals with contractors, construction companies, suppliers, unions, and other firms in economic sectors known to have been infiltrated by organized crime, both nationally and in all their localities. Kennedy saw the necessity of enlisting the support of the GSA to cut off crime-infiltrated organizations from doing what was a massive amount of business with the Federal Government, which in practice sometimes meant ending some long-held business and union relationships and substituting others. To accomplish this difficult task, it was not enough to gain the agreement of the GSA Chief in Washington; it required involvement by the local GSA Commissioners in the regions. He traveled to see them and stressed the Federal Government's commitment to the fight against organized crime, and told them their cooperation would be expected.
The Commissioner of the Kansas City region was a Truman friend and appointee, June Holloway. In November 1961 RFK met with him, obtained his cooperation, and then followed up with this letter. Typed Letter Signed, on Attorney General's letterhead, November 16, 1961, to Holloway. "I returned to Washington greatly encouraged as a result of our meeting. In every city I visited I found the firm belief and expectation that the new laws, plus the close cooperative effort that is being made by all Federal agencies, will result in significant action being taken against the leaders of organized crime. I have no illusions that the job will be easy. However, I believe that three or four years from now we will look back with pride on our mutual participation in an effort which has such great meaning for the internal security of our country. I appreciate very much having had the opportunity to meet with you."
Robert Kennedy's legacy consists in large part of his support for civil rights and war on organized crime, yet letters on the latter subject are very rare. This is our first letter of his attacking organized crime by name and building support for his campaign against it. Moreover, a search of public records going back four decades finds not one RFK letter on this subject having come up for sale.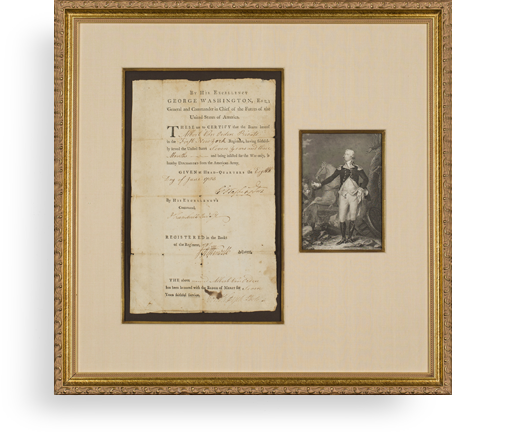 Frame, Display, Preserve
Each frame is custom constructed, using only proper museum archival materials. This includes:The finest frames, tailored to match the document you have chosen. These can period style, antiqued, gilded, wood, etc. Fabric mats, including silk and satin, as well as museum mat board with hand painted bevels. Attachment of the document to the matting to ensure its protection. This "hinging" is done according to archival standards. Protective "glass," or Tru Vue Optium Acrylic glazing, which is shatter resistant, 99% UV protective, and anti-reflective. You benefit from our decades of experience in designing and creating beautiful, compelling, and protective framed historical documents.
Learn more about our Framing Services