Ronald Reagan's Finest Statement of His Intention to Strike a "Blow for Freedom" and Use His Television Platform to Attack Communism
It was this stance that led to his political career, one that transformed America
He would assail the Soviet "menace" and tag the Russians as "the brutal aggressors we know them to be"
Reagan will take whatever measures are necessary: "Frankly I'd play Khrushchev in the screen if it would help alert America to this menace."
Ronald Reagan's political career had a profound impact on the...
He would assail the Soviet "menace" and tag the Russians as "the brutal aggressors we know them to be"

Reagan will take whatever measures are necessary: "Frankly I'd play Khrushchev in the screen if it would help alert America to this menace."
Ronald Reagan's political career had a profound impact on the United States, and his firm stance against Communism (and its standard-bearer the Soviet Union) is what first brought him to the attention of conservatives and led directly to that political career. Reagan had started out as a Democrat and stated that he voted for Truman in the 1948 election. But even then his opposition to Communism was deep, as he came to feel that it symbolized tyranny and oppression, and he was struck by the fact that it ruled by fear. These beliefs became core tenets of his being, and remained so until the seemingly monolithic power of Communism in Europe teetered and fell during and just after his presidency.
The General Electric Theater was a weekly television drama conceived in the early 1950s, each of whose episodes was an adaptation of a novel, short story, play or film. G.E. executives decided they needed a regular host, and some of Ronald Reagan's productions had impressed them. They offered him the job, and on September 26, 1954, Reagan debuted as the host of the program. It climbed to be the number-one show in its time slot, and made Reagan one of the most recognizable men in America. By the late 1950's, Reagan's involvement was so successful that TV became of ever greater interest and importance to him. So he took on an additional role – producer and equity stake owner in the TV show itself.
Thus, by the late 1950's and early 1960's, these two aspects of Reagan's life, anti-Communism and television, flowed together and he sought a way to use TV to deliver his anti-Communist message. Finding vehicles for this was by no means easy, so he determined to create a vehicle himself and use the General Electric Theater to deliver his message. On September 24, 1961, The Iron Silence was aired, in which Reagan played a sympathetic Russian officer serving in occupied Hungary. At the end of the episode he released his two Hungarian prisoners, saying " I never knew what freedom meant until I saw you lose yours."
Public support for the episode flooded in, but one letter complained about a sympathetic portrayal of a Russian being helpful to the Soviets. This bothered Reagan so much that he took time out from his very busy schedule to respond to the woman. In doing so, he provided the finest statement of his intention to strike a blow for freedom and use his television platform to attack Communism, while also explicitly revealing his views on Communism and the Soviet Union.
Autograph letter signed, on his Pacific Palisades letterhead, September 30, 1961. "Your letter, I must confess, has somewhat startled me. We here at G.E. Theatre have been concerned about the lack of dramas touching on the Communist threat. To that end we decided to find or create stories which would reveal this menace. I might add such stories are not easy to come by – few of our writers seem interested in this subject, at least from an anti-Communist point of view. We intended to do a story on Communism here in America – but last Sunday was our attempt to portray the external threat, or the Soviet menace. It is true I played a Soviet officer but the idea was to use my role to point up the inhumanity of the Soviet creed. We here in America have given sanctuary to several Russian officers who fled Soviet Russia & they have added to our knowledge of this monstrous tyranny.
"The reaction to our show, with the exception of your letter, has been what we hoped for. Many people have kindly told us that our play was a blow for freedom and a good first step in tagging the Russians for the brutal aggressors we know them to be. I'm sorry if you did not interpret the story in this light but I assure you our aim is anti-Communist and for that matter anti-Russian. Frankly I'd play Khrushchev in the screen if it would help alert America to this menace. Enclosed is a copy of a talk I gave a short time ago."
Letters of Reagan from this formative era in his life on the question of Communism, and his use of his TV show to combat it – the foundation of his political career – are rarities. In all our years in the field we have had just one other, and that was over a decade ago, and the statement much less complete than this.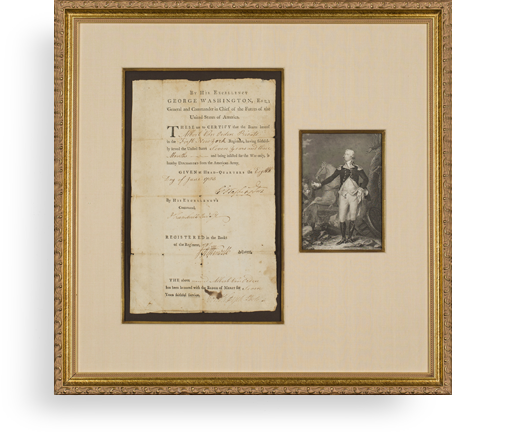 Frame, Display, Preserve
Each frame is custom constructed, using only proper museum archival materials. This includes:The finest frames, tailored to match the document you have chosen. These can period style, antiqued, gilded, wood, etc. Fabric mats, including silk and satin, as well as museum mat board with hand painted bevels. Attachment of the document to the matting to ensure its protection. This "hinging" is done according to archival standards. Protective "glass," or Tru Vue Optium Acrylic glazing, which is shatter resistant, 99% UV protective, and anti-reflective. You benefit from our decades of experience in designing and creating beautiful, compelling, and protective framed historical documents.
Learn more about our Framing Services