In the Immediate Wake of His Monumental Cooper Union Address, Lincoln Struggles to Handle His Emergence As He Enters the National Spotlight
In a newly discovered letter showing his state of mind, Lincoln thinks of family, categorizes himself as "nervous", and also feels overwhelmed and "unfit" for his speaking engagements.
This letter, acquired directly from the descendants of the recipients, has never before been offered for sale and was not known to exist; Just the second letter of Lincoln during this great trip known to have reached the market
The great question of the Antebellum era was whether the United States government...
This letter, acquired directly from the descendants of the recipients, has never before been offered for sale and was not known to exist; Just the second letter of Lincoln during this great trip known to have reached the market
The great question of the Antebellum era was whether the United States government could regulate (and thus prohibit) slavery in the territories. Southerners insisted that prohibiting slavery (or making its exercise difficult) unfairly penalized them and violated the U.S. Constitution, while Northerners opposed the extension of slavery and claimed that slavery in a territory effectively discouraged if not precluded its use by free settlers. Both sides maintained that the triumph of the other's position denied them access to those lands, to which they were entitled. This question, already contentious, exploded after the Mexican War resulted in the acquisition of enormous new territories. Dissatisfied Southern radicals threatened to secede if a Republican was elected President.
Until the dawn of 1860, Abraham Lincoln was little known in the East, with its huge population, communications centers and abundant finances, and therefore never remotely considered as a realistic Republican nominee for president. The most that can be said of his name recognition is that some people did recall him as the able opponent of Illinois Sen. Stephen A. Douglas, and thus as the protagonist in the 1858 Lincoln-Douglas debates, and that his name was mentioned as a potential presidential candidate from the West.
In October 1859 Lincoln accepted an invitation to lecture at Henry Ward Beecher's church in Brooklyn, New York, and chose a political topic which required months of painstaking research. His law partner William Herndon observed, "No former effort in the line of speech-making had cost Lincoln so much time and thought as this one," a remarkable comment considering the previous year's debates with Douglas. Lincoln's carefully crafted speech would examine the views of the 39 signers of the Constitution on the issue of slavery in the territories. When Lincoln arrived in New York, the Young Men's Republican Union had assumed sponsorship of the speech and moved its location to the Cooper Institute. The Union's board included members such luminaries as Horace Greeley and William Cullen Bryant. Lincoln, as an unannounced presidential aspirant, attracted a capacity crowd of 1,500 curious New Yorkers.
The date was February 27, 1860. Lincoln rose to deliver the Cooper Union Address, and started to speak in a high-pitched, western-accented voice that was unpleasant to many of his listener's ears. An eyewitness that evening said, "When Lincoln rose to speak, I was greatly disappointed. He was tall, tall, – oh, how tall! and so angular and awkward that I had, for an instant, a feeling of pity for so ungainly a man." He cut an odd figure in sophisticated New York. Lincoln told the audience he would refute the arguments made by Stephen Douglas that attempted to show that the Founding Fathers did not believe the U.S. Government could regulate slavery in the territories. He would pursue facts, form them into meaningful patterns, and press relentlessly toward his conclusion.
In part one he asked what evidence existed concerning the Founding Father's belief that the U.S. Government could or could not regulate slavery in the territories. He cited the known positions of the 39 Founding Fathers: he related that 16 of the 39 were in the First Congress when it, in 1789, "unanimously" passed an ordinance to enforce the 1787 Ordinance prohibiting slavery in the Northwest Territory; and that at least 21 of them – a majority – believed Congress should control slavery in the territories, not allow it to expand. He completely deconstructed Douglas's (and the South's) position in a way that, strangely, had never been done before. Thus, he showed that the Republican stance of the time was not revolutionary, but similar to the Founding Fathers', and should not alarm Southerners. By now his audience was hanging on every word.
In part two he gave an direct talk to the South, showing the fallacies of many of its leaders' claims. Northerners were not fomenting slave rebellions, nor taking unreasonable or unconstitutional positions. He said, "Your purpose, then, plainly stated, is that you will destroy the Government, unless you be allowed to construe and enforce the Constitution as you please, on all points in dispute between you and us. You will rule or ruin in all events". This was obviously not a unjustifiable position to take.
In part three he spoke to the North. He asked Northerners to listen and respond to the South's reasonable demands, but maintained that appeasement would not work, as the South would always want more. And what would satisfy them? Northerners must stop calling slavery wrong and must call it right. They must remove all taint of opposition to it. He said, "We must not only let them alone, but we must somehow, convince them that we do let them alone. This, we know by experience, is no easy task. We have been so trying to convince them from the very beginning of our organization, but with no success. In all our platforms and speeches we have constantly protested our purpose to let them alone; but this has had no tendency to convince them". He ended by saying, "Let us have faith that right makes might, and in that faith, let us, to the end, dare to do our duty as we understand it."
The speech electrified Lincoln's hearers; the eyewitness wrote that once Lincoln warmed up, "his face lighted up as with an inward fire; the whole man was transfigured. I forgot his clothes, his personal appearance, and his individual peculiarities. Presently, forgetting myself, I was on my feet like the rest, yelling like a wild Indian, cheering this wonderful man." Said another New York writer, "No man ever before made such an impression on his first appeal to a New York audience." After being printed by New York newspapers, the speech was widely circulated and had a seismic effect on Northern opinion. Northerners felt no one ever before had grasped and communicated their feelings so simply and clearly. The Republican Party kingmakers took note, and now Lincoln was a man to be reckoned with.
Lincoln had hoped for a positive reception, but this instantaneous explosion of adulation was completely unexpected. He not only had to deal with the reactions of those people around him and the press, but immediately began receiving invitations to speak elsewhere in the North. How did he feel about all this personally? Lincoln turned down the invitations to speak, and wrote his wife on March 4, "Bob had a letter from you saying Willie and Taddy were very sick the Saturday night after I left. Having no despach [sic] from you, and having one from Springfield, of Wednesday, from Mr. Fitzhugh, saying nothing about our family, I trust the dear little fellows are well again… I have been unable to escape this toil. If I had foreseen it, I think I would not have come east at all… If the trains do not lie over Sunday, of which I do not know, I hope to be home to-morrow week. Once started I shall come as quick as possible. Kiss the dear boys for Father"
On March 2, just three days after the speech, J.A. Freeman, Secretary of the Republican Executive Committee of Orange, New Jersey, wrote Lincoln, saying his organization "most earnestly and cordially requests you to address the Republicans of Orange at your earliest convenience. You have many warm political friends in this place who are very anxious to hear you, and as New Jersey is one of the doubtful states, we wish all the help that we can get from the eminent speakers of the Republican Party. If you can comply with our request, please let me know upon what evening we may have the pleasure of hearing you, and where in New York you may be found so that some friends can meet and bring you out here." Freeman's handwritten draft of that letter to Lincoln comes with this group.
This invitation and Lincoln's response were not recorded and have been unknown to history. They are not in "The Collected Works of Abraham Lincoln" nor known to the Papers of Abraham Lincoln. And though brief, this letter shows vividly how Lincoln the man dealt with this fame.
Autograph letter signed, Hartford, Conn., March 6, 1860, to Freeman. "Yours of the 2nd was received late last evening. I cannot speak in New Jersey this time. I have over staid my time – have heard something about sickness in my family – and really am nervous and unfit to fill my engagements already made here in Connecticut. Will you please excuse me?" The letter comes to us directly from the descendants of the Freeman family, in whose possession it has remained until now. The original stamped envelope is still present, postmarked Hartford, March 6.
A search of public records going back 40 years turns only one other letter of Lincoln from his epochal trip East in 1860 having reached the market.
From New York Lincoln went to New Hampshire to see his son Robert at Exeter, where he was in school preparing to attend Harvard College. He then made his way through Massachusetts and arrived at Hartford, Connecticut on March 5, speaking in that city. This letter would have been written from there on the morning of the 6th, as on the 6th Lincoln went to New Haven and gave a speech there. He left the East for home on March 12.
A search of "The Collected Works of Abraham Lincoln" and other Lincoln resources reveals that Lincoln never used the words "nervous" or "unfit" to describe himself, so this letter appears to be the only instance. "Nervous" clearly indicates that he was anxious, a startling admission for him. And his use of the word "unfit" seems an unusually strong one to tell of his being overbooked, and also indicates that he was under stress. Both show that he was struggling to handle his emergence. So although we think of Lincoln as an unemotional icon, with these fascinating insights we see that he was a human being with human reactions.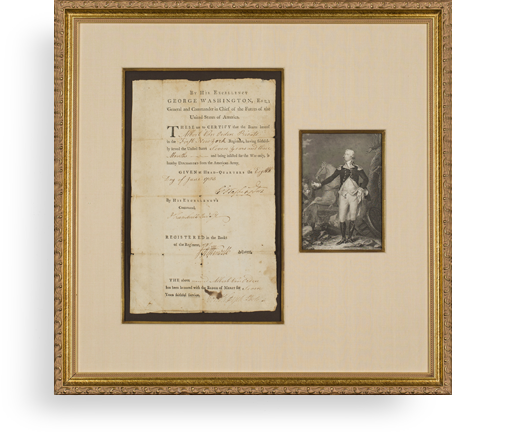 Frame, Display, Preserve
Each frame is custom constructed, using only proper museum archival materials. This includes:The finest frames, tailored to match the document you have chosen. These can period style, antiqued, gilded, wood, etc. Fabric mats, including silk and satin, as well as museum mat board with hand painted bevels. Attachment of the document to the matting to ensure its protection. This "hinging" is done according to archival standards. Protective "glass," or Tru Vue Optium Acrylic glazing, which is shatter resistant, 99% UV protective, and anti-reflective. You benefit from our decades of experience in designing and creating beautiful, compelling, and protective framed historical documents.
Learn more about our Framing Services