A Handwritten Address of President John Adams: He Applauds the American People for "The spirit of harmony and unanimity among ourselves"
In this unpublished address, he revels in the support he is receiving from the South and backcountry, saying unity was "never more necessary than at this time".
A rare, powerful handwritten address as President
When Adams became President in March of 1797, the French had seized nearly 300 American ships bound for British ports. They had ordered this measure in retaliation for the Jay Treaty the U.S. had signed with Great Britain in 1794, which the French considered evidence...
A rare, powerful handwritten address as President
When Adams became President in March of 1797, the French had seized nearly 300 American ships bound for British ports. They had ordered this measure in retaliation for the Jay Treaty the U.S. had signed with Great Britain in 1794, which the French considered evidence of an Anglo-American alliance. Relations between France and the U.S. worsened when Talleyrand, the French foreign minister, rejected the Federalist Charles C. Pinckney as America's ambassador to France.
In the U.S., Republicans led by Thomas Jefferson believed that it was the intention of the Adams administration to stir up trouble with France (evidenced by selection of an anti-French ambassador to Paris) so as to steer the U.S. towards the British, and they opposed the President's measures and appointments. The American people were more disunited and disaffected than ever. The regions were as well (with support for the Republican stance particularly strong in the South and on the American frontier). The French continued to seize American ships, many Federalists demanded war on France, and Republicans cried foul and blamed Adams. Seeking to avoid a war, President Adams sent a three member commission to Paris consisting of Charles Cotesworth Pinckney, John Marshall, and Elbridge Gerry. After many delays the American commissioners were approached by three intermediaries of Talleyrand, who demanded apologies for allusions critical of France made by Adams and payment of a bribe of several million dollars before official negotiations could proceed.
The American delegates found this bribery unacceptable and the mission ended unsuccessfully. Adams received a report of this exchange in March 1798 and he was outraged. He hesitated, however, to release the complete details of the report for fear that it would increase war fever. Congress, and particularly his Republican opponents, thought he was withholding information because the talks showed a peaceable resolution was feasible, and on April 2 demanded the entire report be immediately turned over to it. Adams complied.
At this point, Adams' political situation was completely transformed. Americans were furious at the bribery demand and opposition to Adams' handling of the crisis collapsed. As many of his critics became advocates, Adams became widely popular, the only time in his life of which this can be said. As a tangible expression of this sentiment, patriotic addresses of support came in from around the country. Adams reveled in his new-found popularity. When Adams chose to respond, most of these responses were dictated to a secretary and signed by Adams, while a small number of responses were completely in his hand.
One such address to Adams came "From the Inhabitants of Moore County [NC] to the President of the United States." Moore County, then-lightly settled in the Piedmont area of North Carolina between the populous coastal plain and Appalachian Mountains to the West, today forms part of the Raleigh-Durham Statistical Area. So this communication was from the South, not at all his base of support, and from the backcountry Piedmont, far from the political swirl of the nation's capital at Philadelphia. The Moore County citizens wrote: "The present critical situation of America, with respect to foreign nations, calls upon its citizens as we conceive, to evince a spirit of harmony and unity among themselves; more especially at a juncture when it has artfully and maliciously been represented by our enemies that we are a divided people. We on our part have therefore thought it our duty openly to express our sentiments…and to assure you as Chief Magistrate of our Country that we have entire confidence in its government; that we approve of the administration of our present Executive…and that we are united, ready and determined to oppose the machinations of…foreign powers, which shall attempt to invade our rights. In this we express the general sense of our county, and we trust, of all America." This was an astonishing message for Adams to receive from the rural South, and really shows the spirit of the nation at that time.
Adams responded to this address by hand, and this response was unpublished until now. It is tempting to imagine Adams burning the midnight candle after his secretaries had all gone home, writing this letter. The Grove referred is William B. Grove, a delegate to the state constitutional convention of 1789 when the U.S. Constitution was finally ratified by North Carolina, and later a Representative to Congress. Adams must have handed this address directly to Grove.
Autograph address signed as President, Philadelphia, June 20th, 1798, "To the Inhabitants of Moore County in the State of North Carolina", picking up with gratitude on their theme. "Gentlemen, I thank you for this Address, presented to me by your Representative in Congress, Mr. Grove. The spirit of harmony and unanimity among ourselves was never more necessary than at this time. Every appearance of it, and tendency towards it, in the states whose situation is remote from the seat of government, is very pleasing to me. The numerous proofs of it, lately given in parts of North Carolina, deserve the applause of all America."
Adams ALSs as President are very scarce, and good content ones even more so. We've had just three ALSs of his in all these decades. Handwritten addresses such as this are rarities, and even harder to find.
The novelty of Adams receiving support in this quarter is shown by the fact that in the 1800 presidential election just two years later, Jefferson beat Adams by carrying the entire South and American frontier.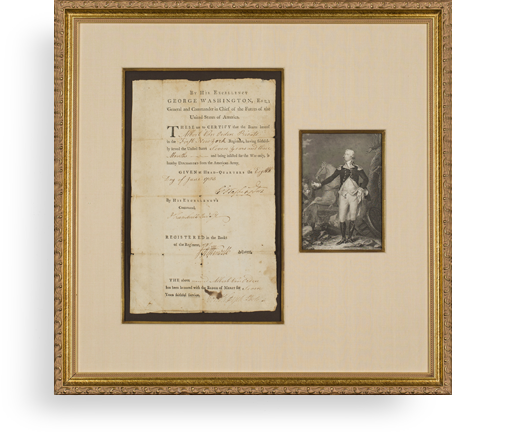 Frame, Display, Preserve
Each frame is custom constructed, using only proper museum archival materials. This includes:The finest frames, tailored to match the document you have chosen. These can period style, antiqued, gilded, wood, etc. Fabric mats, including silk and satin, as well as museum mat board with hand painted bevels. Attachment of the document to the matting to ensure its protection. This "hinging" is done according to archival standards. Protective "glass," or Tru Vue Optium Acrylic glazing, which is shatter resistant, 99% UV protective, and anti-reflective. You benefit from our decades of experience in designing and creating beautiful, compelling, and protective framed historical documents.
Learn more about our Framing Services