Gen. Ulysses S. Grant's Flag of Truce Letter from the Vicksburg Campaign to Confederate Commander John C. Pemberton, Commander of the Confederate Dept. of Mississippi
An extraordinary rarity: it crossed the battle lines and proposed to honor a prisoner of war exchange agreement
"Sir: Maj. Robert Rowley, Aid-de-Camp, and Capt. S.C. Lyford, Ordnance Dept., are bearers of dispatches, under flag of truce, to Lieut. Gen. Pemberton, C.S.A. Respectfully, U.S. Grant, Maj. Gen."
A search of public sale records failing to turn up even one flag of truce letter from Grant having reached that marketplace.
...
"Sir: Maj. Robert Rowley, Aid-de-Camp, and Capt. S.C. Lyford, Ordnance Dept., are bearers of dispatches, under flag of truce, to Lieut. Gen. Pemberton, C.S.A. Respectfully, U.S. Grant, Maj. Gen."

A search of public sale records failing to turn up even one flag of truce letter from Grant having reached that marketplace.
By the spring of 1862, Union forces had seized Confederate forts on the northern portion of the Mississippi River and taken New Orleans on the southern end. If the U.S. could control the entire length of the Mississippi, the Confederacy would be split in two and its use of the river as an avenue of men and supplies would be ended. Union military personnel and supplies, and indeed all types of trade, could then flow freely from Minnesota to the Gulf of Mexico. All of this would make a complete Confederate victory in the war almost impossible, so taking the entire Mississippi River became a top Union priority. The city of Vicksburg, strategically placed to make it hard to assault, was the last obstacle, and so long as rebel guns there overlooked the river, the Union plan could not be fulfilled. From May to July 1862, Union forces bombarded Vicksburg and also tried, without success, to bypass it. Grant was given command in October 1862, and set the goal of moving into Mississippi and capturing the state capital of Jackson, then setting out overland to Vicksburg, where he would meet up with Gen. William T. Sherman, who would follow the river route South. Lt. Gen. John C. Pemberton was in command of the Confederate Dept. of Mississippi, and responsible for coordinating the forces opposed to Grant and the defense of Vicksburg.
Northern Mississippi was securely in the hands of the Union army, after key, yet costly, wins at Shiloh, Iuka, and Corinth. At the end of November, Grant headed south from the Memphis area, first following the Mississippi Central Railroad out of southwest Tennessee. On December 1st, resisting Mississippi Confederates, he pulled out of entrenchments along the Tallahatchie River and moved south. He gathered his troops near Abbeville on the 2nd and skirmished with Maj. Gen. Earl Van Dorn's rear guard through town, down the railroad, and through Oxford. On the 3rd, the Union cavalry was divided, one part of which secured Oxford, while others roved the right flank looking for the Confederates, and still others pressed on to Coffeeville to take that town, with Grant following.
When the Union Cavalry was within 50 yards of the Confederate positions at Coffeeville, it was fired upon by Confederate artillery, followed by volleys of infantry fire. The attacking Union force reeled under superior fire, so the Union commander on the site organized a fighting retreat and withdrew. Confederate cavalry and infantry followed and pushed the Union force until nightfall, right back about three miles to the head of Grant's column. The engagement broke off. The pursuit from the Tallahatchie netted the Union cavalry 750 prisoners, 200 horses, 4 wagons, and $7,000 in Confederate money. The Battle of Coffeeville showed that Grant would meet strong and well led and positioned resistance going across Mississippi inland. So Grant brought his Mississippi invasion via Tennessee to a halt, pulling his army back to Oxford. There would have to be another way to Vicksburg.
Grant felt the prisoners taken at Coffeeville were covered by the Hill-Dix Cartel providing for the exchange of prisoners of war. He sent a letter through the lines to Pemberton under flag of truce, offering a prisoner exchange. It read: "I have now several hundred Confederate prisoners who by the Hill Dix Cartel will have to be sent to Vicksburg for exchange unless, by agreement, they will be received elsewhere. I propose to deliver them at such point in the Mississippi Central road as you may suggest and where an officer of your command may be to receive and receipt for them. Or I will parole and release them here sending rolls, certified to, for an officer of your Army to receipt if you prefer it. Please inform me of your pleasure in this matter and I will conform to it. I am Gen. very respectfully your obt. svt. U. S. Grant Maj. Gen. Com."
This is the flag of truce letter that Grant gave the couriers of his message to Pemberton, addressed to the Confederate commander at the front, a post shared by Maj. Gen. Mansfield Lovell and Brig. Gen. Lloyd Tilghman, both of Van Dorn's command, and to be presented to allow the Union emissaries to enter Confederate lines. Autograph letter signed, Head Quarters 10th Army Corps, Dept. of the Tennessee, Oxford, Miss., December 5, 1862, to Commanding Officer, Confederate Forces [at the front], . "Sir: Maj. R.W. Rowley, Aide-de-Camp, and Capt. S.C. Lyford, Ordnance Dept., are bearers of dispatches, under flag of truce, to Lieut. Gen. Pemberton, C.S.A. Respectfully, U.S. Grant, Maj. Gen." Rowley was Grant's long-time aide, and ended the war as a brevet general. Lyford ended as a colonel.
This is only the second flag of truce letter we have carried in our thirty years in the field. One was from Lee to Grant that crossed the lines at Gettysburg that we sold back in 2006; now there is this one from Grant during the Vicksburg campaign. It is a rarity, a search of public sale records failing to turn up even one flag of truce letter from Grant having reached that marketplace.
Two days later Pemberton responded: "Your communication of 5th inst. just received. The prisoners referred to I presume to be the sick who were necessarily left, and stragglers from this army. The former, if agreeable to you, I would prefer should be kept in hospital until they can be sent for; and proper receipts given. The latter —as the roads are in bad condition and railroad bridges destroyed—I would ask to be sent to Vicksburg, Miss. as is required by terms of the cartel. I have some forty prisoners, taken in action, who will be sent to Vicksburg for exchange."
It took Grant a while to reach Vicksburg. When two major assaults against the Confederate fortifications at Vicksburg, on May 19 and 22, 1863, were repulsed with heavy casualties, Grant decided to besiege the city beginning on May 25. After holding out for more than forty days, with their supplies nearly gone, the garrison surrendered on July 4, 1863. The successful ending of the Vicksburg Campaign significantly degraded the ability of the Confederacy to maintain its war effort.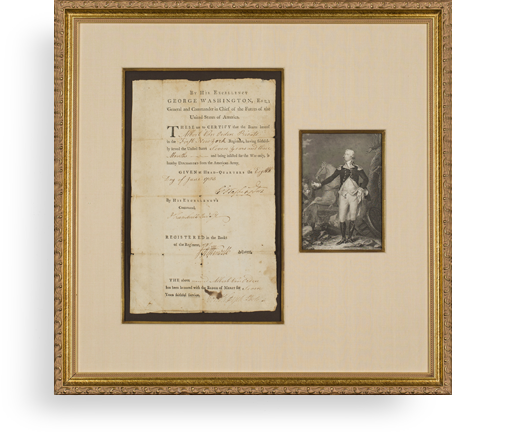 Frame, Display, Preserve
Each frame is custom constructed, using only proper museum archival materials. This includes:The finest frames, tailored to match the document you have chosen. These can period style, antiqued, gilded, wood, etc. Fabric mats, including silk and satin, as well as museum mat board with hand painted bevels. Attachment of the document to the matting to ensure its protection. This "hinging" is done according to archival standards. Protective "glass," or Tru Vue Optium Acrylic glazing, which is shatter resistant, 99% UV protective, and anti-reflective. You benefit from our decades of experience in designing and creating beautiful, compelling, and protective framed historical documents.
Learn more about our Framing Services