Abraham Lincoln, Surveyor
The only hand-drawn plat or drawing by Lincoln we have ever seen reach the market, along with his notes on the land involved .
As biographer Carl Sandburg wrote, in the fall of 1833 Abraham Lincoln entered into the most highly technical and responsible work he had known. Writing of it later, he said, "The Surveyor of Sangamon [County] offered to depute to A[braham] that portion of his work which was within his part of the...
As biographer Carl Sandburg wrote, in the fall of 1833 Abraham Lincoln entered into the most highly technical and responsible work he had known. Writing of it later, he said, "The Surveyor of Sangamon [County] offered to depute to A[braham] that portion of his work which was within his part of the county. He accepted, procured a compass and chain, studied Flint, and Gibson a little, and went at it. This procured bread and kept soul and body together." There were farm sections, roads and towns needing their boundary lines marked clear and beyond doubt on maps – more than the county surveyor, John Calhoun, could handle. On the suggestion of Pollard Simmons, a farmer and Democratic politician living near New Salem, Calhoun appointed Lincoln.
Then for six weeks, daytime and often nighttime as well, Lincoln had his head deep in "Gibson's Theory and Practice of Surveying" and "Flint's Treatise on Geometry, Trigonometry and Rectangular Surveying". From decimal fractions one book ran on onto logarithms, the use of mathematical instruments, operating the chain, circumferentor, surveying by intersections, changing the scale of maps, leveling, methods for mensuration of areas. Many nights, said Mentor Graham's daughter, she woke at midnight to see Lincoln and her father by the fire, figuring and explaining, her mother sometimes bringing fresh firewood for better lighting. In six weeks, however, he had mastered his books, and Calhoun put him to work on the north end of Sangamon County. His pay was $2.50 for "establishing" a quarter section of land, $2.00 for a half-quarter, 25 cents to 37½ cents for small town lots. He surveyed the towns of Petersburg, Bath, New Boston, Albany, Huron, and others. He surveyed roads, school sections, pieces of farm land from four-acre plots to 160-acre farms. His surveys became known for care and accuracy and he was called on to settle boundary disputes. For his surveying trips he had bought a horse, saddle and bridle from William Watkins for $57.86. The surveys produced by Lincoln and other surveyors consisted of textual descriptions with identifying meets and bounds. Some also contained plats, which are maps physically depicting the divisions of land.
"In all," writes historian Kenneth Winkle, assessing his career as a surveyor, "Lincoln divided at least five new towns into lots for various speculators. He thus became involved in the buying and selling of land, rather than simply working it with an axe or hoe, and he began to invest in local real estate…" As Robert Rutledge summed up Lincoln's career as a surveyor, he 'engaged in a good business in the profession.'" Early Sangamon County surveying records are very fragmentary, so it is impossible to compile a complete list of Lincoln's surveys, nor have many survived, but it remains a fascinating time in his career. Surveying is also something he shares with George Washington, who was engaged in the same profession early in his life.
On August 4, 1834, the 24 year old Lincoln was elected to the Illinois General Assembly as a member of the Whig Party. He also began to study law, at first combining it with surveying, and received his license to practice law two years later. In 1837, Lincoln helped to get the Illinois state capital moved from Vandalia to Springfield. On April 15th of that year, he left New Salem and settled in Springfield, then becoming a law partner of John T. Stuart. A good portion of law work was real estate, and his experience with the practical side that he had gained from surveying doubtless attracted clients. In some cases the two disciplines blended in. For example, in 1834 Lincoln did a survey for one David Hart. Then he represented the Hart family in real estate and litigation matters.
Specifically, in 1837 Lincoln represented the widow Mrs. Rhoda Hart, whose husband Moses was recently deceased. In October he obtained from a court the right for her to sell the real estate that had belonged to her husband. In October 1838, in pleadings Lincoln filed in the case of Hart vs. Sackett, he wrote that Mrs. Hart had followed the Court's instructions in selling the land, and now had to sue a neighbor to secure her rights pursuant to that permission: "Humbly sheweth unto your Honor your oratrix, Rhoda Hart Executrix of Moses Hart deceased, that at the last October term of this court an order was made by this court directing your oratrix to sell the real estate of the said Moses Hart deceased; that in obedience to the said order your oratrix has sold and conveyed the said real estate aforesaid in the parcels…" The case appears to have been a family dispute over land, and the final Court Order concluded the case in favor of Rhoda Hart, insofar as her suit against the Sacketts was concerned.
This information helps us date an extraordinary rarity – a plat done for the Mrs. Hart by Lincoln pursuant to the first court order authorizing the sale of the land; it is thus sometime between late October 1837 and late June 1838. This is just a few years after his surveying career, and is the only Lincoln hand-drawn plat we have ever seen reach the market in all of our decades in this field.
It is offered here. Autograph memorandum and plat, completely in Lincoln's hand, unsigned.
"Memorandum of the Real estate of Moses Hart, deceased
E. half S.W. quarter Sec. 24 Town 17 Road 7
W. half same " " " "
E. " N.W. " Sec. 24 17 7
50 acres of S. end
E. S.W. " 13 17 7
Wishes to sell all of the last mentioned tract and the North half of the last but one."
Below this is a plat showing sections and plots, to the right of which Lincoln writes, "Prefers to sell on the premises…"
Although plats in the hand of George Washington come on the market from time to time, not so with Lincoln. We have seen a handful of manuscript surveys and partial surveys of Lincoln over the years, but not any drawings. Moreover, a search of public sale records going back 40 years shows just two Lincoln surveys reaching the market, both prior to 1990, and neither clearly delineates having a plat.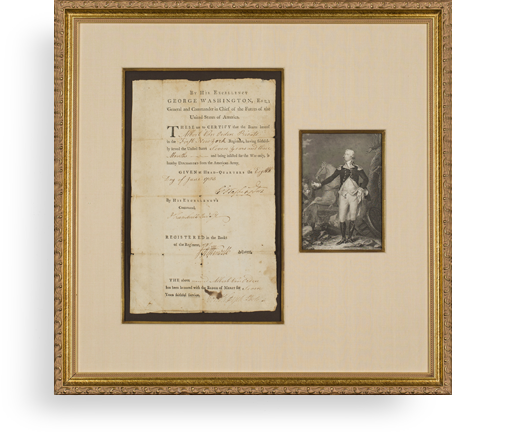 Frame, Display, Preserve
Each frame is custom constructed, using only proper museum archival materials. This includes:The finest frames, tailored to match the document you have chosen. These can period style, antiqued, gilded, wood, etc. Fabric mats, including silk and satin, as well as museum mat board with hand painted bevels. Attachment of the document to the matting to ensure its protection. This "hinging" is done according to archival standards. Protective "glass," or Tru Vue Optium Acrylic glazing, which is shatter resistant, 99% UV protective, and anti-reflective. You benefit from our decades of experience in designing and creating beautiful, compelling, and protective framed historical documents.
Learn more about our Framing Services