Napoleon Demands to Know Whether His Brother Joseph, King of Spain, and His Armies in Spain Have Moved to Counter Wellington in the North
This letter demonstrates Napoleon's last strategy to keep Spain; shortly after this, just a couple of months later, Wellington would strike the final blow ejecting the French from that country.
The Peninsular War was a key focal point of the Napoleonic Wars, one that drained French forces and energies and led to a rise in leadership of the Duke of Wellington, who would be Napoleon's nemesis. It pitted the French and its allied armies against the Anglo-Portuguesearmies under Wellington and Spanish insurgents....
The Peninsular War was a key focal point of the Napoleonic Wars, one that drained French forces and energies and led to a rise in leadership of the Duke of Wellington, who would be Napoleon's nemesis. It pitted the French and its allied armies against the Anglo-Portuguesearmies under Wellington and Spanish insurgents. The war began when France, with the consent of Spain, crossed the Iberian Peninsula and invaded Portugal in 1807. In May 1808, France turned on its ally when Napoleon handed the throne of Spain to his brother Joseph and forced the abdication of King Carlos IV. A puppet Spanish government was formed, but an insurrection broke out against it that required France to expend significant resources to counter. Where once Napoleon had bragged that 12,000 men could conquer Spain, now he required 80,000 to keep peace in just a portion. That number grew exponentially over time.
British military intervention became a reality for Napoleon in August 1808, when the Duke of Wellington landed in Portugal and successfully threw the French out of that country. The next few years saw competing incursions, with the troops led by Wellington attempting to push the French eastward and the French attempting renewed and unsuccessful invasions of Portugal.
With 1812 all this would change. Napoleon took 30,000 men from his army in Spain to use for his ill-fated invasion of Russia. Wellington took Ciudad Rodrigo, the Spanish gateway to Portugal. Although his forces were still numerically inferior to the French, he benefited greatly from the Spanish guerrilla fighters, who in what in Spain is called the War of Independence, kept Napoleon's forces occupied and spread too thin. In the summer campaign of 1812, Wellington made his first entrance into Madrid and Salamanca, winning a major battle at the latter city. Meanwhile, the Spanish resistance gained strength into 1813, particularly in the North along the coast, making Napoleon anxious to counter them.
But because of his Russia debacle, Napoleon had no new troops to send to Spain, so he determined that, while Wellington was preparing his army for the spring campaign, he would focus on putting down the Spanish insurrection in the North by reinforcing his troops there. In January, he ordered Joseph to remove his military headquarters to the northern city of Valladolid. He wrote that month, "In the present circumstances, I think he ought to place his headquarters at Valladolid… [the affairs on the north] demand our great care and efforts; he can occupy Madrid with one of the extremes of the line… we must profit from the inaction of the English to pacify the Navarre, Biscaye, and the Province of Santander." This configuration of forces would also have the defensive benefit of placing Napoleon between Wellington and France and depriving the English of a region known for its ports.
However, communications were miserable, and Napoleon's instructions to his brother arrived after news of its contents reached the British. So Wellington knew of Napoleon's plans before his French counterparts on the Peninsula. Even then, months passed and Joseph stayed put, fearing that if he abandoned Madrid, he might not be able to return to the Spanish capital. Time wasted away. In the meantime, having learned of Napoleon's commitment to crushing the guerrilla soldiers, and realizing that Spain would not be abandoned but simply thinned out, Wellington planned to go on the offensive, and sweep North to meet Joseph near his headquarters and gain a foothold in a Spanish port town.
By March 1813 the complexion of the situation had changed. Instead of being on the offensive, Napoleon's enemies of the 6th Coalition were closing in on France itself from the East. This resulted in a frenzied correspondence from Napoleon reorganizing his armies to better protect France itself. On Napoleon's mind was the need to avoid a two-front invasion of France by preventing British forces on the Peninsula from breaking through to hit France from behind. He wrote his Minister of War, the Duc de Feltre, on March 13, "Write to the general in Catalonia, to the King and to General Reille, to relate to them the bad turn the affairs in Spain have taken and the necessity of protecting the frontier." On the 16th, he sent 4 million francs to help pay for this protection through his Minister to Spain. But at the same time, he continued to pull officers, horses and troops from Spain to protect France. But Joseph stayed put.
Finally, Joseph arrived in Valladolid per his brother's instructions on March 23, 1813(more than 2 months late); by that time, the movement felt like an evacuation, not a re-positioning. The noose was tightening. Finally, frustrated with the pace of information flowing to him and the lack of progress once it arrived, Napoleon fired off a missive to his Minister of War, demanding to know whether his orders, given two months prior, had even been received.
Letter signed, March 25, 1813. "Monsieur le Duc de Feltre, "Monsieur le Duc de Feltre, I certainly see that your orders in Spain have been received, but have they received those to head to Valladolid and to reinforce the North? ? On this, i pray that God will have you in his holy care." In this letter, you see Napoleon's final strategy for retaining control of Iberia and his anxiety about his orders being followed.
Less than 2 months writing this letter demanding the fortification and reinforcement of the North, Wellington, seeking to exploit this weakness, was on the move. And one month after that, the British general completed the ousting of France from Spain with a victory at Vitoria. Napoleon had lost Iberia, and in part because the orders he repeats in this letter were not followed until it was too late.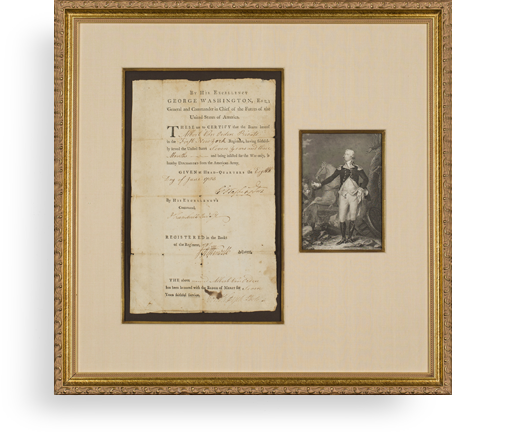 Frame, Display, Preserve
Each frame is custom constructed, using only proper museum archival materials. This includes:The finest frames, tailored to match the document you have chosen. These can period style, antiqued, gilded, wood, etc. Fabric mats, including silk and satin, as well as museum mat board with hand painted bevels. Attachment of the document to the matting to ensure its protection. This "hinging" is done according to archival standards. Protective "glass," or Tru Vue Optium Acrylic glazing, which is shatter resistant, 99% UV protective, and anti-reflective. You benefit from our decades of experience in designing and creating beautiful, compelling, and protective framed historical documents.
Learn more about our Framing Services