A Provocative Late Medieval Portrait of English Dominican Friar, from the 15th Century
The wear in one particular spot reflects the toll of the owner's ritual touching of the Virgin's face in conjunction with his portrait, similar to the touching of a medallion or cross
Currency:
USD
GBP
JPY
EUR
CNY
This currency selector is for viewing only.
The Raab Collection only accepts USD payments at checkout.
Exchange rates are updated hourly. Rates may be inaccurate.
It is unusual to find an English example, particularly one which so well demonstrates the unique factors at play in such pieces at the time
Throughout the Middle Ages, true visionaries put into place systems of intellectual and social organisation. Saint Dominic's foundation of the Dominican Order responded to a need for...
It is unusual to find an English example, particularly one which so well demonstrates the unique factors at play in such pieces at the time
Throughout the Middle Ages, true visionaries put into place systems of intellectual and social organisation. Saint Dominic's foundation of the Dominican Order responded to a need for a new kind of monasticism, as Medieval Europe shifted towards an increased urbanisation, which would give rise to the great cities that we now know. In the city of Toulouse, France, Dominic based his Order on the Rule of Saint Augustine— a system of tenets to organize the lives of the monks which focused heavily on salvation through preaching. Dominic's order valued education as the vehicle for effective preaching, and therefore effective saving of souls. Dominic's vision saw his followers establishing schools alongside newly burgeoning universities in Paris and Bologna, and later in Palencia, Montpellier, and even Oxford within his lifetime. Members of the Dominican Order took their message of educated understanding of God from the continent to the British Isles, settling in Oxford by 1221.
Thomas Aquinas and Albertus Magnus were also of the Dominican Order.
Given the wealth of expressions of interiority that arise in [later Medieval] arts, … scholars, philosophers, and ideologues have often turned to this era when seeking the putative origins of modern selfhood" (Sands 1); the inclusion of patron portraits acts as a reflection of the self reflecting on the divine, personalizes the book. After book productions shifted towards catering to the wealthy rather than the monastic, lay-patrons were able to emulate "monastic patterns of reading, prayer, and meditation" (Sands 15). Rather than allowing a wealthy lay patron to emulate the monastic way of life, the patron portrait of this Dominican monk is a glimpse into the monastic way of life and an individual's development of his sense of self.
This leaf, from a Dominican's personal prayer book, features a portrait of the owner himself. This little peak into a 15th century private sphere shows the book's owner depicted in his traditional black cloak— which gave rise to the appellation of the Dominicans as "the Black Friars"— over top his white habit and his tonsure to better allow God to see his thoughts and to demonstrate his renunciation of worldly aesthetics. From his outstretched hands, a banderole twirls upwards around a now faded woman's face framed in the blue associated with the Virgin. The leaf is blank on the back. These two features— the heavy fading in a specific area and the blank verso— make suggestions about the production and the reception of the book.
This portrait leaf was likely a bespoke product that was tipped into an on-spec, ready-to-buy book. That is to say, at this point, books were no longer being made entirely to the patron's demand; books had become commodities that more people could afford, so a stationer would have books ready made with minor customization available (such as the addition of a patron portrait). This addition, without text on the back, would not interrupt the flow of the set selection of prayers in the Book of Hours. With this customization the owner literally sees himself in his daily worship of the Virgin Mary. Here is where the importance of the fading comes into play.
This is likely not just the wear and tear of history, but the toll of the owner's ritual touching of the Virgin's face in conjunction with his portrait. This action is called 'affective piety,' and though chiefly associated with women's rituals, it was not uncommon for men, particularly those aligned with mysticism, to engage in this method of worship. In the same way that Saint Dominic's Order responded to the rise of cities in the thirteenth century, affective piety provides a new way of interacting with Christianity. As people moved towards understanding Christ as a man and through his bodily identity, they also moved towards an "emotional understanding of Christ as accessible through his humanity and imitable through affective piety, and the new ways of thinking, feeling, and imitating Christ that it fostered resulted in innovative modes of individual and communal devotion through prayer, reading, and liturgy" (Zimbalist). We notice on this leaf that the border, the background, the grass, even the Friar's own body and face are not as faded as the banderole of holy words and the image of the holy face, now nearly imperceivable. This suggests that the wear was focused on these significant areas, and were likely touched, rubbed, even cried upon, frequently during his reverent worship. The size of the folio also underscores its use as a personal, devotional item, indicating a book small enough to fit in the hand and be carried discreetly.
London was the capital of fashion for manuscripts in England in the 1300 and 1400s. Trends from the Continent would arrive in London and be incorporated into newly made manuscripts and these trends would radiate outwards to other centers of manuscript production. The border around the Dominican friar demonstrates the transition of preference for curving rather than straight borders occurring from 1405 to the end of the century; the incorporation of several, specific styles of foliage indicate that this manuscript was on the cutting edge of fashion fairly early on, and therefore, likely made in London.
This book owner, whose name is now lost to us, but whose face remains in this miniature, tells the story of an Order who rode the tide of urbanisation through a devotion to God and education and who saw the destruction of Europe and its own numbers during the Black Death. The owner, living circa 1420, likely in London, based on the style of background and border of this leaf, would be heartened to know that his Order endured further European upheavals from the Early Modern to the Modern Period, just like this piece of his book.
While patron portraits have made their way to the market, particularly in bound books, it is unusual to have an English example, particularly one which so well demonstrates the production process of creating a bespoke product from an on-spec liturgical book.
Further details:
Leaf from an English Book of Hours, Use of Sarum, with a miniature of a Dominican friar in prayer, in Latin, illuminated manuscript on parchment [England (probably London), c. 1420], 104 by 69mm. Single leaf, with a large rectangular miniature of a tonsured friar in Dominican robes, kneeling in a grassy area as a banderole emerges from his hands and curves upwards to enclose a woman's face (most probably the Virgin), the whole before a tessellated background decorated with red and blue dots, within a full border of rinceaux foliage terminating in gold ivy leaves and coloured seed pods and acanthus leaves, reverse blank, signs of water damage to top of reverse, slight scuffing and fading.
See also:
Hamburger, Jeffrey. The Visual and the Visionary: Art and Female Spirituality in Late Medieval Germany (New York, N.Y.: Zone Books, 1998)
Zimbalist, Barbara. "Chapter 10: Medieval Affective Piety and Christological Devotion: Juliana of Mont Cornillon and the Feast of Corpus Christi". Illuminating Jesus in the Middle Ages. Leiden, The Netherlands: Brill, 2019.
Sands, Alex, Vision, Devotion, and Self-Reprsentation in Late Medieval Art, Cambridge University Press, 2014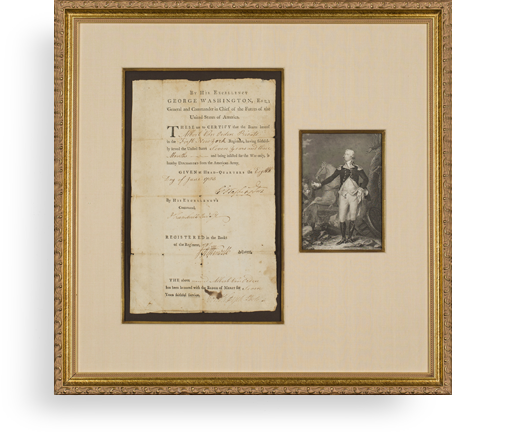 Frame, Display, Preserve
Each frame is custom constructed, using only proper museum archival materials. This includes:The finest frames, tailored to match the document you have chosen. These can period style, antiqued, gilded, wood, etc. Fabric mats, including silk and satin, as well as museum mat board with hand painted bevels. Attachment of the document to the matting to ensure its protection. This "hinging" is done according to archival standards. Protective "glass," or Tru Vue Optium Acrylic glazing, which is shatter resistant, 99% UV protective, and anti-reflective. You benefit from our decades of experience in designing and creating beautiful, compelling, and protective framed historical documents.
Learn more about our Framing Services