Mark Twain Arranges For an Aide to Accompany Him on His First Ever Trip to England
The aide, Samuel Chalmers Thompson, would assist in keeping journals, the contents of which could later be used for publication.
In 1872, Twain (Samuel L. Clemens) moved to Hartford, Connecticut, and published "Roughing It", the memoir of his years in the West. He also completed a lecture tour in the United States. Clemens had been pondering a trip, and decided to visit England and France during the summer. It would be his...
In 1872, Twain (Samuel L. Clemens) moved to Hartford, Connecticut, and published "Roughing It", the memoir of his years in the West. He also completed a lecture tour in the United States. Clemens had been pondering a trip, and decided to visit England and France during the summer. It would be his first visit there, and and he would keep journals the contents of which he could later draw upon for publications. First, however, he would need to complete his next book, "The Gilded Age," and he and his co-author Charles Dudley Warner worked furiously to do so during the winter and spring. The book would be published the following year. Clemens now looked forward to his European adventure, but was troubled by the likelihood that, with all of the obligations and meetings he would have there, there would be little if any time to keep his journals properly. The idea of having some assistance began to impress itself upon his mind.
Samuel Chalmers Thompson, like Clemens, had worked as a reporter (in Thompson's case having been employed by Horace Greeley's New York Tribune in the summer of 1872). He then obtained a position of teacher at Vernor Episcopal Institute, East Windsor Hill (eight miles above Clemens's new home in Hartford), where his friend Azel Roe was also employed teaching music. Roe was a California acquaintance of Clemens's who had visited him in Hartford in mid-January of 1872. According to Thompson, his first meeting with Clemens occurred soon after that visit, probably in mid-March, when Clemens "came out to give us a lecture in the school hall; but a blizzard blocked the gathering…He, Roe and I passed the hours till bed time in solemn discourse…He and Dudley Warner were now collaborating on 'The Gilded Age,' a chapter a day." Thompson further recalled: "Clemens complained of forgetfulness; lost much by not writing things down at once; thought of learning short hand, but found the only way to learn would be to hire a teacher to live with him till he mastered it…Also he wished he could have with him the coming summer in England a suitable person to help take notes. An Englishman would not notice things that would strike Americans as peculiar. And in some cases a substitute could go when he wanted to go somewhere else. Having been a sailor I had thought of taking a healthful summer holiday by shipping before the mast for a voyage or two, and doing a little sight seeing about the ports. But it occurred to me that I might get up short hand and go for the summer with Clemens if he wanted me. He seemed pleased at the idea." Thompson quickly learned shorthand.
Thompson continues, "Then I went again to see Clemens. Dudley Warner was with him in his study, manuscript all around, hurrying to finish 'The Gilded Age'…He wanted me to go over in the same steamer, and all the state rooms had been engaged weeks before, his on the Cunarder Batavia." Warner suggested that Clemens write to the Captain, Mouland. The latter and Clemens were chummy. The Captain had visited him, and he preferred to cross by the Batavia when possible." Whereupon Clemens "wrote and handed" a letter to Thompson addressed to Capt. Mouland. The letter was personally carried to Mouland, as Thompson relates: "In New York , I took my letter to the Captain."
The text of this letter was preserved only in Thompson's unpublished autobiography, together with his account of meeting Clemens and offering to act as his stenographic secretary during the upcoming trip overseas. The original of that letter has just now been discovered and is offered here. Autograph letter signed, on his letterhead, two pages, Hartford, April 29, 1873, to John. E. Mouland, captain of the Steamer Batavia. "Dear Capt., The bearer is my friend and London helpmeet, Mr. Samuel C. Thompson. He would like to sail with us, May 17th in the "Batavia", & I would exceedingly like it myself. I hope that the ship is not so full but that a shelf can be found for him to dispose himself upon. My wife and I send warm regards. Your friend, Mark Twain." Thompson notes at the top of the letter, "He and Dudley Warner were at work on 'Gilded Age'. It was late to get a state room, and this note was written at Warner's suggestion."
The letter accomplished its purpose, as Thompson adds that Mouland "went over to the main office and got me a birth in the last state room aft on the port side." On May 17, Clemens and family, along with Thompson, sailed for England. There they made arrangements for publication of "The Gilded Age," planned for a lecture tour, were widely wined and dined, and met such luminaries as Robert Browning. The group then went to the Continent, and did not return to United States until November 2.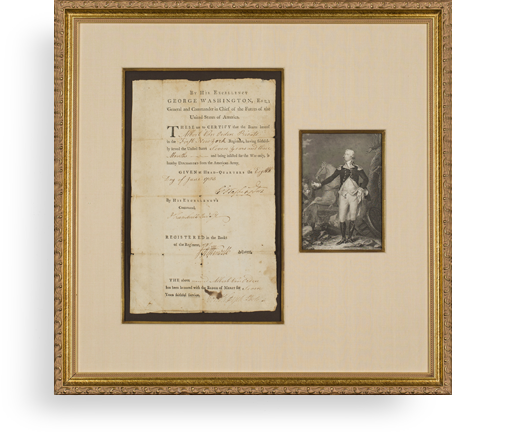 Frame, Display, Preserve
Each frame is custom constructed, using only proper museum archival materials. This includes:The finest frames, tailored to match the document you have chosen. These can period style, antiqued, gilded, wood, etc. Fabric mats, including silk and satin, as well as museum mat board with hand painted bevels. Attachment of the document to the matting to ensure its protection. This "hinging" is done according to archival standards. Protective "glass," or Tru Vue Optium Acrylic glazing, which is shatter resistant, 99% UV protective, and anti-reflective. You benefit from our decades of experience in designing and creating beautiful, compelling, and protective framed historical documents.
Learn more about our Framing Services