Sold – President Jimmy Carter Inscribes and Signs a Photograph to the Father of the Modern Navy, Adm. Hyman Rickover

Carter would say that Rickover, who gave him his first important position, influenced his life more than any other person.
Hyman Rickover came to the U.S. from Poland in 1906 with his family when he was six, settling in Chicago. His journey was an improbable one for a Jewish immigrant. A graduate of the US Naval Academy, Rickover served in the Navy before and during World War II and was quickly recognized...
Hyman Rickover came to the U.S. from Poland in 1906 with his family when he was six, settling in Chicago. His journey was an improbable one for a Jewish immigrant. A graduate of the US Naval Academy, Rickover served in the Navy before and during World War II and was quickly recognized for his engineering skill. He was head of the Naval Repair Base in Okinawa when the war ended. When he returned to the U.S., he was assigned to research and development facilities of the Atomic Energy Commission. Rickover had nuclear training and experience with submarines. In 1949, he was attached to the Division of Reactor Development and simultaneously took over as Director of the new Naval Reactors Branch in the Bureau of Ships. In this twin capacity, he developed what would be the very first nuclear submarine, USS Nautilus, and over the next decades spearheaded the building of the U.S. Navy's nuclear fleet and oversaw its operations. Rickover was perhaps the most important U.S. Naval figure of the 20th century.
In June 1952, a young Navy officer named Jimmy Carter received a promotion to lieutenant. He felt his best chance for success in the service lay in the Navy's fledgling nuclear development, and he sought an interview with Hyman Rickover, head of that effort. Rickover had a rough interview style, one that Carter would later adopt. He placed a hard, straight-back chair in front of his large desk and grilled the interviewee with an intensity meant to shake the confidence. Additionally, the two front legs were shorter than the two back legs, enhancing all the more the discomfort of the applicant.
The interview with Carter lasted two stressful hours. Rickover asked if he had read Herman Wouk's The Caine Mutiny, and when he answered yes, he was quizzed about the lessons on the Navy and the nature of command that could be drawn from the novel. Rickover then offered Carter the opportunity to choose the topics that they discussed. Carter writes, "Very carefully, I chose those about which I knew most at the time – current events, seamanship, music, literature, naval tactics, electronics, gunnery – and he began to ask me a series of questions of increasing difficulty. In each instance, he soon proved that I knew relatively little about the subject I had chosen. He always looked right into my eyes, and he never smiled. I was saturated with cold sweat. Finally, he asked me a question, and I thought I could redeem myself. He said, 'How did you stand in your class at the Naval Academy?' Since I had completed my sophomore year at Georgia Tech, before entering Annapolis as a plebe, I had done very well, and I swelled my chest with pride and answered, 'Sir, I stood fifty-ninth in my class of 820!' I sat back to wait for the congratulations, which never came. Instead, the question: 'Did you do your best?' I started to say, 'Yes sir,' but I remembered who this was, and recalled several of the many times at the academy when I could have learned more about our allies, our enemies, weapons strategy, and so forth. I was just human. I finally gulped and said, 'No, sir, I didn't always do my best.' He looked at me for a long time, then turned his chair around to end the interview. He asked one final question, which I have never been able to forget – or answer. He said, 'Why not?' I sat there for awhile, shaken, and then slowly left the room."
Carter got the job. He would later say Hyman Rickover influenced him more than any other person, perhaps matching the influence of his parents. The two maintained a life-long friendship.

On March 28, 1979, a nuclear power plant at Three Mile Island experienced a partial meltdown. Then President Jimmy Carter, facing an unprecedented disaster, commissioned a study to investigate and report back on what had happened and asked Rickover to lead the effort. In May, Rickover testified in front of Congress, which was comparing the Navy's perfect nuclear safety record with the recent disaster. In September, Rickover had a hernia operation but he amazed his Pentagon colleagues by returning to work just three days later. He was 79 years old. A grateful Jimmy Carter sent him this photograph, which he signed and inscribed to his boss, mentor, and lifelong friend.

Photograph Signed, as President, showing the two consulting in the White House, likely in connection with the Three Mile Island disaster, September 27, 1979. "To Admiral Hyman Rickover. I'm really grateful that you decided to re-enlist! Jimmy Cater 9-27-79." An uncommonly long holograph inscription as President, addressed to the Father of the Navy.

We acquired this directly from he family of Admiral Rickover. It has never been offered for sale before.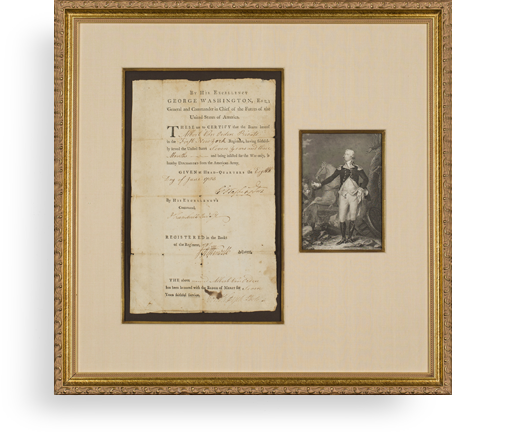 Frame, Display, Preserve
Each frame is custom constructed, using only proper museum archival materials. This includes:The finest frames, tailored to match the document you have chosen. These can period style, antiqued, gilded, wood, etc. Fabric mats, including silk and satin, as well as museum mat board with hand painted bevels. Attachment of the document to the matting to ensure its protection. This "hinging" is done according to archival standards. Protective "glass," or Tru Vue Optium Acrylic glazing, which is shatter resistant, 99% UV protective, and anti-reflective. You benefit from our decades of experience in designing and creating beautiful, compelling, and protective framed historical documents.
Learn more about our Framing Services