Sold – John and Jackie Kennedy Move to Their Home on the Kennedy Compound, also the Summer White House During His Presidency
Signed by both: an icon of Camelot, virtually the symbol of the Kennedy years.
In 1926 Joseph P. Kennedy rented a large, beautiful, oceanfront summer cottage on Cape Cod at 28 Marchant Avenue in Hyannisport, MA. Two years later, he purchased the structure, which had been erected in 1904, and enlarged and remodeled it to suit his family's needs. In and around this house, their nine...
In 1926 Joseph P. Kennedy rented a large, beautiful, oceanfront summer cottage on Cape Cod at 28 Marchant Avenue in Hyannisport, MA. Two years later, he purchased the structure, which had been erected in 1904, and enlarged and remodeled it to suit his family's needs. In and around this house, their nine children spent their summers, interacting together and acquiring a lifelong interest in sailing and other competitive activities. The house had wide windows to take in the sweeping, dramatic view of Nantucket Bay. Down a sloping hill, there was a side entrance where an outdoor beach shower was installed, and an entrance into the basement where Joe Kennedy first began screening copies of the Hollywood movies he produced. On the main floor there was a sun room, living room, television room, dining room and guest bedroom. Although they had a winter house in Palm Beach, Florida, the elder Kennedys always considered Hyannisport their true home, a sentiment adopted by their children.
In 1956, three years after his marriage, John bought a house of his own at 111 Irving Avenue, two doors down from his parents. In 1959, Ted acquired the residence at 28 Marchant Avenue (situated between his parents' and John's houses), and sold it to Bobby and his wife Ethel in 1961. Thereafter Ted lived in the main house right up until his death in 2009. Their sister Eunice and brother-in-law Sargent Shriver bought another house a few doors away. This, then – with the homes of Joe and Rose, Jack and Jackie, Bobby and Ethel, Eunice and Sarge – was the famed Kennedy Compound.
With his brother Bobby serving as campaign manager, Jack won the presidential nomination in July 1960 and returned to Hyannisport. From that point on, the nation and the world came to forever link the small New England summer beach town with the Kennedy family. Reporters and photographers swarmed the place. After Kennedy won the election and was inaugurated president, his Irving Street house became the Summer White House. Jackie Kennedy and her two children, Caroline and John, settled there in early summer 1961 and stayed for several months into early fall, with the President making long weekend stays, flying on Air Force One and then being transported by helicopter to the Compound grounds. His visits continued throughout his presidency. The President continued to use "the big house" for meetings and important business, but the nation was treated to a seemingly endless series of photographs of the First Family having fun on the big house's lawn, whether playing touch football or seeing JFK drive his golf cart, overflowing with his nieces and nephews, around the grounds. With the family's love of the sea, the President's summer weekends always included time out on either a sailboat or a yacht cruise. President Kennedy found great restorative power in simply walking alone along the beachfront. In many ways, the Kennedy Compound became the symbol of Camelot's light-hearted side. Moreover, as JFK remarked, "I always come back to the Cape and walk on the beach when I have a tough decision to make. The Cape is the one place I can think, and be alone." So the nation also saw pictures of the thoughtful Kennedy.
JFK and Jackie acquired their Irving Avenue residence in October 1956. This document, the actual mortgage for the purchase of the Summer White House, sheds light on the flow of the purchase transaction, supplying significant information not previously widely known. It seems that the future President's father, Joe Kennedy, rather than Jack and Jackie, paid in full for the house. So there was no bank mortgage. Joe then turned around and gave his son and daughter-in-law a no-interest mortgage for the purchase price, thus saving them an enormous sum of money on interest over the years. So like many fathers, he sought to make things financially easier for his children. It also suggests that, although the Kennedy family was very wealthy, the bulk of the money was still vested in the parents, with the children perhaps still benefiting from the parents' financial assistance.
Document signed, Suffolk County, MA, January 2, 1957, being that very mortgage. "JOHN F. KENNEDY, married, of 122 Bowdoin Street, Boston, Suffolk County, Massachusetts, for consideration paid, grant to JOSEPH P. KENNEDY, of North Ocean Boulevard, Palm Beach, Florida, with mortgage covenants, to secure payment of Fifty Thousand ($50,000) Dollars in five years, without interest, as provided in a Note of even date, the land and building thereon, situate at Irving Avenue, Hyannisport, Massachusetts, being the same property conveyed to me, said JOHN F. KENNEDY, by deed dated the 8th day of October, 1956, from JOSEPH W. W0RTHEN, Executor of the Will of Marie W. Daly, and recorded on the 9th day of October, 1956, in the Registry of Deeds, Plymouth, Massachusetts. This mortgage is upon the statutory condition for any breach of which the mortgagee shall have the statutory power of sale. JACQUELINE BOUVIER KENNEDY, wife of said mortgager, JOHN F. KENNEDY, releases unto said mortgagee, JOSEPH P. KENNEDY, all rights of dower and homestead and other interests in the mortgaged premises. WITNESS our hands and seals this 2nd day of January, 1957." It is signed "John F. Kennedy" by the future President, and "Jacqueline Bouvier Kennedy" by the future First Lady.
This is just the second time we have ever had a signature of Mrs. Kennedy using her maiden name of Bouvier. The document is on legal paper with its original blue backing, which reads: "JOHN F. KENNEDY to JOSEPH P. KENNEDY – MORTGAGE – Dated January 2nd, 1957."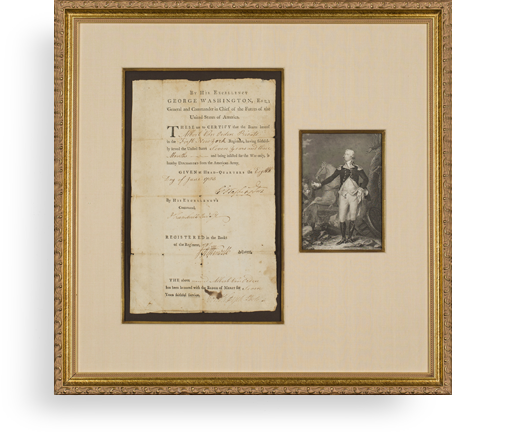 Frame, Display, Preserve
Each frame is custom constructed, using only proper museum archival materials. This includes:The finest frames, tailored to match the document you have chosen. These can period style, antiqued, gilded, wood, etc. Fabric mats, including silk and satin, as well as museum mat board with hand painted bevels. Attachment of the document to the matting to ensure its protection. This "hinging" is done according to archival standards. Protective "glass," or Tru Vue Optium Acrylic glazing, which is shatter resistant, 99% UV protective, and anti-reflective. You benefit from our decades of experience in designing and creating beautiful, compelling, and protective framed historical documents.
Learn more about our Framing Services