Sold – Heading For Trafalgar, and Legend, Lord Horatio Nelson Looks Forward to the Day of Battle
He writes a fellow British admiral, "How glad I shall be to have you near me…".
After the Treaty of Amiens in October 1801 Europe was at peace for 14 months. Many ships in the Royal Navy were at dock and the British returned to their peacetime activities. But across the Channel in France, Napoleon saw the peace as temporary and was planning to neutralize Britain. He realized...
After the Treaty of Amiens in October 1801 Europe was at peace for 14 months. Many ships in the Royal Navy were at dock and the British returned to their peacetime activities. But across the Channel in France, Napoleon saw the peace as temporary and was planning to neutralize Britain. He realized that if war broke out again the Royal Navy would blockade French and continental ports as it had done before, and French overseas trade would be crippled. So he planned to invade England with 2000 ships and 200,000 soldiers, and free the seas for French trade. Napoleon ordered the building of a fleet of invasion barges and his Grande Army was moved to the Pas de Calais area. However, the fly in the ointment was that to get the French army across safely, the French fleet would need to control the Channel. The strategy of the British, on the other hand, was to bottle up the French fleet – principally in the ports of Brest and Toulon, with Nelson stationed in the Mediterranean outside the latter city. Matters came to a head in early 1805 when Napoleon tried to engineer a meeting of his fleets so they could control the sea-lanes and protect his invasion barges. He gave orders for the fleets in Toulon, Brest and Ferrol to break out of their blockaded ports. After an abortive attempt, French Admiral Villeneuve managed to evade Nelson's ships blocking him in Toulon, and after picking up the fleet of his Spanish ally, sailed for Martinique in the West Indies on March 30. According to Napoleon's plan, Villeneuve would meet up with Adm. Ganteaume (who had been blockaded in Brest), then sail back to Europe, and with other squadrons "procure our superiority before Boulogne…"
Nelson discovered that Villeneuve had sailed out of the Mediterranean and so chased him across the Atlantic to the West Indies. But after considerable delay for want of information and from contrary winds, the French and Spanish eluded his pursuit, and he was obliged to retrace his course to Europe, without the longed-for confrontation. On June 20, 1805, he landed at Gibraltar, setting foot on dry land for the first time in over a year. After cruising in search of the enemy until the middle of August, the British fleet was placed under the command of Adm. Charles Collingwood and Nelson was ordered back to England. He returned home, many thought for good. So began Nelson's last 25 days in England. In London he was the subject of adulation, with Lord Minto writing, "It is really quite affecting to see the wonder and admiration and love and respect of the whole world. It is beyond anything represented in a play or a poem." However, despite the enjoyments of home, Nelson still felt a great sense of responsibility for his country's safety.
Meanwhile, Villeneuve received orders stating that he was to sail for the Channel, unless the state of the fleet was such as to mitigate against this, in which case he was to sail to the base of the Spanish fleet at Cadiz. He decided to refit and re-provision in Cadiz rather than head for combat in the Channel (much to Napoleon's displeasure), and arrived there on August 20. Nelson had not been many days established at home when, on September 2, the news arrived from Collingwood that the French and Spanish fleets were both lying in at Cadiz. Nelson stated to Collingwood's courier, "I am sure you bring me news of the French and Spanish fleets…and that I shall have to beat them." Now he was eager to gain the reward of his long watchings and laborious pursuits, and to save his country from invasion; he again offered his services to the Admiralty, proposing to personally go to the waters outside Cadiz. Nelson did not seek to be part of a blockading force; rather, when the enemy sought to leave Cadiz, he would seek a definitive battle. As he had earlier written, "There seems an idea that I am blocking up the French fleet in Toulon. Nothing could be more untrue. I have never blockaded them a moment. All my wish and the anxious wish of this fleet is to have them out." The Admiralty gladly accepted his offer. On September 13, Nelson left home for the final time and headed to Portsmouth. There, on September 14, 1805, he boarded his flagship the Victory and embarked on the Trafalgar campaign, sailing into fame and glory.
Upon hearing that Nelson was returning to command and seeking battle with the foe, other senior British naval commanders immediately volunteered to join him, and to stand at his side during the upcoming battle. As stated in the "Memoirs of the Life of Vice-Admiral, Lord Viscount Nelson," "How truly gratifying it must have been to Nelson to receive assurances of desire to serve under him, and solicitations to that effect from…brave and distinguished officers." The applications cited were those of "Adm. Sir John Thomas Duckworth, Capt. Otway, Sir Edward Berry, Captain Durham, Lord Henry Paulet etc." Lord Henry Paulet, the son of the Marquis of Winchester, served in the British Navy during the American Revolution. In the Napoleonic wars, he commanded the HMS Astraea when it captured the French battleship La Gloire (an action commemorated in a famous painting), served in the Channel, the Mediterranean and the Baltic. In the latter station, the commanded HMS Defence in Admiral Sir Hyde Parker's fleet at the Battle of Copenhagen in April 1801, but that ship did not form part of Lord Nelson's squadron in the successful attack. Paulet thought he should have been assigned to Nelson's group and was displeased with having remained inactive during the battle. He was determined to be in on the action next time. After the peace of 1801-03 broke down, he commanded HMS Terrible in blockading French ports. Now Paulet pressed Nelson personally to include him in the action.
Nelson's response showed his spirit at that sublime moment, and was considered important enough to be included in full in the Memoirs. Autograph letter signed, HMS Victory, off Lisbon, September 25, 1805, to Paulet, being that very letter. "Many thanks for your very kind letter. Nothing, I do assure you, could give me so much pleasure as having you with me – it has always been my wish that it should be so, but a fatality [fate] seems to prevent it. However, I shall again mention my wish to the Admiralty, and I know that Otway wants to come also; if he is still in the same mind I will ask for him. Perhaps, if you both right to Admiral Gambier, my letter will be with him long before yours. I can, my dear Lord, only again repeat how glad I shall be to have you near me on the day of Battle, and I will venture to say, you shall not again be shoved out in whatever may take place. I am ever, my dear Lord, your most obliged and faithful friend, Nelson & Bronte." That same day he wrote his beloved Emma that he was now in sight of the Rock of Lisbon. Letters of Nelson from the Trafalgar campaign are extremely rare, this being only our second such letter in all our years in the field. That it mentions the upcoming famous battle is remarkable.
While these events were transpiring, important political and military events were taking place on the Continent. On August 9, 1805, the Third Coalition was formed, uniting Austria and Russia with Britain in the struggle to defeat Napoleon. Napoleon responded to this by beginning to draw his Grande Army away from Bologne, as he now wished to delay crossing the Channel to deal with the new, serious threat on land. He headed for Germany and would soon win one of his greatest victories at the Battle of Austerlitz.
On September 28, Nelson arrived off Cadiz, saw the enemy's substantial fleet, and assumed command. He almost immediately advised his officers of his plans for attacking the combined French and Spanish fleets. "The reception I met with on joining the Fleet", Nelson wrote to a friend, "caused the sweetest sensation of my life." That same day, Villeneuve received a dispatch from Napoleon, dated the 20th, ordering him to lead the fleet out of port and to head for Naples, where the French were preparing to face a force 30,000 British and Russian soldiers. He left port on October 19. Preparing to engage the enemy force on October 21, Nelson divided his 27 ships into two divisions and signaled a famous message from the flagship Victory: "England expects that every man will do his duty." Thus began the Battle of Trafalgar, one of the most decisive naval engagements in history. In five hours of fighting, the British devastated the enemy fleets, destroying 19 enemy ships. No British ships were lost, though 1,500 British seamen were killed or wounded in the heavy fighting. The battle raged at its fiercest around the Victory, and a French sniper shot Nelson in the shoulder and chest. Nelson was taken below and died about 30 minutes before the end of the battle. His last words, after being informed that victory was imminent, were "Now I am satisfied. Thank God I have done my duty." Victory at the Battle of Trafalgar ensured that Napoleon would never invade Britain and gave the British naval supremacy for well over a century. Nelson, hailed as the savior of his nation, was given a magnificent funeral in St. Paul's Cathedral in London. A column was erected to his memory in the newly named Trafalgar Square, and he still stands atop it today.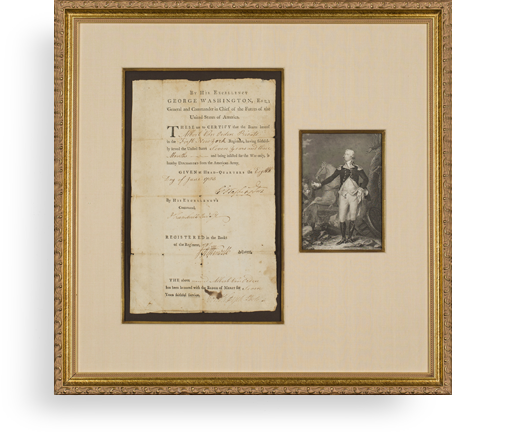 Frame, Display, Preserve
Each frame is custom constructed, using only proper museum archival materials. This includes:The finest frames, tailored to match the document you have chosen. These can period style, antiqued, gilded, wood, etc. Fabric mats, including silk and satin, as well as museum mat board with hand painted bevels. Attachment of the document to the matting to ensure its protection. This "hinging" is done according to archival standards. Protective "glass," or Tru Vue Optium Acrylic glazing, which is shatter resistant, 99% UV protective, and anti-reflective. You benefit from our decades of experience in designing and creating beautiful, compelling, and protective framed historical documents.
Learn more about our Framing Services