The Archive of an Important US Senator
Pens he used to sign legislation, the chair he sat in throughout his time on the senate floor, medals he received, letters from presidents to him - the archive of Golden Age film star, California Senator, and longtime friend of Ronald Reagan.
George Murphy made 55 films with such stars as Shirley Temple, Judy Garland and Ronald Reagan (whom he mentored when he arrived in Hollywood). In the 1940's, political interests shared attention with his ongoing movie career. Twice he was elected president of the Screen Actors' Guild, and in 1950 he received a...
George Murphy made 55 films with such stars as Shirley Temple, Judy Garland and Ronald Reagan (whom he mentored when he arrived in Hollywood). In the 1940's, political interests shared attention with his ongoing movie career. Twice he was elected president of the Screen Actors' Guild, and in 1950 he received a special Oscar "for interpreting the motion-picture industry correctly to the country at large." He served as chairman of California's Republican state committee, and as chairman of the program committee at the Republican national conventions of both 1956 and 1960. So it wasn't altogether a bolt from the blue when Murphy sought and won the California Republican senatorial nomination in 1964.
More amazing, in that year of Barry Goldwater's defeat, was Murphy's victory over his Democratic opponent, Pierre Salinger. During his one term in the Senate, Murphy battled for larger defense budgets as a member of the Armed Services Committee, fought against the liberal Great Society programs of the day, and served as chairman of the National Republican Senatorial Committee. After his defeat for reelection in 1970, Murphy continued active in the conservative movement, and served as a confident and advisor to his protege, Ronald Reagan, when he went to the White House.
Original U.S. Senate chair. Representing the Murphy family, we are offering four boxes of mementos he collected during his career, as well as the chair he actually used while representing California in the U.S. Senate.
Letters signed. There are four letters from Gerald Ford, two from Richard Nixon, and one each from Lyndon B. Johnson, Pat Buchanan, Richard Daley, Thomas Dewey, Robert Gray, Mamie Eisenhower and Henry Ford II. Presidents Ford and Nixon wrote to Murphy as a respected friend and colleague, telling him precisely what they thought on great issues and mentioning moments important to them personally.
The letters from President Nixon are particularly significant. Just weeks after a mammoth demonstration against his war policies in Vietnam, Nixon writes a letter as president on White House letterhead, December 9, 1969, thanking Senator Murphy for supporting his "policy on chemical warfare and the renunciation of all use and offensive preparations for biological warfare."
He continues, with some unintended irony, hoping that "our leadership by example will make a positive and persuasive contribution to an atmosphere of reason and restraint of peace and understanding between nations."On Monday night, May 8, 1972, Nixon met first with Congressional leaders, and then went on national television to announce his decision to expand the Vietnam War by mining the Hanoi and Haiphong harbors and intensify bombing over North Vietnam. This let loose a firestorm of protest as the nation divided ever more sharply over his war policies. His second letter on White House letterhead dated May 15, 1972, thanks former-Senator Murphy for "support for the measures I announced on May 8 to bring the fighting in Vietnam to an end."He went on to promise peace and insist that the entire nation needed to get behind him. "This has been the longest, most difficult conflict in our nation's history and all of us look forward to a lasting, honorable peace. That day is near – and can surely be brought even closer if Americans will demonstrate to the world that we stand together during this difficult time. Needless to say, your willingness to speak out is an important part of that effort and means a great deal to me personally."
So Nixon here expresses the rationale behind his policies (the peace must be "honorable" meaning substantially on his terms), inaccurately predicts a quick end to the war if he has his way, and manages to get in a dig at his opponents, essentially accusing them of prolonging the war. Pure Nixon.
Just after he was nominated to serve as vice president, Gerald Ford writes Murphy on December 3, 1973, "I am extremely honored and deeply humble to be so nominated by President Nixon. If confirmed, I will do my utmost to merit the confidence you have expressed in me. The Senate vote was most encouraging to me and we are now awaiting House action…"In another letter as president on White House letterhead, July 18, 1975, in response to a letter about Murphy's group, American Cause, Ford states, "I am sure you are most encouraged by your progress. As you know, I am always pleased to see our citizens taking a full and active role in our national life." In another letter on White House letterhead dated September 15, 1976, while a candidate for reelection, Ford writes, "Your kind praise of my acceptance speech is deeply appreciated. I am very pleased by the reception it received at the Convention and around the country. You have once again demonstrated your concern over the problems facing our country through the formation of a bipartisan conservative organization. There has been an imbalance in past years as a result of the liberal causes, and your success will be a plus for fiscal responsibility and limited government…I expect to win in November, and people like you will certainly be of great assistance…"
U.S. Senate history is served as well.
Document signed. There is a document that, although it is undated, is from the 90th Congress which met in 1967-8, the crucible years of the Vietnam War. It sought to promote unity (essentially behind the war), even as divisions were in fact widening. And being on Murphy's Senate letterhead, it would seem he was the originator. "The press and communications media have initiated a practice of designating members of the United States Senate as either 'Hawks' or 'Doves.' If one is designated a 'Hawk" it carries the implication of the most unfortunate image generally attributed to the 'war monger.'A'Dove', on the other hand, would ignore our national honor…This division…has created some confusion at home and abroad…We would therefore point out that if bird-like designations must be used, our national bird has been the American eagle…Therefore, we the undersigned members of the United States Senate respectfully request that hereafter we be referred to as Eagles, so that everybody at home and abroad may know exactly where we stand."The statement is signed by 37 Senators; however, these were mainly Republicans and Democrats who clearly supported the war. The autographs of opponents like J. William Fulbright and Wayne Morse are absent.
Also included in the boxes are 14 pens given him by Presidents Johnson and Nixon, at least four of which were used to sign bills (two relating to community health services and mental health centers, areas of interest to Murphy); ribbons and badges from the 1957 Inaugural Committee and 1964 and 1972 national Republican Conventions; some 350-400 unsigned photographs showing Murphy with such luminaries as Ronald Reagan, Walt Disney, Richard Nixon and Golda Meir. They chronicle the life and associations of a prominent public man of his day and are worthy of detailed attention; lobby cards from his films Broadway Melody, Show Business and Broadway Rhythm; keys to the cities of Houston, Louisville and Lockport, N.Y.; a coin reading "To George Murphy in grateful appreciation, Dwight Eisenhower, 1956," engraved on back with Eisenhower's likeness; a plaque from the U.S. Marine Corps reading "Uncommon valor was a common virtue", and the Guardian of Freedom Award from the California Young Americans for Freedom"to George Murphy in grateful appreciation for his devoted years of service in the United States Senate"; inaugural programs, Apollo mission badges, and other miscellaneous items. From Murphy's Senate chair to his revealing correspondence from Presidents Nixon and Ford to his library of photographs, a unique grouping. Shipping charges for the boxes and chair are extra.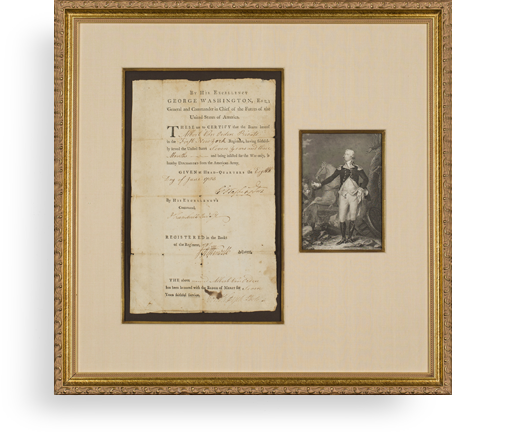 Frame, Display, Preserve
Each frame is custom constructed, using only proper museum archival materials. This includes:The finest frames, tailored to match the document you have chosen. These can period style, antiqued, gilded, wood, etc. Fabric mats, including silk and satin, as well as museum mat board with hand painted bevels. Attachment of the document to the matting to ensure its protection. This "hinging" is done according to archival standards. Protective "glass," or Tru Vue Optium Acrylic glazing, which is shatter resistant, 99% UV protective, and anti-reflective. You benefit from our decades of experience in designing and creating beautiful, compelling, and protective framed historical documents.
Learn more about our Framing Services