Sold – FDR Inscribes a Book Calling For a U.S/British Community of Interest
In June 1922 the authorities at Milton Academy discussed how to honour the memory of its alumni, twenty-two in number, who had died in action in World War I. The Trustees of the Academy wanted a living memorial, not something 'static or finished' like a statue or a stained glass window, to...
In June 1922 the authorities at Milton Academy discussed how to honour the memory of its alumni, twenty-two in number, who had died in action in World War I. The Trustees of the Academy wanted a living memorial, not something 'static or finished' like a statue or a stained glass window, to reflect the aspirations of a living institution. They envisaged a memorial which would challenge future generations to honor the hope of those who had died that their sacrifice 'would count for the advancement of civilisation'. It was decided to embody this thought in a permanent foundation which would fund an annual series of lectures at the Academy to address 'the responsibilities and opportunities attaching to leadership in a democracy'. The guest speakers were to be people of 'preeminent ability and international reputation in statesmanship, professional research or commercial administration'. This became the War Memorial Foundation lecture.
The 1924 lecture was given by English John Buchan. He used the opportunity to emphasize the identity of transatlantic feeling which had been induced by the conflict. "The Great War, which we are here to commemorate," he said, 'made us for a time one household." He continued to his main theme, Abraham Lincoln: 'To me he seems one of the two or three greatest men ever born of our blood. You will observe that I am talking as if we were one household and speaking of our blood, for no drop ran in his veins which was not British in its ultimate origins. I like to think that in him we see at its highest that kind of character and mind which is the special glory of our common race". Showing that this was not a merely a trivial point about blood relationships, Buchan went on to refer to the understanding of democratic values which he felt to be shared within the Atlantic community more than elsewhere. Here were the foundations of an identity of interest, crucial for the future as it had been in the recent past, which no mere clash of economic interests or temporary political estrangement could undermine.
His speech was, in fact, a call for an Atlantic alliance, and others saw it that way. An American reviewer at the time wrote that Buchan "believes, furthermore, that the World War was not merely an aimless and sordid clash of brute forces, but a duel between two essentially conflicting theories of life, in which Great Britain and the United States stood shoulder to shoulder in defence of civilisation." The speech was published in book form in 1925 by Houghton Mifflin.
The Milton lecture for 1925 was delivered by none other than Franklin D. Roosevelt, and before speaking he familiarized himself with Buchan's words spoken the year before. Did FDR approve of this message, the precursor for an Atlantic Alliance? Apparently so, as he inscribed a copy of the book to send to a friend. The book is "Two Ordeals of Democracy, A lecture at Milton Academy on the Alumni War Memorial Foundation, October 16, 1924 by John Buchan", inscribed and signed "For Mr. Marion M. Miller in memory of a very happy day in Toledo – Franklin D Roosevelt, May 1928." Miller was an Ohio banker and co-complier of an edition of the Works of Abraham Lincoln.
Sales of the book were slow, as America and Britain were first diverted by the Roaring Twenties and then pummeled by the Great Depression. And indeed, FDR never mailed the inscribed book to Miller, whether through inadvertance or because he was not yet ready to be publicly associated with Buchan's opinions. The book's sales suddenly picked up in 1935, the year Buchan was appointed Governor-General of Canada. By this time, with the rise of Hitler and Mussolini posing obvious dangers to national secutity, the role of America in world politics, and particularly towards Britain and Europe, emerged again as a topic of more than passing interest to the United States in general and President Roosevelt in particular. The implication of Buchan's Milton lecture as seen from the mid-1930s was that if America valued the survival of democracy, her natural alliance was with Britain. This conclusion was being openly advocated by many, but was laden with political consequences, as it was not an easy concept for isolationist Americans to accept.
It was just then that FDR sent Buchan's book to Miller along with this Typed Letter Signed on White House letterhead, Washington, July 10, 1935. "In going over a lot of books at Hyde Park the other day I found this volume with an inscription – May, 1928 – and although it is seven years ago, I am sending it to you. I hope you are having a good trip and that I shall see you one of these days."
Seeing Buchan's book again must have rekindled Roosevelt's interest in its content, as he had some gracious words to say about Buchan's speech in a letter to him early in 1936. In fact, that letter was a sign that there was something serious for them to correspond about. And correspond they did. The subject of their exchanges was how America and the British Empire could best coordinate their efforts to prop up democratic politics then under threat in Europe. Then, in 1941, Roosevelt would forge the Atlantic Alliance with Winston Churchill that Buchan had advocated fifteen years earlier.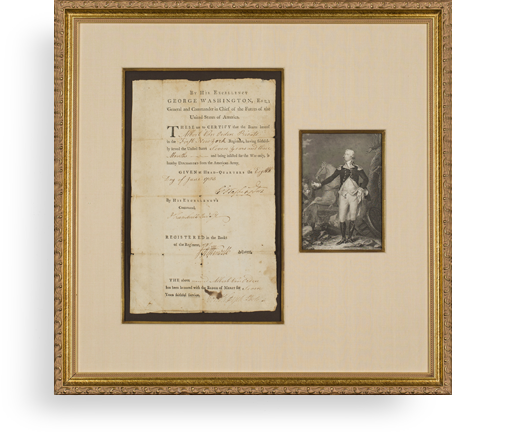 Frame, Display, Preserve
Each frame is custom constructed, using only proper museum archival materials. This includes:The finest frames, tailored to match the document you have chosen. These can period style, antiqued, gilded, wood, etc. Fabric mats, including silk and satin, as well as museum mat board with hand painted bevels. Attachment of the document to the matting to ensure its protection. This "hinging" is done according to archival standards. Protective "glass," or Tru Vue Optium Acrylic glazing, which is shatter resistant, 99% UV protective, and anti-reflective. You benefit from our decades of experience in designing and creating beautiful, compelling, and protective framed historical documents.
Learn more about our Framing Services