The Marquis de Lafayette Hopes That America's Freedom Will Excite European "Imitation"
In a letter to Congressman Stephen Longfellow, father of Henry Wadsworth Longfellow, he is certain the "state of society" in the U.S. "cannot but produce admiration"
Lafayette actually mentions the 19-year old Henry Wadsworth Longfellow in this letter, calling him "your excellent son"
The Marquis de Lafayette was revered in the United States as a hero of the Revolution, and by the 1820s was among a dwindling number of the major players still living. In February 1824, Lafayette...
Lafayette actually mentions the 19-year old Henry Wadsworth Longfellow in this letter, calling him "your excellent son"
The Marquis de Lafayette was revered in the United States as a hero of the Revolution, and by the 1820s was among a dwindling number of the major players still living. In February 1824, Lafayette received a letter from President James Monroe on behalf of Congress following a joint resolution, inviting him to visit the United States. The letter expressed the "sincere attachment of the whole Nation…whose ardent desire is once more to see you amongst them." Lafayette was excited to return to America and departed from the French port of Le Havre on July 13, 1824. He was accompanied by his son, George Washington Motier de Lafayette.
The celebrations of his arrival that ensued were reportedly some of the largest, most amazing ever held in the United States to that date. He was greeted his entire journey by huge, cheering crowds and lavish banquets and balls of celebration. People were thrilled to entertain one of the most famous heroes of the American Revolution. One account of a ball given in New York City observes that it was "the most brilliant and magnificent scene ever witnessed in the United States." Six thousand ladies and gentlemen attended it! The entire fort was covered by a 75-foot-high awning and lit by fourteen cut glass chandeliers. Another account tells of of the celebrations in Boston where 3000 children ages 8-12 lined up to receive him. They "wore ribbons in their breasts, stamped with a miniature likeness of Lafayette." In addition to the celebrations and fashion statements for Lafayette, many monuments were erected in his honor and parks, streets, cities and counties were named for him. Lafayette College in Pennsylvania was named for him.
A grand reception for Lafayette was held at Portland, Maine, on June 24, 1825, where he arrived to great fanfare. The Brunswick Light Infantry had marched the 26 miles to Portland in uniform to be one of three military escorts present. The crowd of 15,000 Mainers included Bowdoin Trustees, Overseers, and students, who heard former Congressman Stephen Longfellow, father of Henry Wadsworth Longfellow, deliver greetings from the city. In presenting the honorary degree, Bowdoin President William Allen called the last surviving major general of the Revolutionary War "…an enlightened and unshaken friend of regulated liberty." Ever gracious, Lafayette responded, "I thank you for the opportunity you have afforded me of a personal acquaintance with you, Gentlemen of that College, where young republicans, the hope of the Country, are instructed in every literary and scientific branch, and above all in the first of all sciences, the science of freedom, equal rights, and self-government…"
Isidore Guillet had been an interpreter for the French Ministry of Foreign Affairs under the old regime, and at the time of the French Revolution shared experiences with Lafayette, who was commander of the Paris National Guard, with both of them hoping France would follow the American example and become a democracy. Years later, in 1826, he wrote Lafayette saying he and his son Isidore Jr. were planning a trip to America to do research for a book, and asking for recommendations. Names he sought reference to were U.S. Supreme Court justice Joseph Story, Harvard professor George Ticknor, and Stephen Longfellow.
Autograph letter signed, Paris, February 21, 1827, to Longfellow, expressing his feeling that the U.S. is a beacon of freedom, which he hopes other nations will emulate, and actually mentioning his poet son. "Permit me to introduce to you and to our friends in Portland Mr. Guillet formerly attached to the Department of Foreign Affairs, who is going on a scientific literary tour throughout the U.S., the results of which he will probably publish. I give him the more willingly these lines as every inquiry into the state of society in the happy land of freedom cannot but produce admiration. May it also excite imitation. Your excellent son has informed you he found our family, on his arrival, under the long and grievous visitation which ended in the loss of one of my sons-in-law. I have been since myself unwell for some time, but am now recovered. Remember me to my friends, and believe me most truly, Yours, Lafayette." The original integral address panel is still present, addressing the letter to "Honorable Stephen Longfellow, Portland. Favored by Mr. Guillet." The "excellent son" referenced is Henry Wadsworth Longfellow, who traveled to Europe in 1826 and remained there for three years.
This is a fascinating letter which shows Lafayette's satisfying sense that the Revolution, and the freedoms it established, have resulted in a happy society, one worth emulating.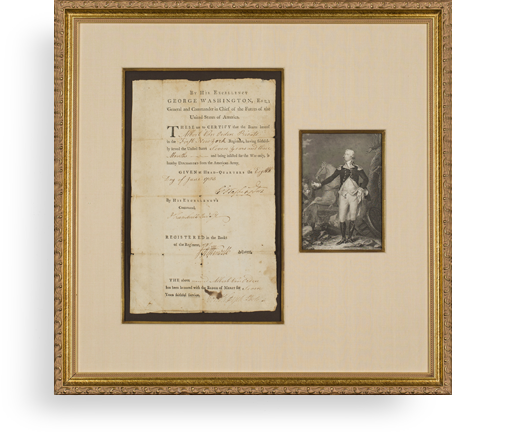 Frame, Display, Preserve
Each frame is custom constructed, using only proper museum archival materials. This includes:The finest frames, tailored to match the document you have chosen. These can period style, antiqued, gilded, wood, etc. Fabric mats, including silk and satin, as well as museum mat board with hand painted bevels. Attachment of the document to the matting to ensure its protection. This "hinging" is done according to archival standards. Protective "glass," or Tru Vue Optium Acrylic glazing, which is shatter resistant, 99% UV protective, and anti-reflective. You benefit from our decades of experience in designing and creating beautiful, compelling, and protective framed historical documents.
Learn more about our Framing Services